As a platinum-card-bearing member of the SUV-driving Mum club, I know a thing or two about the benefits of wielding my maniacal, working-mother aggression via the sheer scale of my large and oppressive four-wheel drive.
While we may not admit it to your face, or to our husbands, there's a strong sense of ownership of the road, the school drive-through, the supermarket car park, and hey, even the children, when you are engulfed within the confines of a large luxury SUV.
And you can call us what you want, but I suggest you drive a few miles in our SUVs, experiencing the politics of the school pick up line or the demands of today's cotton-wool-padded children, and you too may feel the need to sit a little higher and rev the engines a little louder, just to be heard above the madness.
So, when tasked with the opportunity to drive Aston Martin's new SUV, the DBX, the first question I had was 'just how loud and audacious is this thing?'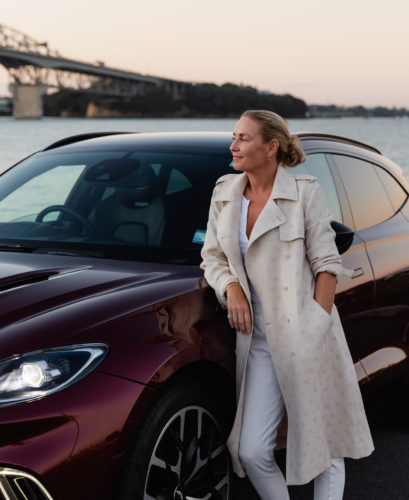 The British luxury marque has long been the domain of the mid-life "made it" male. And let's be honest, a certain Mr Bond has only accelerated (pun intended) the appeal, because after all, what man doesn't want to be Bond… and what woman doesn't want to share a [dirty] Martini with him?
After many years in the pipeline, Aston Martin released the DBX (its first foray into SUV territory) last year and if the soaring local sales are anything to go by, they've hit the mark right off the bat. This immediate success has likely been down to the fact that frustrated women like myself want something with a bit more dominance on the road (see: school pick up) and male Aston Martin owners want an SUV to sit alongside their sports car. I mean, why not have two Aston Martins in the garage, right?
On picking up our new ride, the first thing my children and I notice is the deceivingly small exterior scale of the car. Yet surprisingly the DBX is in fact the same length as my Range Rover Vogue, and what's more, according to my rear seat passengers, it has much more space for them to store their never-ending school detritus.
Designer Mark Reichman (the man behind the design of all Aston Martins) has done a genius job of creating a luxury SUV that looks and feels very sporty, while retaining the space practicalities that one demands from a car in this category.
By slightly lowering the bonnet and roof line the car still retains a clear visual connection to the much-admired Aston Martin fleet. Crucially, it's a big car that looks much smaller than it is, even on vast 22-inch wheels. And that, dear Denizens, is a very clever trick to pull off.
Inside the car, the feeling is that of an English gentleman's club, complete with hand-stitched leather and discrete dials (offering a stylistic nod to the marque's Mercedes Benz relationship) that add the kind of opulence one expects from a car of this calibre.
A modern day sense of space and wellbeing is further enhanced by the 64-colour, dual zone ambient lighting. My demanding, back-seat passengers called for "cyan" — apparently my eight-year-old's favourite colour. What ever happened to blue or green?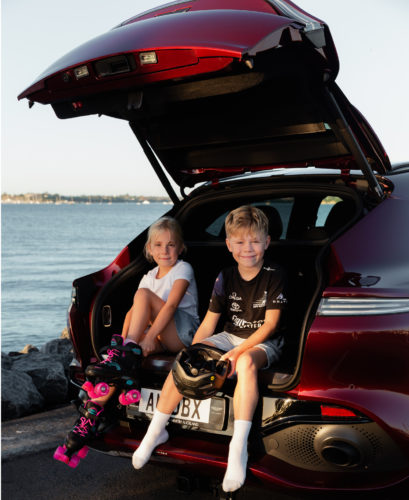 The DBX's relationship with Mercedes also extends to the engine. With a 543bhp, 4.0-litre twin-turbo V8 engine, this car, when called upon in important situations, such as school pick-up, will blast out a domineering guttural roar, followed by a 'putt putt' as the gears lower. And god-damn does it sound good!
Throwing this baby into Sports+ mode employs its nine-speed automatic engine and delivers, quite honestly, the most thrilling and dynamic driving I have ever experienced behind the wheel of an SUV (and lord knows I've tried a few). Hitting a very impressive 100kmh in 4.5 seconds certainly aids in getting you swiftly to the front of the after-school queue, while the top speed of 292km/hour, got us home faster than you could say, "sorry officer, I'm just writing a story for some random magazine."
But back to reality, the Aston Martin DBX is definitely designed for extreme versatility. Had the circumstances arisen, I would have happily taken her off-road and put her through her paces, because from what I understand, the DBX makes easy work of any situation.
For example, she has the ability to wade through 500mm of water unscathed, which makes me think that it would do very well in the slip n' slide, slushy conditions of the Coronet Peak car park this ski season.
The sheer breadth of the DBXs abilities is nothing short of impressive, and it definitely passed the Kraus family litmus test of head-turning capabilities — a measurement my children have invented during my years as a luxury car reviewer — according to them, on one day trip alone, we had six separate incidents of people pointing and staring longingly at the car.
Which is, I'm sure, a testament to its handsome good looks and nothing whatsoever to do with the behaviour of the overly enthusiastic driver behind the wheel.