With the calibre of new books being released, there's no better time to lose yourself in the pages of a great tome. These are our top picks of 2020's best-sellers.
The Vanishing Half by Brit Bennett
Debuting at number one on the New York Times Bestseller list, this exquisite novel follows two identical, light-skinned Black sisters, and the disparate roads that lead them to ultimately live very different lives. An engrossing, compassionate and provocative story about family and relationships, the book is set to be made into a limited series for HBO.
Anxious People by Frederik Backman
When a failed bank robber decides to take the attendees of an apartment open-home hostage, eight anxious strangers are forced to discover that they're a lot more similar than they would have ever thought. A charming, wise and humorous look at friendship, forgiveness and hope.
The Lying Life of Adults by Elena Ferrante
Recently picked up by Netflix, this page-turner paints a powerful picture of its protagonist, a young woman moving through childhood, adolescence and adulthood, all the time trying to separate herself from her lineage, on a path to discovering who she truly is.
The Book of Two Ways by Jodi Picoult
Jodi Picoult returns to our reading rotation with a shiny new novel. Centred around Dawn Edelstein who survives a plane crash during which her mind is flooded with memories of a man she saw 15 years ago (instead of her husband), this fascinating book explores second chances and will leave you with a fresh perspective.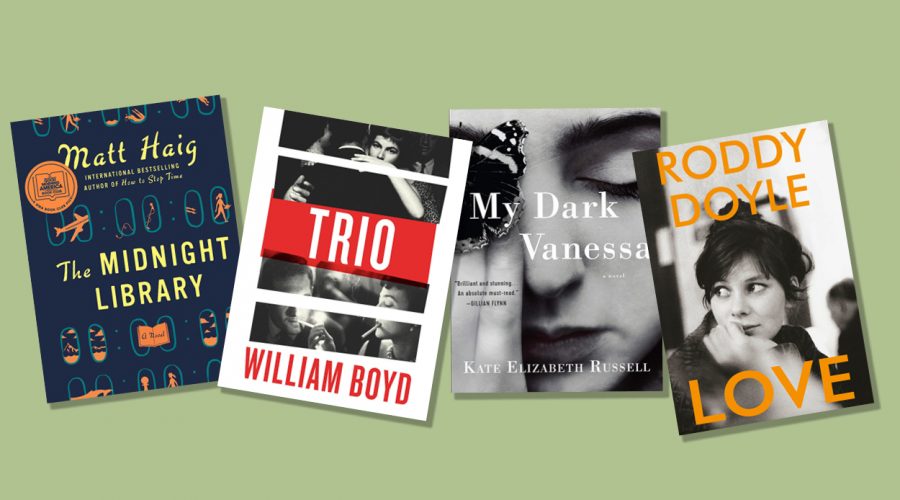 The Midnight Library by Matt Haig
In Matt Haig's fictional world, there is a library that exists between life and death. It is the place in which his touching story's protagonist is able to redo her life; and live it in a way that doesn't leave her with regrets. But her choices have serious repercussions, and soon, everything is at stake.
Trio by William Boyd
From acclaimed writer, William Boyd, comes a tale of comedy, tragedy and redemption. It is the summer of 1968, and a producer, a novelist and an actress are in the midst of making a 'Swingin Sixties' film in Brighton. Between their secret lives, hidden agendas, and the threat of their private lives spilling over into their public ones, the show must go on — but to what end?
My Dark Vanessa by Kate Elizabeth Russell
Bravely and intelligently exploring an abusive relationship between Vanessa (a bright, promising high-school student) and her manipulative teacher, Kate Elizabeth Russell's new novel is controversial and painful as the protagonist, armed with hindsight, looks back on what she thought had been her first love.
Love by Roddy Doyle
From an award-winning Irish author comes the story of two old friends who reconnect in Dublin for a night of reminiscing and storytelling. Through his thoughtful and gently comedic writing, Roddy Doyle speaks to the many different forms that love can take in all of our lives.