When it comes to determining New Zealand's most culturally significant artists with the widest appeal, it would be hard not to consider Jordan Luck. Whether it's a rugby game at Eden Park, or the local pub in Te Awamutu, Jordan Luck and his band have been belting out, with the greatest enthusiasm, songs that we all know every single word to. In times when the country can feel divided, Luck's songs and gregarious stage performances are the sort of binding salve that we need to feel connected. We speak to the musician to learn a little more of his process and life story to date.
I was born in Fort St. James in British Columbia. When I was young, I very much enjoyed watching ice hockey. We had hot dogs. I relished mustard. I also enjoyed walking on ice and picking up a handful of crunchy snow. Watching moose follow their trails from previous years. A favourite memory is of getting my tongue stuck to an outdoor tap. Freezing cold. You could spit and make marbles.
As a father I only hope I can be as worthy as my father was. Is. Over the years, I am amazed how many folk have approached me and informed me, "Your father was the best teacher evah! Best evah!" He had stories of the Sasquatch that seem to have had his classes riveted.
A common misconception about being a musician is that you are one. A dear friend on a Brisbane bus was sat beside a young lady. "What wonderful fingernails you have," she commented. "You must be a classical guitarist," she stated. "No sweetheart, I'm a poofter," he merrily responded.
I'm so grateful to Joe Walsh. During these Covidicular times he has kept everything together. Joe is our Guitarist and Manager. Various shows are on their fourth rescheduling. We love you Masterton.
The rules are dependent upon who set them.

My performance process is genuinely unprocessed. At a jig in Paihia I was asleep in the hotel. I wakened. Five minutes to start the intro tape. Three minute walk to Zane Grey's. "Heya Lads," I calmly unqualm. "You were asleep!" sez Joe smilingly. "Yup," sez I. Gem night. Unforgettable.
My songwriting process is curious. I often thought of left, right and centre. Having recently watched Law & Order: Organized Crime, I have learned that I perhaps write in an Oloid fashion. In 2029, I prognosticate a wee Oloid year.
Having songs that I have written that resonate so strongly with New Zealanders is encouraging, and hopefully enthuses other songwriters to resonate as other New Zealanders/Aotearoans have me.
My best on stage moment was at Gapes Valley Hall. I am in our school band Basement. During our third set I see these tables being set up. One hundred or so orders of unheralded fish and chips are being placed to the band's and the audience's magical full loving surprise. Glorious. "This musical lark may have some merit," I mentioned to myself. I have another best stage moment. Shared. Those little mini-pie thingy-thangs are being handed around at a jig at Lake Hawea. I am listening to Beaver (the drummer) keeping this rock steady snare beat. Anticipating a roll, I turn around to see our man a-merrily mini-pie munching with one hand, stick in the other. Savouries. That's what they are named. Apologies.
My worst moment has been described as more entertaining than other events of the day.
I look back on my life and think that I have dwelt little upon it. It is more the way ahead that I tend to ponder.
The most memorable moment in my professional career was realising that the memorable moment would lead to further memorable moments.
The worst advice given was my own. "You see that tap?" "Yes" "Thirsty?" "Yes!"
I never set goals. I am still too young. Perhaps when I am 91, I shall find one. That is a fine goal. An own goal.
My favourite song to perform is the one I have not performed yet.
Happiness is music. Music can be every spectrum of emotion. Birdsong. Yes, birds will hit notes to compose song to. Take your Moby out into the bush, whack your guitar tuner application on; mine is actually GuitarTuna. A Tui will hit a G note, a Piwakawaka, an E. Bamm, done. But flip, birds can be evil. I love the Takahe. We did some jigs on Motutapu. The Takahe, while we try to save them, will undo their own. Nevertheless, a paddock full of Takahe is my happiness, I did not hear them sing, I just knew straight away they were the biggest looking Pukeko. Could they run? Flip, pretty much straight up a hill in a straight line.
My family would describe me as a dependable, amiable, fullest full loving soul. And very modest. While my bandmates would no doubt say I am a handsome devil, not unlike themselves.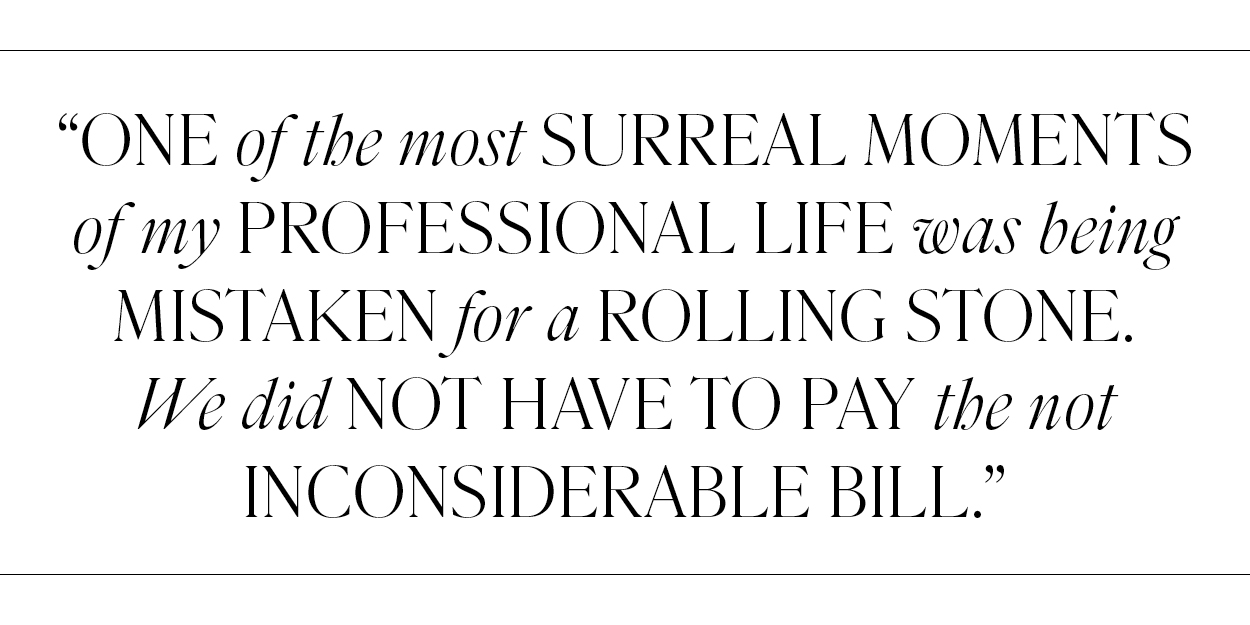 Performing on stage consistently for 40+ years has been remarkable. In 1992 at a jig in Hastings I was informed by a group of folk that were 10-12 years my junior of how much they loved the song 'Victoria'. "Flip," I thought. "I have been singing this song for ten or so years." "Another ten?" "Indeed in deed. Another ten."
Performing used to be in a room full of smoke and now it's a wee bit easier to espy our sound and lighting technicians.
The personality traits that have contributed to my success are, I may presume, from being upbeat, jovial to a degree, optimistic. If you work with and love the folk you create with, those traits become stronger and are merrily attained. Maintained.
Aotearoans are very fine singers. We opened for Elemeno P on a tour in 2017/18. Flip, could that audience sing their songs. Not just choruses, verses and all. We presently play The Mockers, 'Forever Tuesday Morning'. Killer. Krankin'!
The biggest thing I've had to overcome in my career is the loss of fellow musicians. They may be gone physically, but they still are here with me though.
At the end of the day love will sing a song.
A favourite line from one of my songs 'Brodelia The Cat' is, "with chasms of spasmodic charm you've got somewhere to go". I enjoy it for its assonance, and its truth. If you mispronounce it, you'll get alliteration too, ha.
I love this lyric from Nick Cave's 'The Curse Of Millhaven'. "Then Professor O'Rye from Millhaven High found nailed to his door, his prize-winning terrier. The next day the fool brought little Biko to school and we all had to watch as he buried her". I enjoy this as in one couplet it near tells a Stephen King book and has an amusing rhyme to boot.
One person I'd love to collaborate with is Kerei Ruru. If there is a project on, he would be my first call. Kerei served our nation in the military for many years overseas. He is brilliant at everything. He can fix juke boxes and is very modest.