"Complex but not complicated," is how Richard Wallis, the man behind innovative composting system, New Zealand Box (NZ Box), explains the composting process. With the aim of making commercial compost bins the norm throughout the country, Wallis has teamed up with Viaduct Harbour to set up Auckland's first urban commercial compost site, which officially opened yesterday, marking yet another way that the prolific waterfront destination is embracing a more sustainable ethos.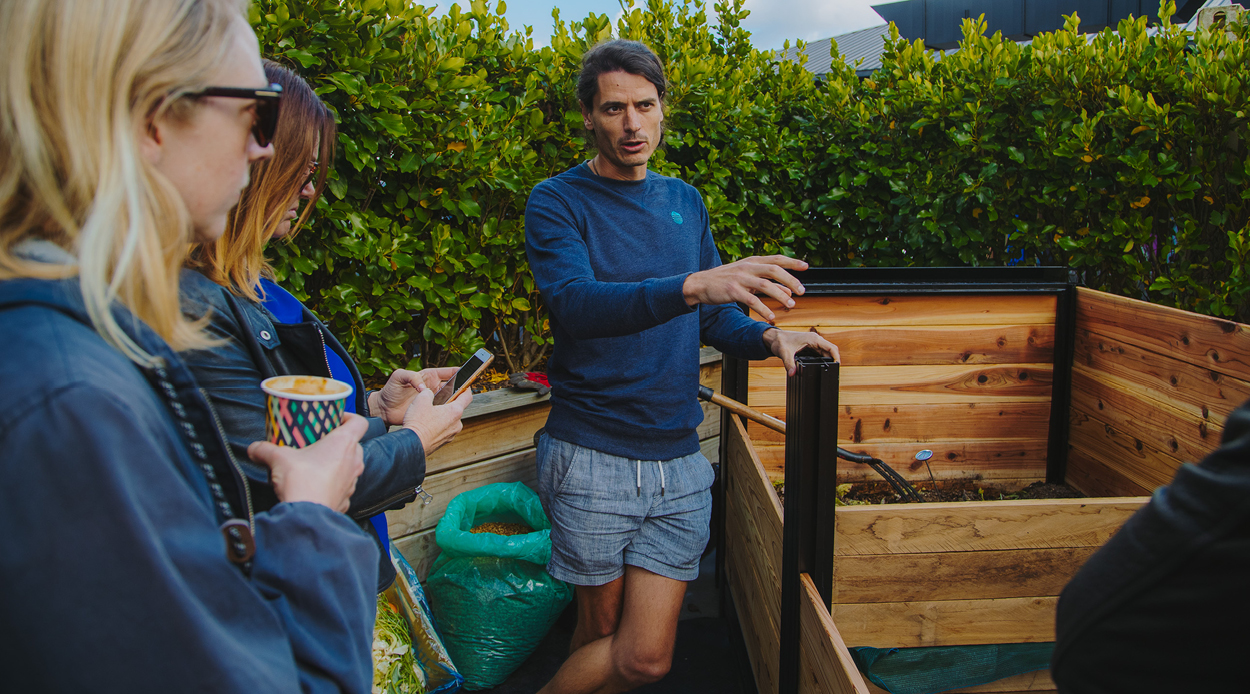 From introducing Seabins to New Zealand — floating rubbish bins that collect waste from the ocean — to hosting art installations that shine a light on our polluted waterways, Viaduct Harbour has charged ahead of the game by actively engaging with issues around the environment and sustainability. The precinct has progressed from simply illustrating the pollution problem to combating it, by engaging For The Love of Bees, an organisation focusing on 'climate change ready infrastructure' helmed by Sarah Smuts-Kennedy, in collaboration with compost experts NZ Box, to roll out the CBD's first commercial composting site, co-funded by Auckland Council. Recently. Recently, Headquarters offered up the underutilised back section of their site as a location for Viaduct Harbour to install six large composting bins. With facilitation by Smuts-Kennedy and day-to-day management by NZ Box, the team will work collaboratively with Viaduct Harbour eateries so they can make the most of their new infrastructure.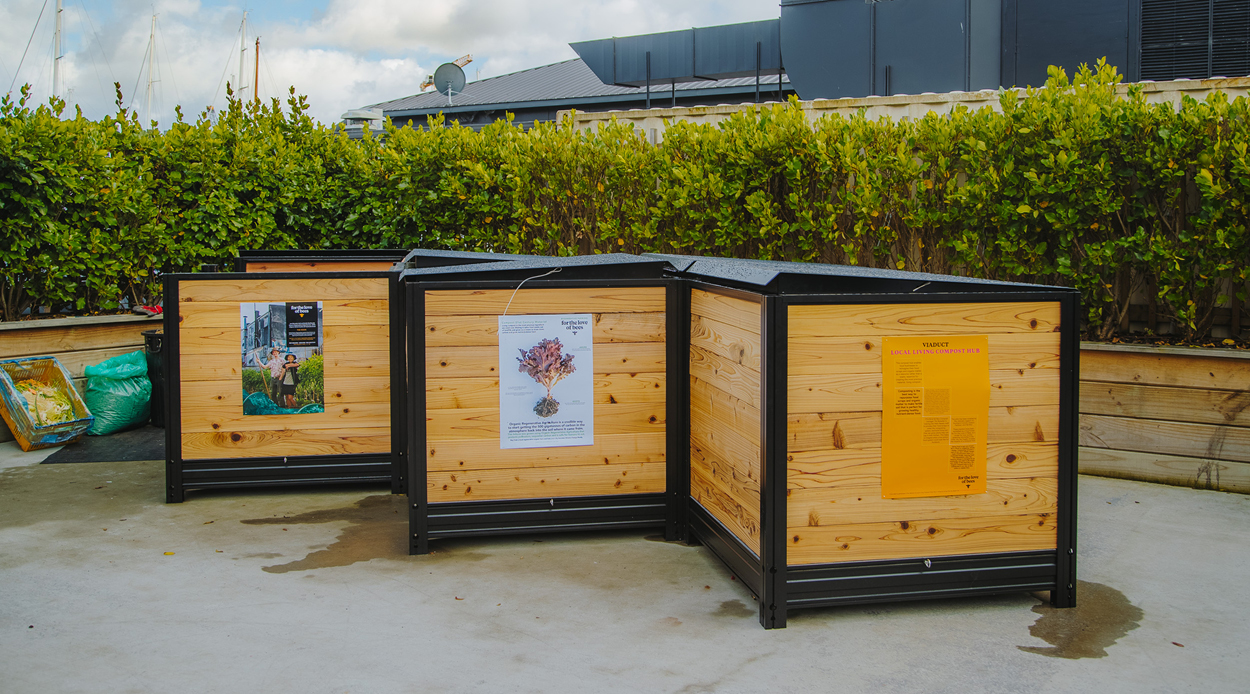 According to Wallis, there really is "no such thing as food waste," unless we continue to manage excess food the way we do now. Taking it back to basics, he breaks down natural produce into four categories — water, nitrogen, minerals and, most importantly, carbon. Part of the current problem is that our use of synthetic fertilisers, pesticides and herbicides alongside our wasteful habits of sending surplus food to landfill (instead of returning it to the earth), is resulting in carbon-depleted soil, which affects its ability to hold water. This cycle can be detrimental to both our ability to grow food, through to the nutritional value of the food that is grown, and is why making a move to composting, whether corporate, commercial or by implementing a system at home is becoming increasingly crucial for the inherent health of our planet.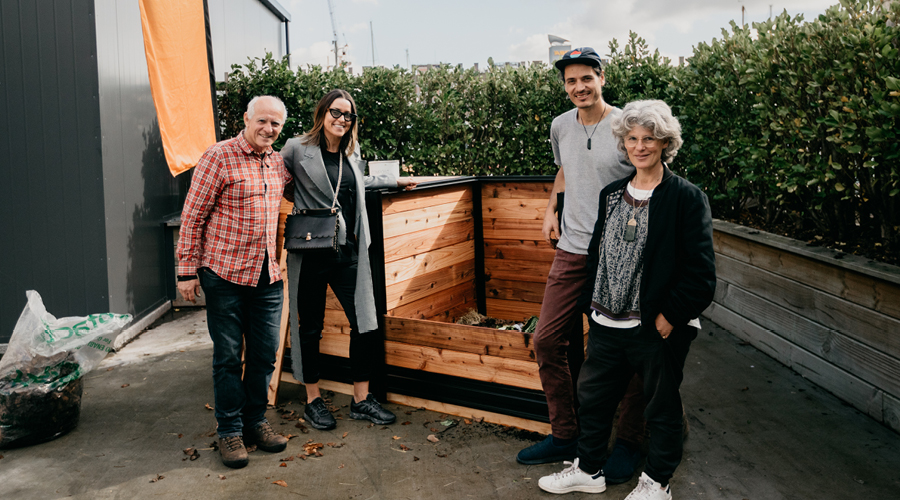 Viaduct Harbour's new commercial composting bins will break food waste down via hot composting, which in Wallis' opinion, is the most effective method. Hot composting is favoured for the speed at which it can break down organic material and is a process that can reach temperatures of up to 80 degrees Celcius. With the right management, Wallis tells me that Viaduct Harbour's new boxes might even be able to break down certified compostable packaging — a definite win for such a hospitality-dense area. And while six bins may not sound like a lot, each has the capacity to hold the equivalent of at least 120 families' weekly food waste, which means that altogether, they have the potential to make a real difference.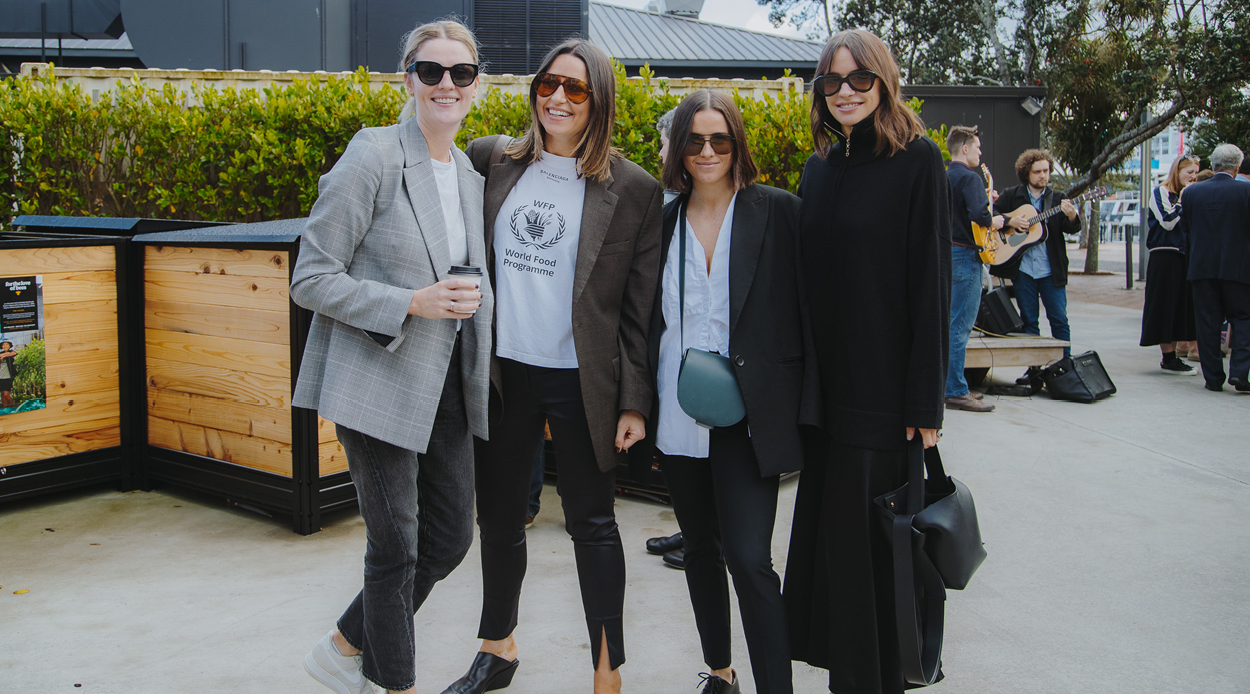 Hospitality partners including Soul Bar & Bistro, Hello Beasty, and Headquarters have committed to making the most of the new infrastructure by agreeing to compost their residual food waste. And with Smuts-Kennedy on hand to offer ongoing training for businesses who want a better understanding of the process, Viaduct Harbour is continuing to set the sustainability bar high, encouraging the rest of Auckland to follow suit.
Viaduct Harbour's hot composting bins are located behind Headquarters and were officially put into action on 19th November.