The Tautai Contemporary Pacific Arts Trust has opened its first gallery space in central Auckland, dedicated to showcasing the works of contemporary Pacific creatives.
Founded in the 1980s by acclaimed Samoan-New Zealand artist Fatu Feu'u ONZM and a few of his peers, Tautai was born from a shared aspiration to support and promote Pacific visual artists. Since then, it's had an important hand in promoting and nurturing the growing Pacific arts community in New Zealand, now further cemented with a dedicated space to showcase the important work being made.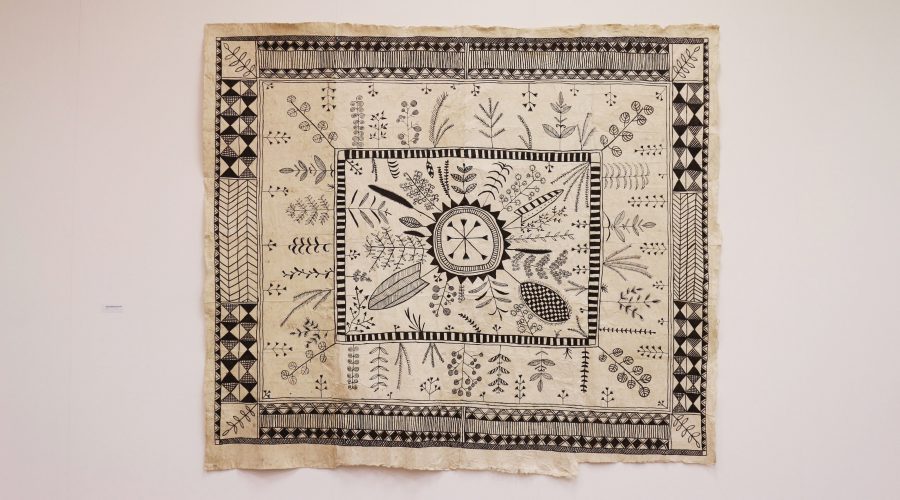 With director Courtney Sina Meredith at the helm, Tautai has taken over the first-floor space previously occupied by Artspace on Karangahape Rd.
An award-winning poet, playwright and fiction writer herself, Sina Meredith described the new hub as a "beacon of aspiration for those who are coming into the arts," with the name Tautai drawing on the Samoan word for navigator — an apt descriptor for a guiding presence in the art community.
The gallery's inaugural exhibition, Moana Legacy, showcases several varying examples of Pacific art, from photography installations to hiapo, heritage works, charcoal drawings, digital pieces, a mural and even woven hair baskets.
Curated by multi-disciplinary artist Cora-Allan Wickliffe, the exhibition was developed in partnership with Melbourne gallery Blak Dot Gallery and features artists working in both New Zealand and Australia.
"Moana legacy is an opportunity to engage with, not only contemporary art practices now, but what artists of different ages — different levels whether emerging, senior or experienced — what they're feeling now, especially in this time we're in," said Wickliffe.
"We want our communities to respond; to feel like they can see themselves there on the walls."
Moana Legacy is available to view until 18th September in the Tautai gallery space.
Opening Hours:
Monday to Friday: 10–4pm,
Saturday & Sunday: Closed
Tautai
Level 1, 300 Karangahape Road,
Newton, Auckland 1010