Holly Burgess (Ngāpuhi, Te Ātihaunui-a-Pāpārangi) is one of New Zealand's most exciting young fashion and portrait photographers. Increasingly in demand, the Loupe Agency-repped creative has a packed roster of clients clamouring to collaborate with her skilful eye, including Harris Tapper, Deadly Ponies, An Organised Life — plus, the pages of Denizen. A dynamic force whose reputation is a testament to her uplifting energy and beautiful imagery, here Burgess shares what's inspiring her and what she's enjoying currently.
What I do for a job described in one sentence: I am a photographer, I capture moments in time and space.
My personal style can be defined by: I don't think it can be defined. My style is always in a state of flux, but vintage and retro op shop finds remain constant.
The last thing I bought and loved was: My Lady Shaka hoodie! Designed by Ngaumutane Jones. If I'm not wearing vintage I'm wearing my friends.
An unforgettable place I visited was: The Hokianga every time. It's home.
The next place I'd like to go to: Back to the Hokianga! I am planning a shoot with cuzzie/model Roimata up there in a few weeks.
An object I would never part with is: My pounamu.
On my wish list is: I would love a pair of Prada loafers. My feet need a treat after wearing chunky sneakers on set from Monday to Friday.
When I was younger, I wanted to be: I always wanted to have a corporate job because I loved pantsuits (wore one to my year six formal even). I realised later it was fashion that I loved. Phew.
My favourite app is: I hate to admit it but … TikTok.
My guilty pleasure is: TikTok! Lol.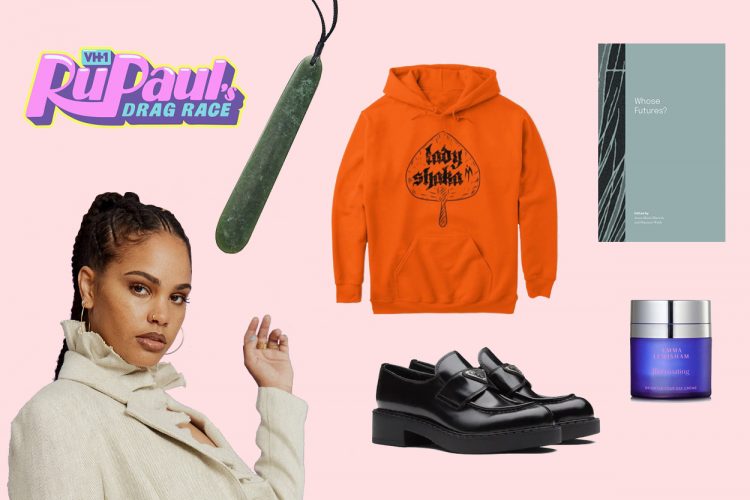 My secret talent is: Touch rugby.
My style icon is: My mum and aunties inspire me. I love that timeless aunty style.
The best book I've read in the last year is: Whose Futures? My sister Hana and her friend Te Kahuratai Painting wrote a book chapter about Māori futurisms. I am on journey learning about my whakapapa.
Three people I'd have dinner with, living or dead, are: My mum, her mum Maata, and her grandmother Te Hana. Our matriarchal line connecting me to the Hokianga.
I can't miss an episode of: RuPaul's Drag Race.
In my fridge you'll always find: Chocolate, cheese and wine.
My favourite room in my house is: My bedroom. I currently have artwork from loved ones on all four walls.
I recently discovered: The West Coast of the South Island! Stunning.
My favourite website is: Pinterest.
A gadget I can't do without is: My camera!
If price were not an issue, the one artist whose work I would collect is: Nikau Hindin.
The podcasts I listen to are: Nuku, After Work Drinks and Guys We F****D.
The best gift I ever received was: My taonga from my whānau.
The beauty product I can't live without is: All Emma Lewisham products.
The last music I downloaded was: JessB!
I have a collection of: 10-plus years of film negatives. I will get to archiving them one day.
One of the best pieces of advice I've ever received is: When I was nervous my Dad would always tell me "it's good to have butterflies, just let them fly in the same direction". That will forever stick with me.