Sparking wonder and bringing boundless joy, a bookshelf with plenty of good books is fundamental for building small imaginations. From humorous to insightful, these new kids' books are to be cherished.
G My Name Is Girl by Dawn Masi
Celebrating girls around the world, this joyful, A-Z picture book depicts 26 girls from different countries and shines a light on their empowering traits. It is a reminder that we are all connected, and even includes a map at the back in which little readers can point out all the countries mentioned. 
My Monster And Me by Nadiya Hussain & Ella Bailey
Written by a former winner of The Great British Bake Off and a woman who herself has struggled with anxiety, this heartfelt tale offers subtle tools for children and their parents to deal with feelings of worry and anxiety, ensuring no one must suffer in silence.
No Pants! by Jacob Grant
In this riotous book that will have you and your wee one laughing out loud, Pablo and his dad are getting ready for their day when Pablo proclaims that he won't wear pants. A warm-hearted depiction of a father-son relationship, Pablo's dad must learn that sometimes, pants aren't for everyone.
Milo Imagines The World by Matt de la Pena
Set to become an instant classic, this poignant book follows young Milo as he rides the subway with his sister, studying the appearances of those around him and picturing what their lives are like. It isn't until an unexpected traveller gets off at the same stop as Milo, that he realises you can't judge a book by its cover.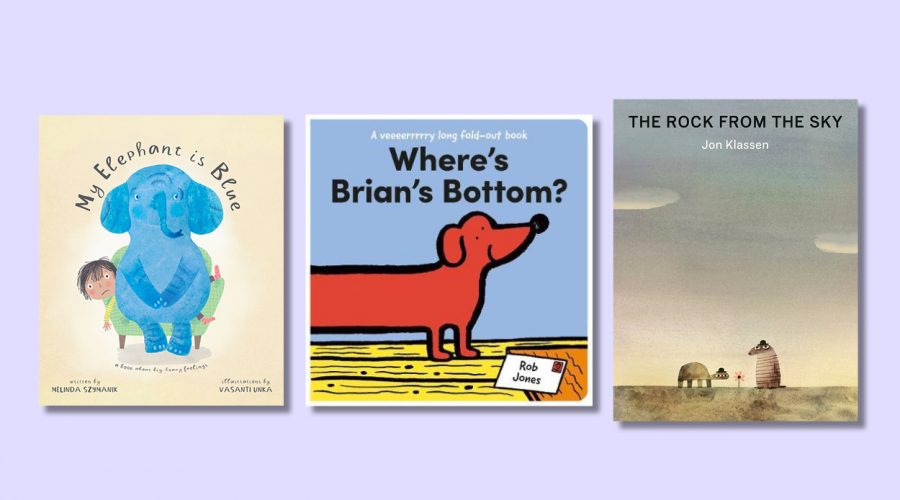 My Elephant is Blue by Melinda Szymanik and Vasanti Unka
A warm, hopeful and humour-filled story about a child who is stuck carrying around an elephant, this insightful and empathetic book is about having the blues, and was written to help little ones who might be dealing with sadness, to identify and manage those feelings in a constructive way.
Where's Brian's Bottom? by Rob Jones
In this 'veeerrry long fold-out book' Brian the sausage dog has lost his bottom and needs the help of little readers to find it again. Is it with Alan the hamster? Or Derrick the duck? Entertaining and interactive in equal measure, this hilarious book is suited to curious young minds and is designed to teach them about the different rooms of the house, various animals and the different sounds they make.
The Rock from The Sky by Jon Klassen
This new work from celebrated picture-book creator Jon Klassen is a meditation on friendship (between a turtle and an armadillo), fate, shared futuristic visions and that feeling you get when something just isn't right, and is full of wry wit, deadpan humour and visual suspense. This is one that you'll enjoy and cherish just as much as your child.