Those at Netflix knew what they were doing when they added Mindhunter to the streaming giant's repertoire back in October 2017. The program was proffered to us to devour when we were at peak desire for chilling, twisted, true crime-focused content, and we gobbled up each of the ten episodes with fervour as though we'd been starved of sick storylines for months. (NB: We hadn't, given that Abducted In Plain Sight and The Confession Tapes were also getting binged on at this time.)
Season one followed FBI agents Holden Ford and Bill Tench as they picked the brains of some of the US's most notorious criminals, with the hope of applying their findings to ongoing and future cases in a very Silence Of The Lambs styled set up. Very unnerving, and very real, criminals featured, with most characters moulded around actual convicted murderers, and their prison scene dialogues based upon real interviews — including that of Ed Kemper, Jerome Brudos, Monte Rissell and Richard Speck.
With each professional breakthrough, however, Ford took a hit to both his mental health and personal relationships, until finally, his career started taking a hit, too. The series finishes with an interview between Ford and Kemper, during which the Agent gets drawn into a hug by the serial killer. In what is seemingly the final straw for Ford and his fragile mental state, on his way out he collapses and falls into a panic attack in the hall, realising, no doubt, how close he had come with danger himself.
Mindhunter's roaring success was well predicted, it seems, because just one month after its release the arresting series was renewed for a second season. Now, after almost two years of waiting, avid fans can finally find out how the story progresses in a nine-part successor.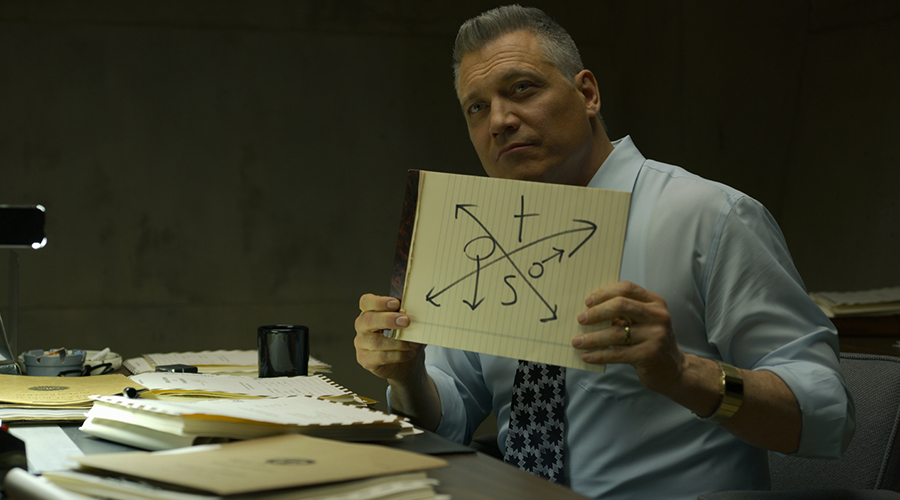 The Plot
Season two will fold the previous narratives in with coverage of the notorious Atlanta killings — a series of child murders that took place in Atlanta between 1979 and 1981, killing at least 28, mostly African American teenagers and children. As hinted at in the first season, the second will feature infamous cult leader Charles Manson, alongside a raft of other new criminals, including David Berkowitz (also known as Son of Sam). It's likely that viewers will see the effect of Ford's breakdown, following his visit with Kemper at the end of season one, and will see a return from Kemper himself, too, if the trailer is anything to go by.

The Cast
Jonathan Groff (Ford), Holt McCallany (Trench) and Anna Torv (Wendy Carr) will all resume their roles as the central criminal profiling trio, this time around joined by Michael Cerveris (Fringe), as a new FBI director. Also confirmed to return is Joe Tuttle, the actor who played Gregg Smith, the new member of the FBI squad that joined the team in season one. Cameron Britton will, of course, be back as Kemper, while Damon Herriman is rumoured to be playing Manson, an actor who, interestingly, also plays the notorious cult leader in Tarantino's Once Upon A Time In Hollywood.
The release date
Mindhunter season two drops on Friday 16th August.