Benee is bouncing towards me in an oversized black ensemble and worn pair of Converse, with an effulgent smile on her face and arms outstretched. I offer my hand in an attempted gesture of professionalism which she promptly ignores, warmly wrapping both her arms around me. "Hugs" she cries. "Hugs all around!" 
I'm meeting Benee, real name Stella Bennett, at Auckland's Universal Music studios. After months of trying to get hold of this rising star, I've been granted a 30-minute slot by her management. I'm somewhat taken aback. I'd hardly been expecting a Mariah Carey level of diva but given her renowned elusiveness and the fact that her annus mirabilis of 2019 was clearly signalling the start of potential roaring success, I wasn't anticipating such effervescence in greeting media personnel as though we are old friends.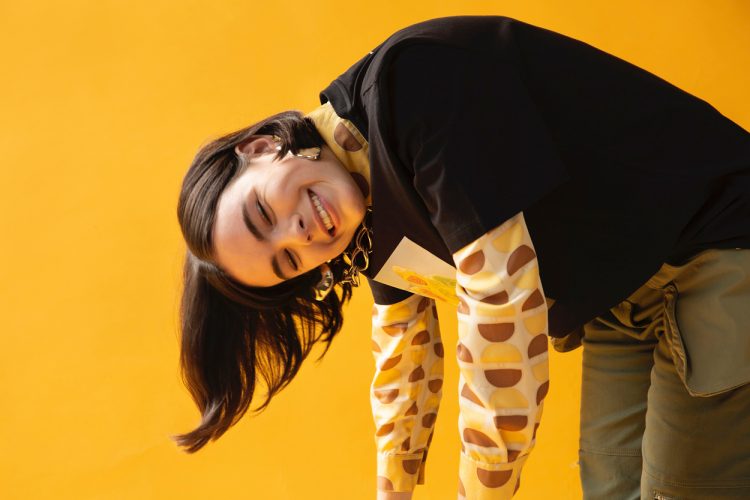 The 20-year-old's debut LP Fire on Marzz, released mid-last year, is certified gold. And its monster track Soaked, which reached number 14 on the New Zealand Singles Chart, has gone platinum. You may recall her show-stopper turn at the Vodafone New Zealand Music Awards (VNZMA) — winning Single of the Year for Soaked, Best Solo Artist for Fire On Marzz, Breakthrough Artist of the Year and Best Pop Artist — before performing to the masses at Auckland's St. Jerome's Laneway Festival for the second consecutive year.
When I mention her VNZMA clean sweep, her wordless response is a classic: an exaggerated exhale and a noise resembling a child blowing a raspberry. "It was madness," she eventually remarks, "I don't even understand it. The whole night was…" she trails off, squirming in her seat before laughing and finally landing upon "I embarrassed myself on stage." She's alluding to her multiple speeches at the Music Awards. Beginning with an outpouring of gratitude and a simple "What the heck is happening?" she snowballed into a series of bizarre noises and crashed out multiple F-bombs, which were as headline-grabbing as her awards' haul in the next day's press.
If her liberal use of on-stage profanities offers up any insight, it's that Benee is unashamedly herself. During interviews she embraces the wacky, often communicating through her notorious noises and fabricated terms. Her sartorial choices veer towards rebellion and could not be further from the manufactured female pop star image. Appearing to channel an unruly teenager, Benee is usually swathed in oversized hoodies and draped in eclectic prints, with brightly coloured dye streaking loudly through her boyishly bobbed hair. Through it all, she somehow manages to remain authentic while balancing herself within the heart of music purgatory: she's labelled a 'pop' star, but will do anything to avoid pop-sounding hooks. Instead, she splices genres until she creates a fusion that emerges into musical life as entirely her own sound. To many, she embodies an impressive cool, but tell that to her and she'll respond with "I'm just, like, an idiot."
Equally as organic is her musical trajectory. During her last year of high school, her recorded covers on SoundCloud caught the attention of Josh Fountain, producer and member of Kiwi supergroup Leisure. After two weeks at University — she very briefly flirted with a Communications degree — Benee joined forces with Fountain and together they released her debut single, soft-synth hit Tough Guy. What came afterwards was spirited pop banger Soaked which, with its catchy-as-hell combination of staccato lyrics and earworm melodies, cemented itself as the Kiwi favourite of 2019.
I ask her where she finds the inspiration for such sonically-pleasing tracks, and she credits much of it to her rich dreamscape ("Afterlife, a song on my first EP, is about this very vivid dream I had") and to the open embrace of her own fears. "I have this huge fear that I'm going to get kidnapped in my sleep, which is pretty fucked up. I actually wrote Monsta about that one."
Monsta is a track from Benee's latest EP, Stella & Steve, named as such because "Stella is my name, and Steve is my car's name". The EP comprises a handful of synth-infused tracks, some of which she's been sitting on, waiting for the right release moment, and others she created on a recent songwriting trip to LA. "I had a breakup before I left, and then got to LA and had this first session where I wrote Supalonely." Despite its sad genesis, the song, featuring American artist Gus Dapperton, is unexpectedly peppy. "I was trying to be funny and self-deprecating by writing a song that was both happy and sad. It wasn't until the day after that, I entered the studio and was like 'fuck it, I'm just going to get super sad now' — that's when I wrote Blu."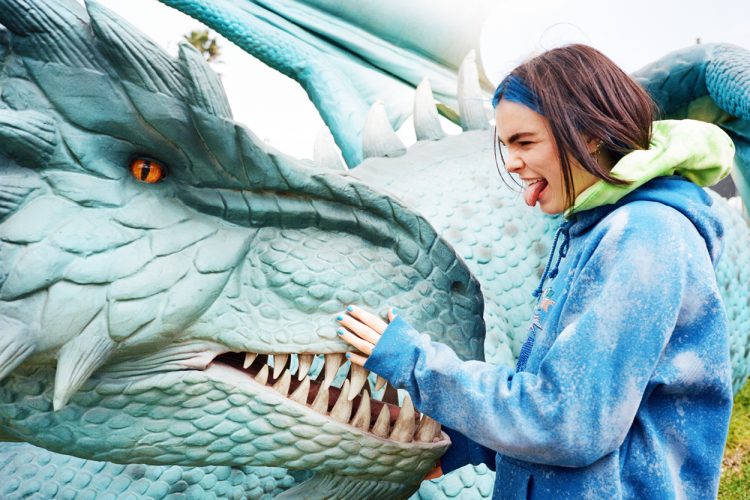 With quirky lyrics and funky electronic-tinged beats, the five-song EP — which includes Find An Island, and features homegrown blues-rocker Jack Berry on Drifting — is like an invitation to a 16-minute-and-41-second tour, right inside the weird and wonderful mind of Stella Bennett.
It's evident that the young artist has free reign when it comes to her creative process. For this, she credits her manager, Fountain. "It's so awesome," she beams, "It's cool that I can tell him I want to try different things, and he's always up for doing anything." It doesn't take me long to realise that 'anything' really does mean anything, from letting her stand atop her car in a sea of obscure zoo animals for the artwork of Stella & Steve, to making a trap beat because she was drawn to dabble in the hip-hop universe. For the record, we won't be hearing that song any time soon — "I ruined it, I sounded so lame", she adds with her signature, searing honesty.
That honest appraisal also defines the list of those she lets in. It seems that Benee chooses the people close to her with great care. Even her live band, she says, is made up of "a bunch of close friends." And it's hardly surprising — I imagine that close friends aren't exactly hard to come by in her case.
As we're wrapping our interview I ask if she has any musical idols — Prince and Bowie, naturally — and if she has any favourite listening to recommend right now. I've long surpassed my consented 30-minutes of media time, and yet she willingly reaches for her phone and talks me through the playlist on which she's currently gorging. As we sit, shooting the breeze on music and more, I'm struck by her genuine conviviality. It's almost easy to forget that I'm talking to a rising star rather than a new friend. As in our first moments of meeting, I sense that it's that warmth, that lingers in her wake, that will attract audience affection and adulation, even beyond the burgeoning Benee brand of musical magic.