Few moments can compare to listening to a song you love and being transported back to your favourite memory, or off on a new fantasy. But have you noticed that the longitudinal waves that lift you up are slowly lowering in quality over time?
Since the advent of the iPod and miscellaneous MP3 players in the early 2000s, the music we listen to has been compromised, and it's not just the vinyl collectors lamenting the loss of authentic sound. The size of digital music files has been flattened by 90 percent, which is much less than CD-quality.
While recording artists have more advanced equipment than ever, the music that is eventually streamed to the listener, known as a lossy, is a far cry from the original track. "We're making music to the highest level; it sounds more amazing than ever before, in my opinion. And [yet] we're listening to it on this platform where it's compressed," announced DJ/producer Calvin Harris at the official launch of Jay-Z's Tidal service in 2015.
Tidal started the mainstream conversation around 'high-fidelity' lossless streaming. Since then, others have developed streaming technologies that are so close to a studio master, they can also transport you inside the recording room only a famed few have access to.
Arguably the largest streaming service, Apple made its catalogue of 75 million songs available in opt-in lossless audio this year. On the same day in May, Amazon Music was quick to notify its millions of subscribers that they would remove the charge for its HD lossless streaming. Tidal even relaunched an uncompressed HiFi audio tier. Now, Spotify's subscription is eagerly awaited.
No longer reserved for the realms of the audiophile, lossless streaming preserves the details agonised over by sound engineers — so you can hear the light pluck of an acoustic guitar at the same time as a cymbal crash. "The soul and life of the mix is sitting in the extra bits of data that are stored in the lossless file," said American producer Piper Payne at Apple's launch. "As a mastering engineer, having the ability to convey the music to the listener at its highest quality is the end goal."
Without having a philosophical meltdown — is what I hear what they hear? — the podcast Song Exploder highlights the kinds of details you might only notice in high-quality audio. In one episode, special guests Billie Eilish and her brother Finneas revealed that in 'Everything I Wanted' layers of often-whispered backing vocals give a sonic depth that is only noticeable as distinct voices when listened to closely in high quality.
At these unprecedented levels, many high-resolution streams have a dramatic dynamic range of 24-bit audio, which means you can hear a sound range from a pin dropping on the floor to a shotgun being fired right next to your ear. Without denouncing your musical taste, this doesn't seem that necessary.
It's widely acknowledged that human hearing can achieve around 20,000 vibrations per second (known as a hertz). Lossless audio streamers can reproduce frequencies as high as 96,000Hz, which means every second of a digitised song has been sliced into 96,000 intricate sections of sound waves, known as samples. The difference in this extra level of detail may be detectable to bats, but would likely be difficult for humans to hear.
While our cochleas are catching up, so too is our listening technology. Many Bluetooth devices, such as portable speakers and wireless ear-buds, can only receive compressed songs, they can't play high-quality songs as their high-quality specs promise — until leading brands find a solution.
In the meantime, you can turn to a digital-to-analog converter (DAC), which comes either built into speakers and headphones or as an accessory. Some newer Android smartphones have headphone jacks that are all set, while your average laptop or tablet will need an add-on. If you want the room to fill with lossless sound — and you will — a DAC can be connected to high-quality speakers through a stereo preamp, integrated amplifier or standard audio receiver.
Because higher-quality files require more space and data, portable music players with their own headphone jack are best for carrying sound waves on the go. They've come a long way from unwieldy Walkmans, playing direct stream digital (DSD) files — the highest quality digital music available.
For those who are determined to be cordless, all-in-one systems that connect to your home's Wi-Fi are the most seamless for now. And there are plenty of other ways to amplify your listening experience, from surround sound speakers to specially designed spaces. Still, not all systems will match all services, so it helps to have an idea about your gear.
For those who want to travel to a new dimension, Apple has rolled out Spatial Audio with support for Dolby Atmos. The latter lets artists place each voice or instrument of a song in its own space, including above and below the listener, for a transcendent soundscape experience.
"Since recording began, artists, producers, and engineers have [been] transporting listeners to worlds they never knew existed, even when the sound came from a single speaker," said Grammy Award-winning producer, songwriter, and composer Giles Martin. "Now with the dawn of immersive audio, we can take the music lover inside the music. From the feeling of hearing your favourite artist in the same room as you, to the experience of sitting directly in the middle of a symphony orchestra, the listening experience is transformative and the possibilities for the creator are endless."
While there are fewer Dolby Atoms songs — thousands as opposed to millions — the category, and its number of collaborators, is increasing. Soon the tracks will be the default on most Apple products, as well as for the Lucid Air, an anticipated luxury electric vehicle that has had its interiors configured for forward-moving music.
In a new sonic fantasy, we'll not only be carried away by crystal clear sound waves but floating in an ocean of songs that break new ground.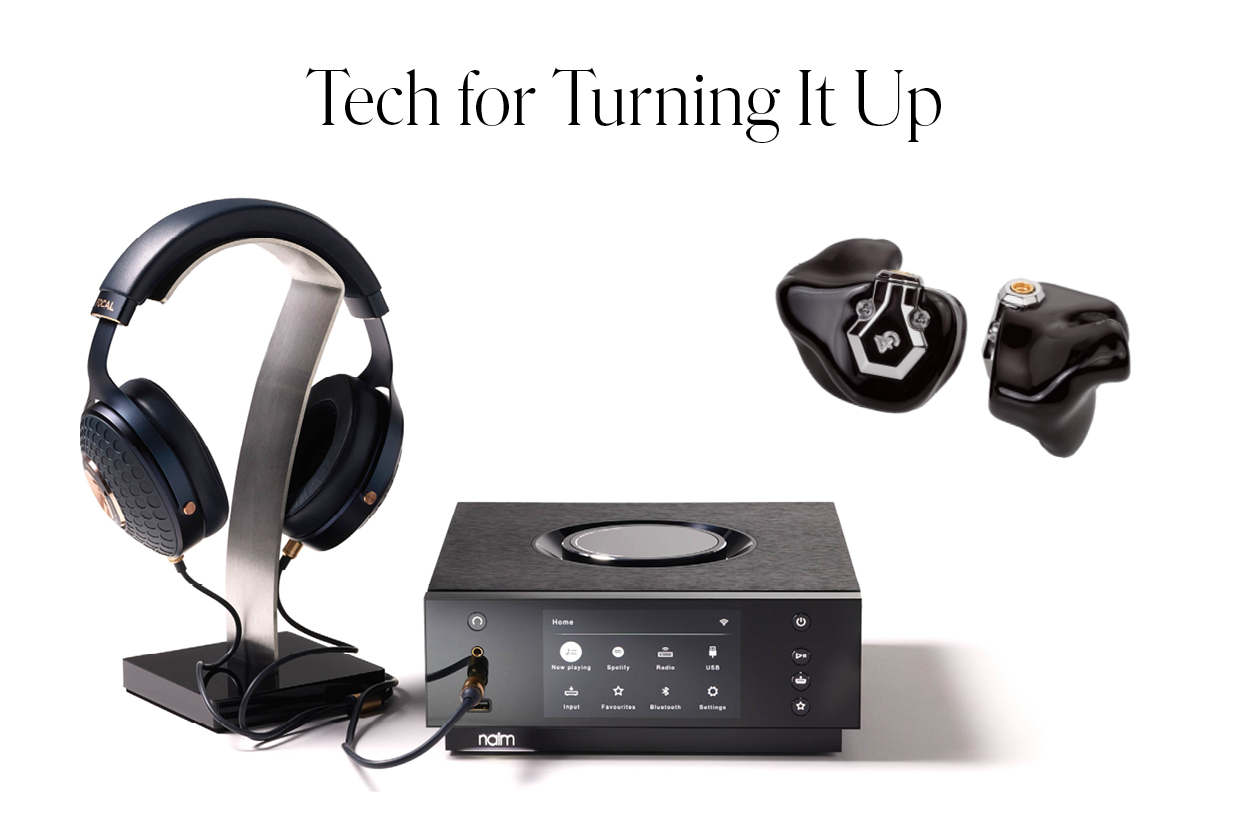 Lossless audio files drastically improve our listening experience, delivering uncompromised sound as the artist originally intended it to be. But how do we make sure we stream these songs in a way that brings crystal clear music to our ears?
Here is the best tech for turning it up:
Naim Uniti Atom Headphone Edition
For those who want to get the best out of their headphones, the Naim amplifier allows you to connect your cans to digital streaming libraries, wireless AirPlay and even old-school, plugged in turntables.
Solid-Body Custom-Fit Earphone
Campfire Audio's earphones, which you can use with a matching cord, are custom engineered for a personal fit and finish. Designed in the USA, we're keeping our ear to the ground for New Zealand audiologists taking impressions.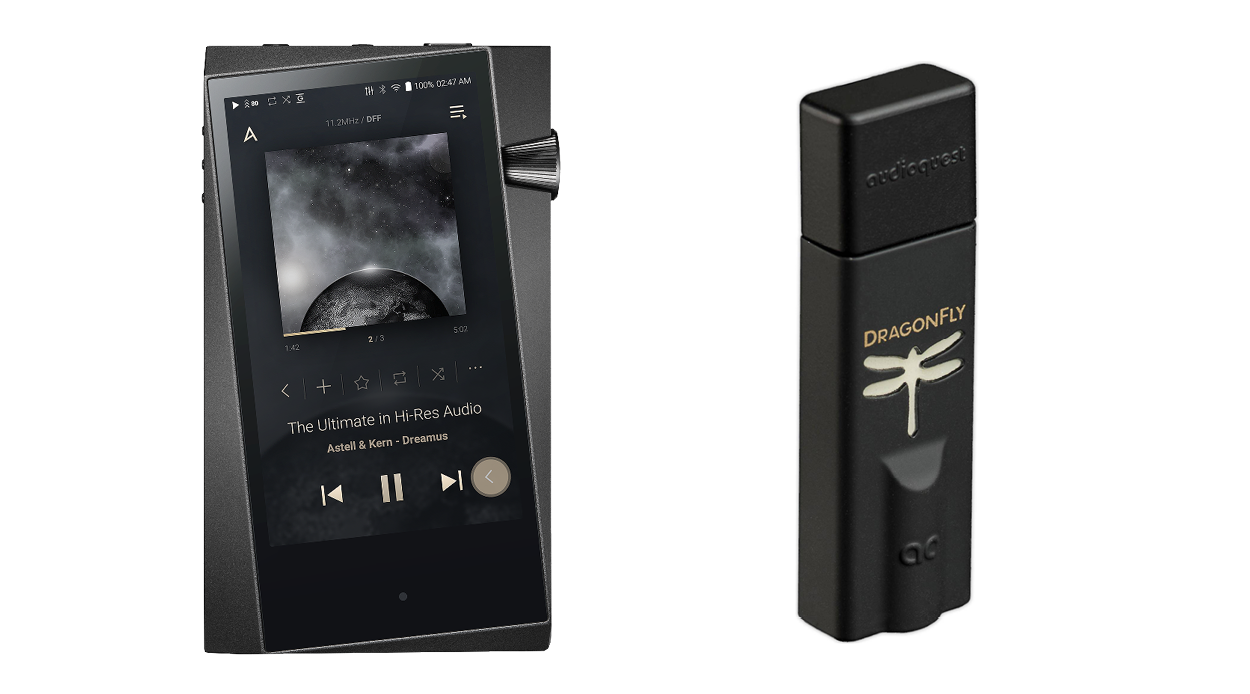 Astell & Kern A&norma SR25 Portable High Resolution Audio Player
Astell & Kern is known for its impeccable MP3 players — as seen in its A&norma. Designed with a touchscreen on a lean, it connects to streaming services over WiFi and can process high-quality tunes in no time.
AudioQuest Dragonfly DAC
One of the sleekest digital-to-audio converters for headphones, this Dragonfly has a colour- changing LED to signal the sample rate of your track — intentionally limited to 96kHz for the optimal experience.