With the recent release of their highly-anticipated third album, Californian Soil, British band London Grammar are well and truly back on the scene with their hypnotic electronic-pop sound — and it's already blasted to number one in the Official Albums Chart. Comprising lead vocalist and songwriter Hannah Reid, multi-instrumentalist and producer Dot Major and guitarist Dan Rothman, London Grammar's unique sound is largely thanks to Reid's distinctive contralto voice, and it shines on Californian Soil.
In this album, Reid has stepped more fully into her power, channeling her experiences as a woman in the music industry — many of them challenging — into honest lyrics and soaring vocals. Catching up with Reid on the eve of the album's release, she shares her musings on the journey her songwriting has taken over the last decade.
"When you make your debut album, you never think anyone's going to listen to it, so it was really easy to absolutely put my heart and soul on a plate," she says. After the success of If You Wait, an overwhelming tour schedule and continuous press, Reid has been open about a loss of confidence she experienced, which was reflected in more guarded lyrics on their second album Truth Is a Beautiful Thing. "There are parts of it that I absolutely love, but it's a little more like I'm hiding things behind a lyrical wall."
On Californian Soil, she has been much more direct. "It did take a bit of a turning point for me, when I was like 'I don't have anything to lose'", she says. "You're never going to make anything that's worth anything if you're not putting yourself at risk a little bit and exposing parts of yourself. I found a way to find that vulnerability again."
Starting out in the music industry, Reid says she was shocked to be constantly surrounded by only men. It was an uncomfortable dynamic, and one that has led to negative experiences in her career. "I felt like it was much more of a battle for me than it was for my bandmates," she says. "Those little experiences every day added up to quite a profound experience, I think, and I did lose a lot of confidence."
This challenging period also had a direct impact one of her most precious assets — her voice. "I've learned that there is such a mysterious connection with the voice and what you're going through subconsciously or emotionally," says Reid. Making London Grammar's second album, she experienced pain and problems with her vocals, but Californian Soil was different. "Throughout this album, throughout writing those songs and then talking about the experience, I feel like… it sounds so cheesy, but I literally got my voice back and it sounds different now. I feel like now it's got the strength that it had when I was 21, again."
The trio have honed the way they make songs together throughout the years, and in creating this third album, Reid says they've finessed how they work best together. "We tend to work best in pairs when it comes to the writing," she muses, "[and] we work best as a three when it comes to the production. Also, we don't do well, necessarily, being in all the big fancy studios." A lot of Californian Soil was made in a home studio, which led to some beautifully intimate moments.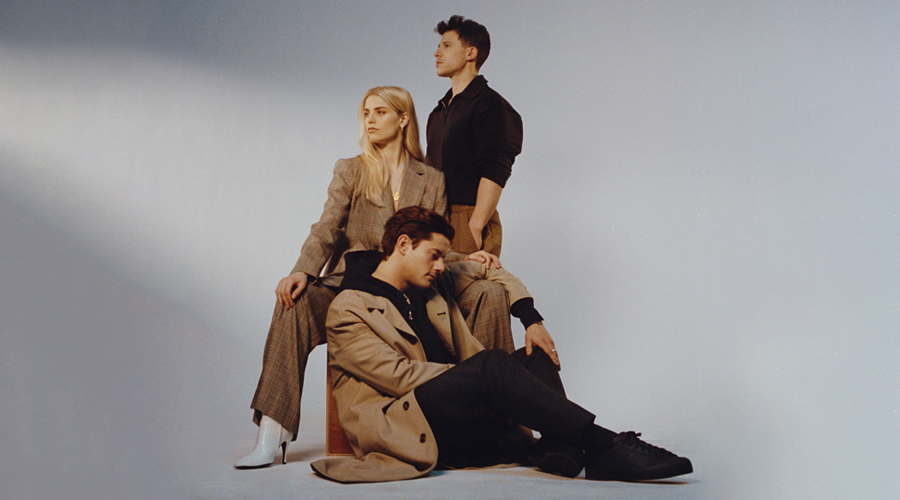 All My Love, for instance, is one of the album's most stripped-back songs, and one Reid says she thinks has the best vocals — but this isn't down to expensive, state-of-the-art equipment. "We wrote and produced that whole song in Dan's really tiny loft studio, that you had to get to via some secret stairs in his wardrobe, it was just the most bizarre thing," she says. "You can hear birds in the background of that song because the window was open. We were just making music, but it sticks out to me because that song proves that it's not about being in the expensive studios. It's about the emotion, and if you capture that, then it doesn't really matter, I think."
Having recently announced a tour in New Zealand and Australia for February and March 2022, Reid says she's extremely excited to be over on our shores with London Grammar — for more reasons than just the rush of performing. "The food and the coffee is so amazing in Australia and New Zealand," she enthuses. "I just always feel really energised when I'm there."
In the more immediate future, Reid is excited to finish London Grammar's fourth album which, according to her, sounds completely different again from Californian Soil — "we've got loads of new material, so hopefully there won't be as long a wait between records anymore."
Ultimately, says Reid, she and her bandmates are interested in staying power, a fundamental marker of success in a notoriously fickle business. "It's very easy to have a successful first album and fade away, it's a really tough industry for that," she says. "I think me, Dan and Dot want longevity more than anything else."
Californian Soil is out now, and find tickets to London Grammar's 2022 tour here.