There's never been a better time to lend your ear to a great podcast. Thought-provoking, captivating and always entertaining, there's a podcast out there to suit just about everyone. Whether your tastes range from comedy to true crime, take your pick from these popular podcasts.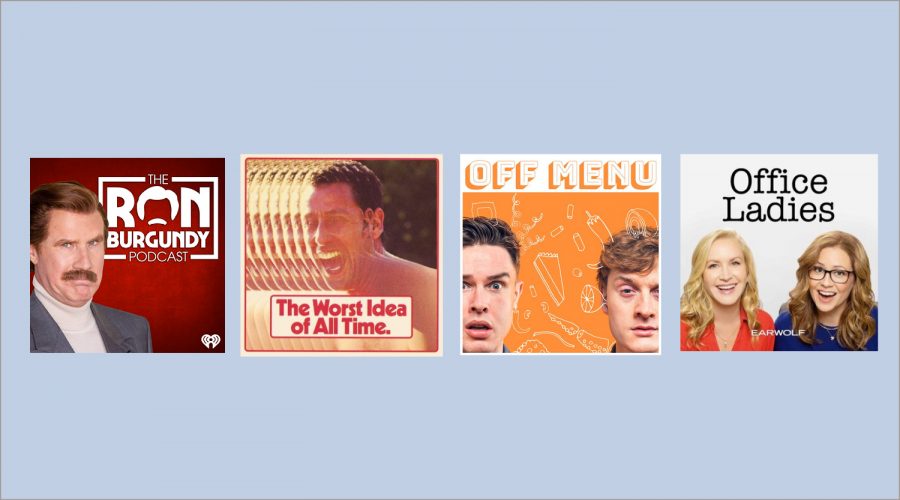 Comedy
The Ron Burgundy Podcast
In troubled times the general public turns to a face they can trust and anchorman Ron Burgundy is stepping up to the plate with his podcast. The aural-spin off from the hit film Anchorman features such diverse special guests as Sia, Brooke Shields and Gloria Steinem.
The Worst Idea of All Time
Comedians Guy Montgomery and Tim Batt ramble delightfully through a movie every week, applying their unique view to such classics as Gigli, Sex and the City 2 and Cats. The perfect background while you spend hours trying to decide what to stream on your television.
Off Menu
Brit comic duo Ed Gamble and James Acaster invite guests into their imaginary restaurant to discuss their favourite entrees, main courses and desserts, as well as a decent tipple. Guests are mostly plucked from the ranks of British comedy, including Katherine Ryan, Noah Scnapp and Ronny Chieng.
Office Ladies
Ditch your book club and join a sitcom club as Jenna Fisher and Angela Kinsey take you through every episode of The Office, in which they starred. You can really commit to the podcasts by watching each episode before the actresses dissect the themes and take you behind the scenes.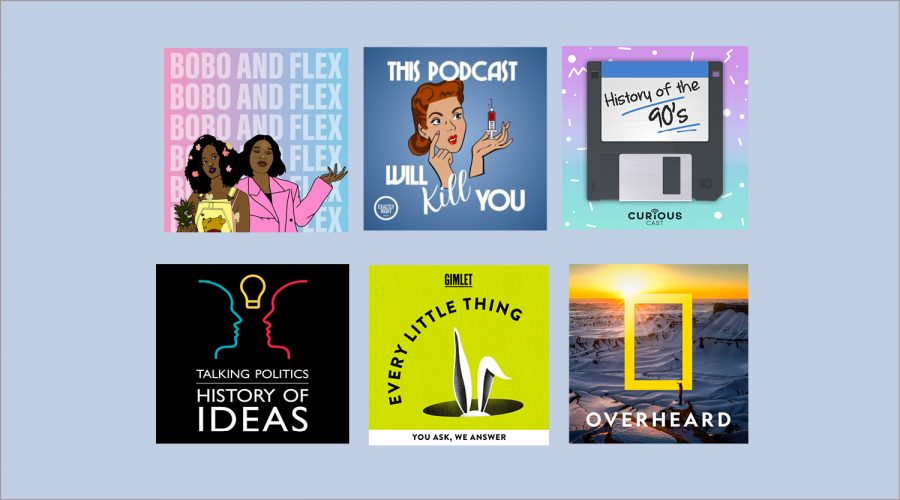 Learning
Bobo and Flex
On a "quest to decolonise your minds," Bobo Matjila and Flex Mami deliver an informative weekly discussion that delves into topics like sex and lifestyle through the lens of race and feminism.
This Podcast Will Kill You
Pointedly relevant, this podcast is from two disease ecology graduate students who want to share their knowledge of epidemics and medical mysteries with the world.
History of the 90s
Whether its discussing legendary film Scream and how it gave new life to the horror genre, talking over the details from the Columbine High School Shootings, exploring the rise and fall of the beloved Beanie Baby toy franchise or delving into our collective devotion to TV series Friends, this podcast has you travelling back in time through the stories that defined a decade.
Every Little Thing
Fans of quirky knowledge, this podcast is for you. Ever wondered how nail polishes are named? Or the truth about airplane mode? All will be revealed.
Talking Politics: History of Ideas
Host David Runciman explores some of the most important minds and ideas behind modern politics in a bid to put current events into a helpful historical context.
Overheard at National Geographic
Have you ever wondered what it's like to scuba dive under a pyramid? Or how an ancient Roman harbour mysteriously ended up in ruins? Or even what it would've been like if women were the first on the moon? National Geographic delves into all of these questions and more as it explores the most curious elements from our bizarre and beautiful world.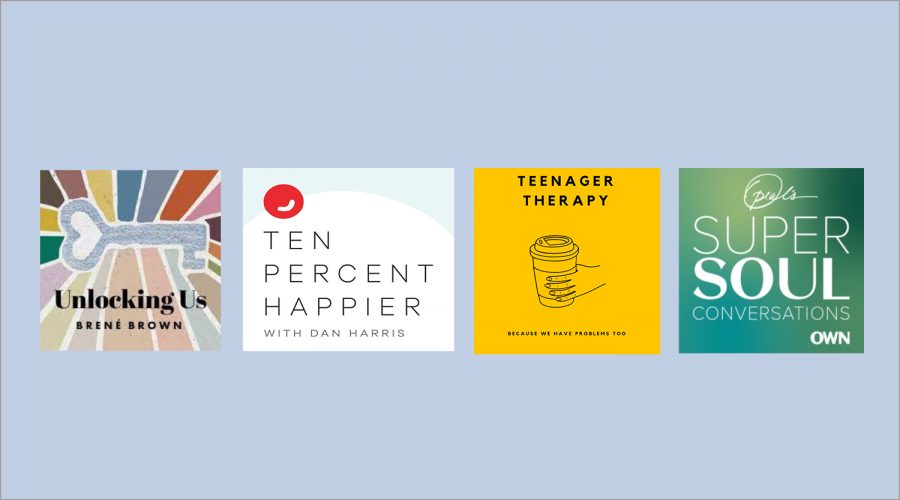 Growth
Unlocking Us with Brené Brown
Bestselling author, Brené Brown, unpacks the universal human experience in this thoughtful podcast, that reminds us to embrace our vulnerability and be kind to ourselves.
Ten Percent Happier with Dan Harris
On his podcast, Ten Percent Happier, acclaimed author Dan Harris discusses happiness from every angle, always returning to the idea that the mind is trainable, for better or worse.
Teenager Therapy
Five teenagers sit down to talk about the arduous journey of growing up. Whether you're a parent of teens or a teen yourself, this podcast is packed with heartwarming, informative stories to keep you engaged.
Oprah's SuperSoul Conversations
The undisputed queen of talk show television and all-around media darling, Oprah, hosts this popular podcast to help connect us to the deeper meaning of the world. Through a series of interviews with thought-leaders, best-selling authors, luminaries and experts on health and wellbeing, this podcast will lift you up and give you pause for thought.
Inspiration
Everything Is The Best
Positioned as a kind of expert guide on how to not feel so alone, this podcast sees host Pia Baroncini get real with her guests, in an attempt to discover and highlight the things that connect us all. Delivered in a format designed to inspire the listener to follow their dreams, Baroncini invites guests from all walks of life to dig around in their past and divulge experiences that everyone can relate to, regardless of their circumstances. It is a thoroughly uplifting listen that will serve to shift your perspective.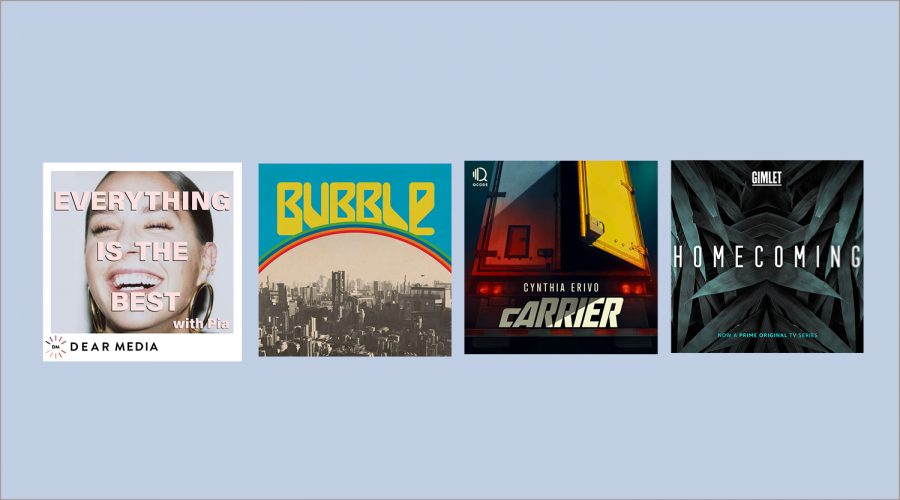 Escapism
Bubble
This eight episode spoof sci-fi series follows a small band of monster killers, voiced by Alison Becker, Mike Mitchell, and Keith Powell, in the town of Fairhaven, which resembles hipster ground zero Portland. Narrated by Tavi Gevinson, this slick production is addictive and just alternative enough to give you the wry smile you normally get from a barista refusing to serve you a trim flat white. It's a mix of Daria, Blade Runner and Broad City.
Carrier
Over the course of seven episodes, we follow long-haul truck driver (Cynthia Erivo), who, during a night trip across rural America, discovers she's transporting a trailer with disturbing, mysterious contents.
Homecoming
Before it was a hit Amazon Prime series starring Julia Roberts, Homecoming was a gripping podcast where a well-meaning therapist, her ambitious boss and a soldier eager to re-join civilian life all collide at the mysterious Homecoming facility.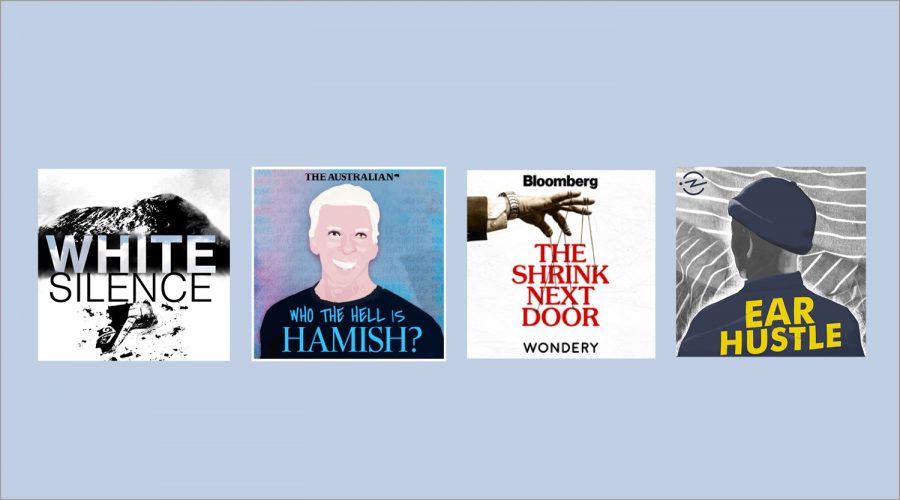 True crime
White Silence
This podcast from Stuff and RNZ explores the shocking story of New Zealand's deadliest disaster and is perfect for anyone who loves a gripping conspiracy theory. In 1979, an Air New Zealand jet with 257 passengers on board took off from Auckland Airport, destined for Antarctica. Hours later, everyone was dead. With lies and cover-ups in abundance, White Lies will have you questioning everything you thought you knew about the infamous Mount Erebus disaster.
Who The Hell Is Hamish?
This fascinating story of a serial conman takes us into the life and crimes of a Sydney surfer with a particular set of skills that allowed him to take on a number of different personas, evade authorities for years and steal tens of millions of dollars.
The Shrink Next Door
If you love true-crime, you'll love this outrageous story about a neighbourly relationship between psychiatrist and patient that turns into something far darker than you could have ever imagined.
Ear Hustle
Conceived, recorded and produced from inside San Quentin State Prison, this podcast is the result of a collaboration between two inmates, Earlon Woods and Antwan Williams, and prison volunteer Nigel Poor. It explores the daily lives of those incarcerated and provides insight into the world behind bars, a political and nuanced landscape that at times, doesn't feel much different from our own.
Image credit: CHRISTIAN VIERIG