Escapism and learning combine with these engrossing recently-released non-fiction books, spanning a variety of topics from psychology to philosophy; pop culture to climate change.
Humankind: A Hopeful History by Rutger Bregman
With a fresh perspective on history, this book makes a case for the virtues of humanity. Arguing that evolution has instilled in us a propensity to be kind and honest (a departure from what we typically see in the news), Bregman says that when we accept our inherent altruism, we will be able to get on with making the world a better place.
Breath: The New Science of a Lost Art by James Nestor
Breathing seems like the most natural thing to do, but are we doing it right? In this illuminating book (a number one New York Times Bestseller), journalist James Nestor researches why we all stopped breathing properly, the chronic illnesses that have emerged as a result and the potential we could unlock if we did it right.
Bowie's Bookshelf: The 100 Books That Changed Bowie's Life by John O'Connell
Three years before he died, David Bowie shared the 100 books that changed his life. Here, John O'Connell explores each with a dedicated mini-essay that discusses their significance against the background of Bowie's life, offering an original lens through which to view the legacy of a legend.
The Art of Her Deal: The Untold Story of Melania Trump by Mary Jordan
Penned by Pulitzer-Prize-winning journalist Mary Jordan, this enlightening biography paints a picture of the FLOTUS that goes against her public image. More than 100 people from all over the world were interviewed by Jordan, who argues that Melania Trump held a far more pivotal role in the White House than anyone thought.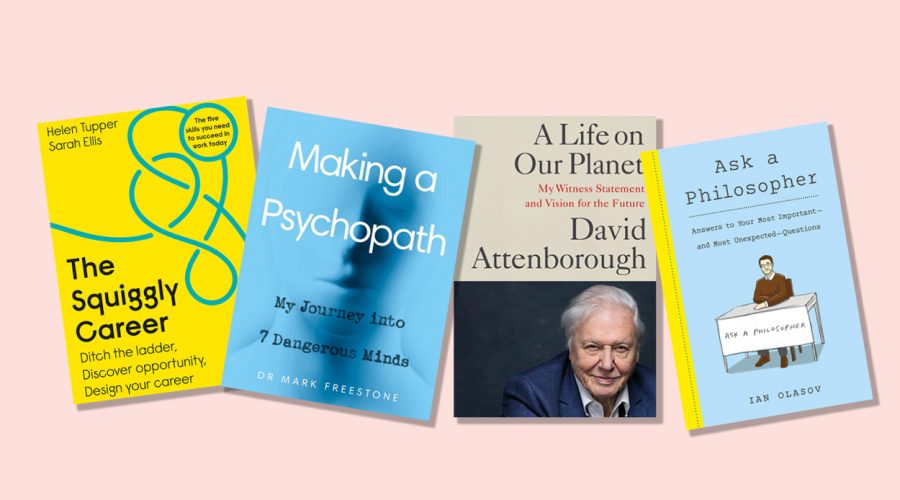 The Squiggly Career by Helen Tupper and Sarah Ellis
If you feel in need of change, perhaps this book will inspire you to switch things up. An acknowledgement that careers are no longer linear or long-term affairs, Tupper and Ellis have created a helpful guide, brimming with insight on how to grow into and get the best out of your career.
Making a Psychopath by Dr Mark Freestone
From the leading psychologist who helped to create Killing Eve's Villanelle character, comes a riveting read about what truly makes a psychopath. And considering Dr. Freestone has worked on some of the most infamous and disturbing cases in the world, he is uniquely positioned to deliver some incredible and informative insight.
A Life on Our Planet by David Attenborough
Recently turned into a documentary for Netflix, David Attenborough shares his thoughts on the future of our planet, from a lifetime spent exploring it. The award-winning natural historian and journalist makes clear the finite opportunity we have right now to reclaim our earth and to move forward in a more conscious, considered way. There is hope, he says, if we act now.
Ask a Philosopher: Answers to Your Most Important and Most Unexpected Questions by Ian Olasov
From life's most poignant questions like 'is there life after death?' to some less important ones like 'if humans colonize Mars, who will own the land?', this book offers answers to a range of mind-bending, funny and moving questions in a bid to get you thinking like a philosopher.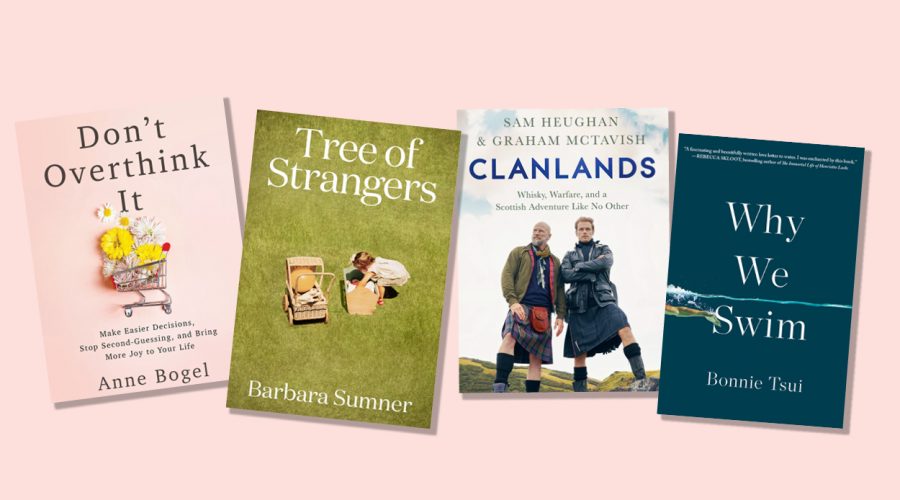 Don't Overthink It by Anne Bogel
Suffering from decision fatigue and negative thought-patterns? This book could help you break the cycle. Aiming to outline actionable strategies to make an immediate and lasting impact on how we deal with questions, both big and small, Don't Overthink It offers a framework for proactively bringing more peace, joy, and love into their lives through making decisions we feel comfortable with.
Tree of Strangers by Barbara Sumner
This moving and beautifully-written book by New Zealand writer Barbara Sumner deals with identity, family, loss and love. Chronicling her experience as an adopted person in this country, Tree of Strangers describes Sumner's upbringing and personal evolution as she decides to search for her mother at the age of 23. Through the process, she comes up against New Zealand's harsh 1955 Adoption Act legislation — the reform of which she is one of our foremost advocates of today.
Clanlands: Whisky, Warfare, and a Scottish Adventure Like No Other by Sam Heughan, Graham McTavish
A little niche, but we can get behind that. Scotsmen Sam Heughan and Graham McTavish, stars of the Outlander TV series, are out to discover the complexity, rich history and culture of their native country. Travelling from the heart of Scotland to Inverness and Culloden battlefield, experiencing some colourful characters along the way (and drinking a lot of whisky), the audiobook is apparently an even better way to enjoy this romping road trip adventure.
Why We Swim by Bonnie Tsui
Swimming is one of the most popular activities in the world, but humans are not actually born to swim — we are taught, and then we swim for pleasure, for exercise, for healing. With her often deeply personal exploration of our relationship with water, The New York Times contributor Bonnie Tsui offers a new way of looking at swimming and, through this, human behaviour itself. Spanning tales of Olympic champions, a Baghdad swim club that meets in Saddam Hussein's palace pool, modern-day Japanese samurai swimmers, and even an Icelandic fisherman who survives a wintry six-hour swim after a shipwreck, Why We Swim looks into what about water, despite its dangers, keeps us returning time after time.