Painter Katherine Throne's métier has long been anchored in celebrating nature. Having been drawn to flowers as a subject matter while completing her Master of Fine Arts, Throne has since made them into something of a muse, returning to them as symbols of both femininity and our connection with nature.
Rebels and Romantics is a new exhibition set to open at Sanderson Contemporary on the 5th of July. In the show the artist is highlighting what she calls the more "ramshackle" parts of the garden: those wild and unruly plants that have grown as nature intended. The exhibition will showcase a series of 14 new oil paintings that celebrate the beauty to be found in imperfection.
Here, we talk to Throne about her love for painting flowers, the inspiration behind her new work, and what we can take from their underlying message.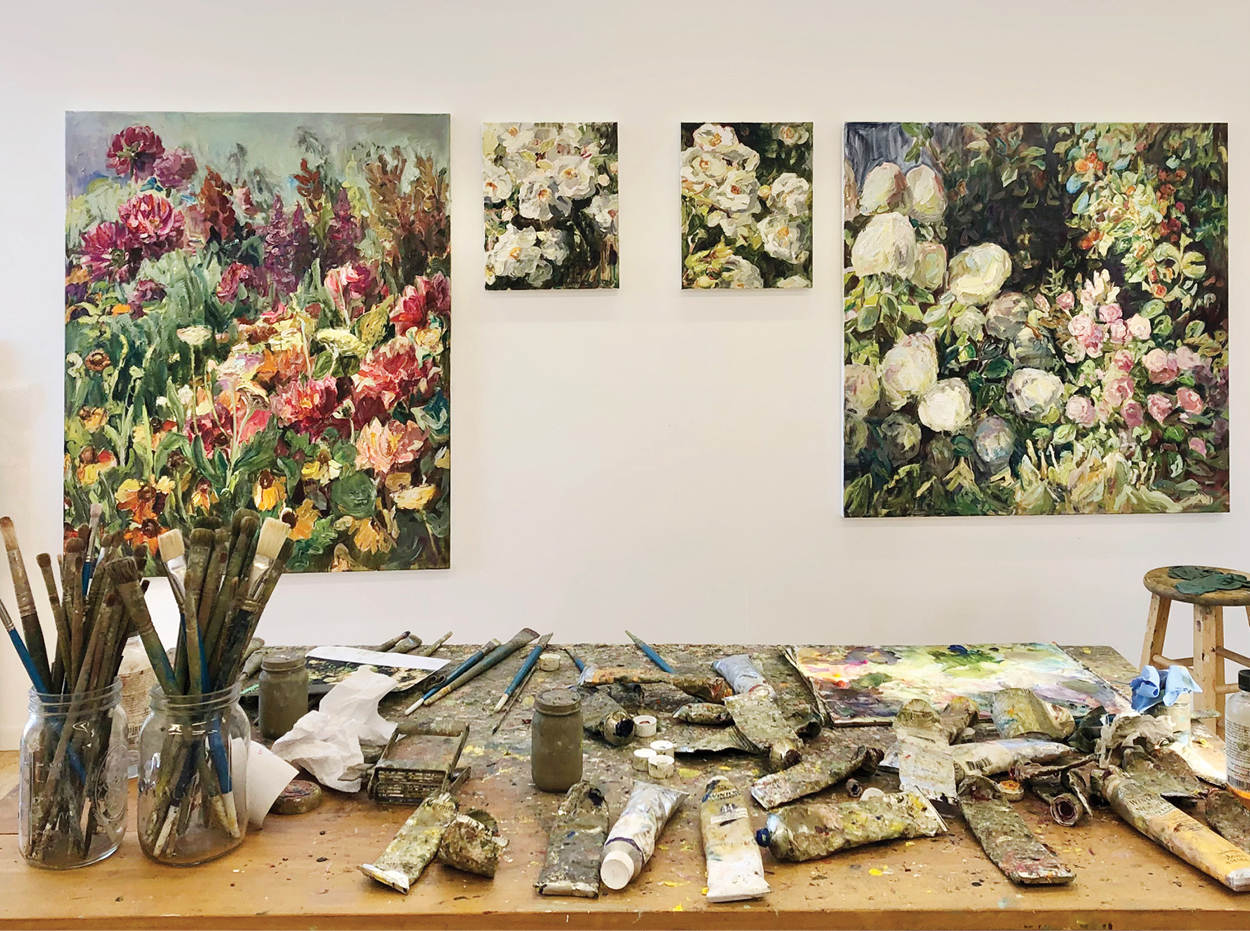 You have painted flora and fauna in your artworks for some time. When did you start painting in this way?
I'm an expressionist mark-maker, and that skill was developed during my undergraduate and graduate art school studies in America. My Master's thesis was studying the demise of decoration in the history of interior design, and focused heavily on collage. I became fascinated with the flower as this powerful and reoccurring icon of design, and then its subsequent denigration and elimination at the hands of modernism. My first solo show in New Zealand – Wallflower – was about returning the flower to the wall, and it felt right to do this in the expressive painterly manner I'd begun at art school. I've continued to pull at these threads of research over the last five years, delving into concepts of beauty, courage, the feminine and nature.
Why this particular subject matter?
The importance of our relationship with nature increases daily. I hope we're learning that the more we let nature get on and do its own thing, without us interfering, the better off our planet will be. At the same time, I believe we have an inherent drive in our DNA to be in nature, which means we are always craving a connection to it. I believe the more we can connect with nature the more we will care about it and take care of it.
I think it's much harder to connect to a perfectly painted vase of hot house grown flowers. We can all relate to imperfection, and feeling like we don't fit in. The more we can normalise these feelings the more acceptable the ramshackle becomes. The less threatening the untamed is, and the safer we feel in our own skin. I paint what I paint because there's a joy in creating and sharing something beautiful, but it's also a chance to connect with a viewer who thinks "I know that feeling, I feel that too".
Tell Me about your upcoming exhibition.
Rebels and Romantics is a collection of 14 oil paintings that depict a variety of flora from my local landscape. Each painting is cropped close like a portrait, and like a portrait, the painting reveals the personalities of these locals. I think of the collection as a cross section of society – like the faces you'd see at a community meeting. These are colourful characters in their true form. The rebels, the romantics and everything in between.
What was the inspiration behind it?
These characters are colourful in their arresting natural beauty, but also in their unique habits and peripheral place in the garden. I realised I was most drawn to the wild and unruly parts of gardens, and noted I found most joy in the plants that were allowed to grow naturally. These social outcasts, garden misfits and over-exuberant performers seemed to exist in a state of carefree and joyous abandon. I was struck by their prolific decadence. Their refusal to obey is thrilling. That they thrive amidst outright hostility is inspiring.
What are you trying to say with these pieces?
I want to capture the courage and zest for life that I see in these ramshackle plants. I want to push the boundary of a traditional motif, presenting it in a way that challenges ideas of beauty. I want the paintings to talk about the immense beauty of nature when it's left alone to do its own thing. Mostly though, I want people to connect with the characters in these works. If each painting is a character study, then I ask myself who is this character and why am I drawn to her?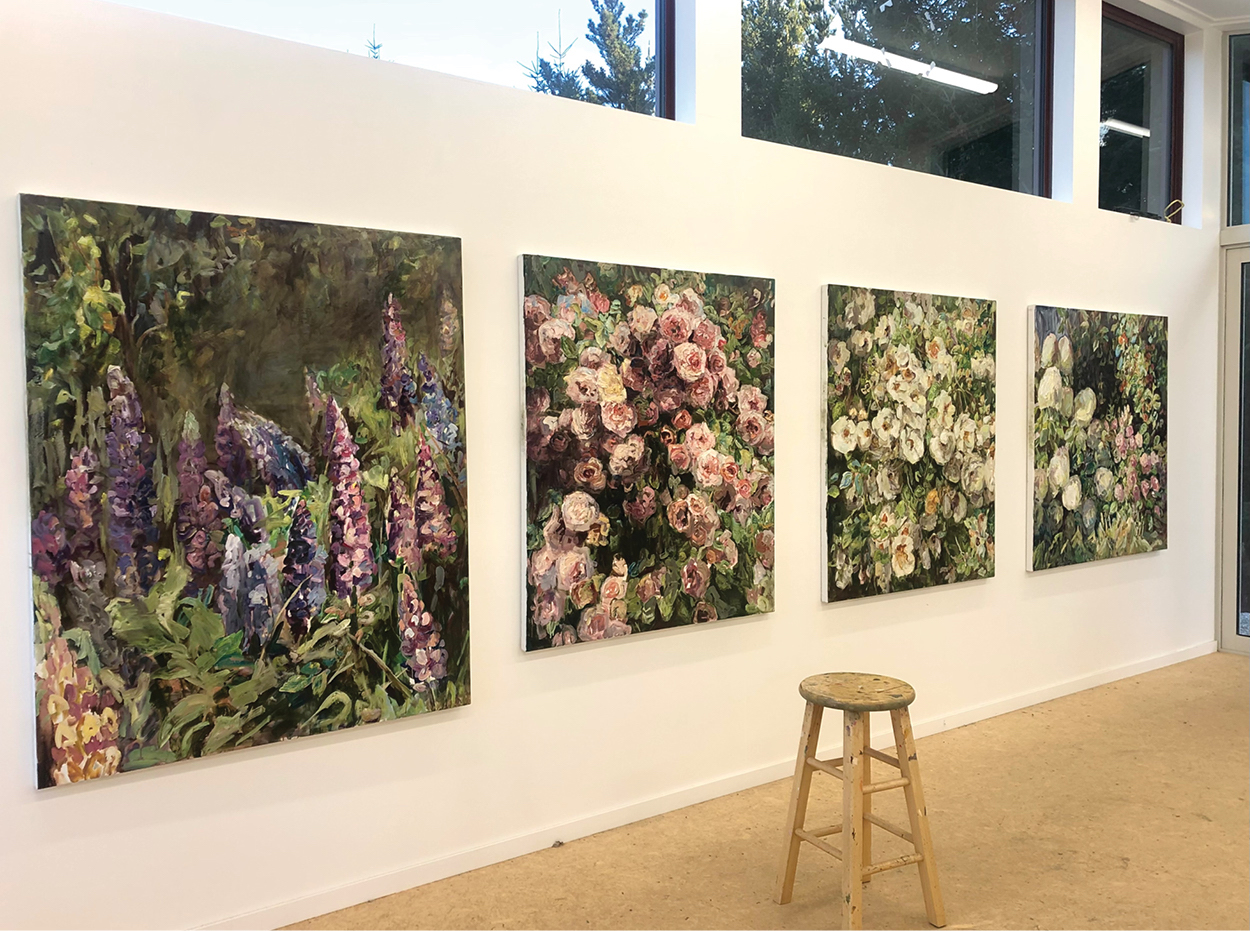 Is there a favourite within the series? What makes it so successful?
I think painting is about mark making. It's a visual language that tells a story and good mark making shows an ability to convey a feeling or narrative and form a connection with the viewer. My favourite paintings are always the ones whose marks can most eloquently say exactly what I feel. Interloper has to be one of my favourites in this new collection for this reason. The contrast of light creates a heightened sense of drama, the looseness of the gestural marks conveys energy, and the juxtaposition of differing paint applications creates tension — all these speak of the courage of an interloper.
Tell me about your creative process.
I only paint plants and places I know well. I often paint the same plant over and over, trying different angles, various light and time of day, and with different plants around it. I want to get to know the plants better, in the same way a portrait painter uses a favourite model. It's a way to dig deeper into the character studies I'm creating. The paintings take form slowly, with layers of oil building up gradually over time. Each layer is a chance to consider what I'm trying to say about the flower. The beauty of oil is that light travels through the layers of paint giving it depth and luminosity. I love that you can visually trawl through layers to learn a painting's history in the same way that a person's true character can be revealed if you take the time to ask, listen and consider.
'Rebels and Romantics' is on from 5th July until 31st July at Sanderson Contemporary, Osborne Lane, 2 Kent Street, Newmarket.