With her striking photographic work, artist Mickey Smith reflects the times we live in. For around two decades, her focus has been on finding and documenting bound periodicals and journals in public libraries, whereby the well-chosen titles speak to the viewer from the frame, provoking contemplation often with a single word. Originally from Minnesota in the States, Smith has been living and working in Auckland for several years, and explorations of the worlds she dually inhabits also thread through her exhibitions.
Her latest, New Outlook, is showing now at Sanderson Contemporary. Exploring the current atmosphere of post-pandemic New Zealand, the books she photographs are not touched, artificially lit or manipulated, and include titles like LIFE, FORTUNE, TODAY, TRANS TASMAN and the book for which the exhibition is named, NEW OUTLOOK.
Here, Smith talks about the evolution of her practice, the role of art in a crisis and what she has coming up next.
How would you say your practice has evolved from the beginning until now?
My practice has been engaged with a longstanding inquiry into libraries, books and archives. When I started photographing book spines nearly two decades ago, the work was intended for a one-off exhibition.
Over the course of time, this body of work has evolved into an ongoing documentary. Initially, I was interested in language and wordplay, which led to an exploration of the social significance of books and libraries. Over time, my practice has expanded to focus on their physical existence or disappearance.

Typically magazines and journals are not collected. We consume them on a weekly or monthly basis and, more often than not, toss issues into the recycling bin without thinking twice. Libraries too are pressed for space, they have to make space-saving decisions and often these collections are the first to go. Many of my subjects have been discarded, with no digital record of their existence left behind, except my own.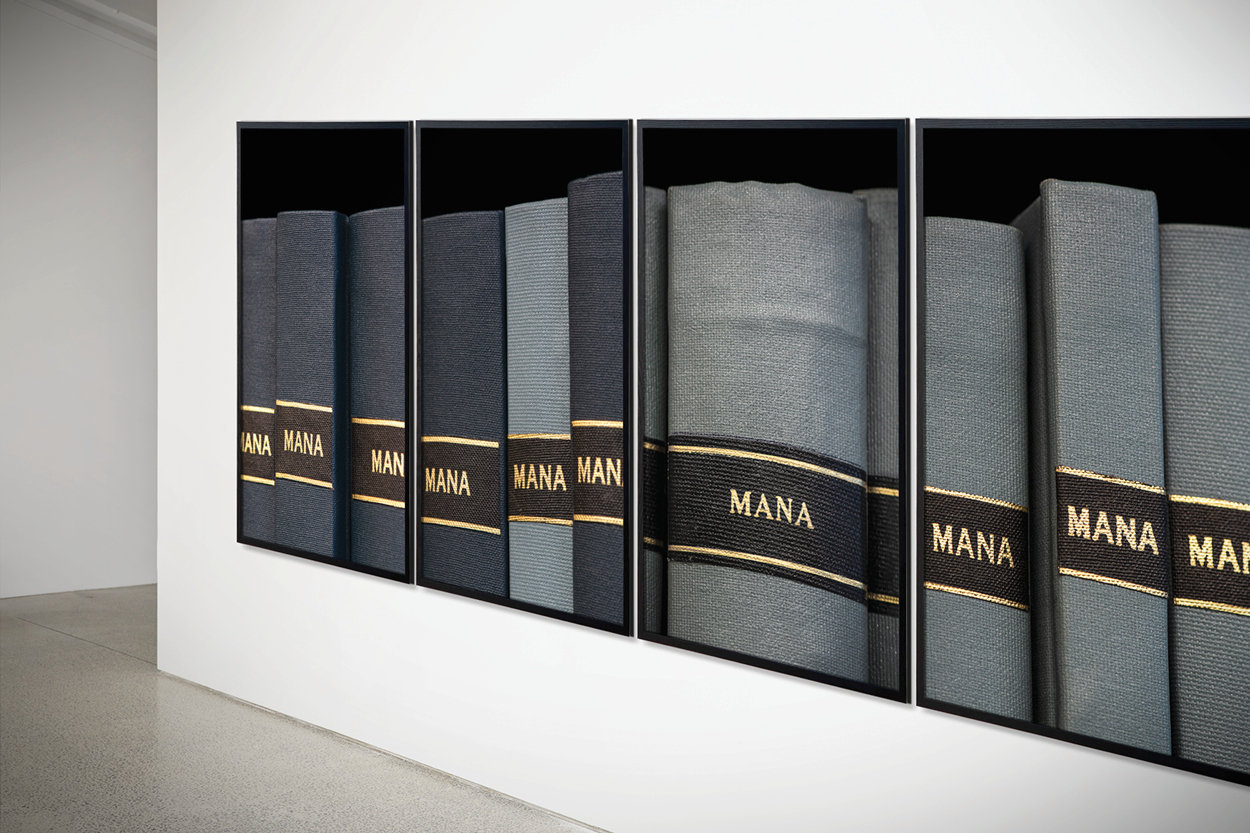 What would you say is art's role in a time of crisis? And specifically your own?
We are looking toward the end of the global pandemic and now watching the beginning of a world war. Art brings comfort, reflection and solace in unexpected ways. After experiencing unthinkable personal tragedy four years ago I made the work LIFE (Redux). It helped me recognise life does not always follow the course we set out upon.
New Outlook is the title for my new exhibition at Sanderson and I feel we could all use a new outlook right now. With thousands of people returning from overseas and immigrating to the country, that new outlook is no doubt New Zealand. Despite the fact I have lived here for a decade, the title represents how I see the future as well.
And how has all this upheaval affected you as an artist?
Working as an artist through a crisis can be difficult, but it is relative. A lockdown is nothing compared to a bombing raid. That said, after two years of a global pandemic you can feel ground down. Some artists have been productive, some paralysed. Recently I've been mentoring a group of 10 photographers who are exploring the concept "after the storm". One of them had Covid at the start of the project, another at the end. Clearly, the storm is not over.
It can be difficult to keep motivated when working alone, uncertain if exhibitions will carry on or be postponed, and not having a fortnightly paycheck to fall back on. We're lucky to be living here in New Zealand where creatives have been financially supported through the pandemic and long beach walks are readily available.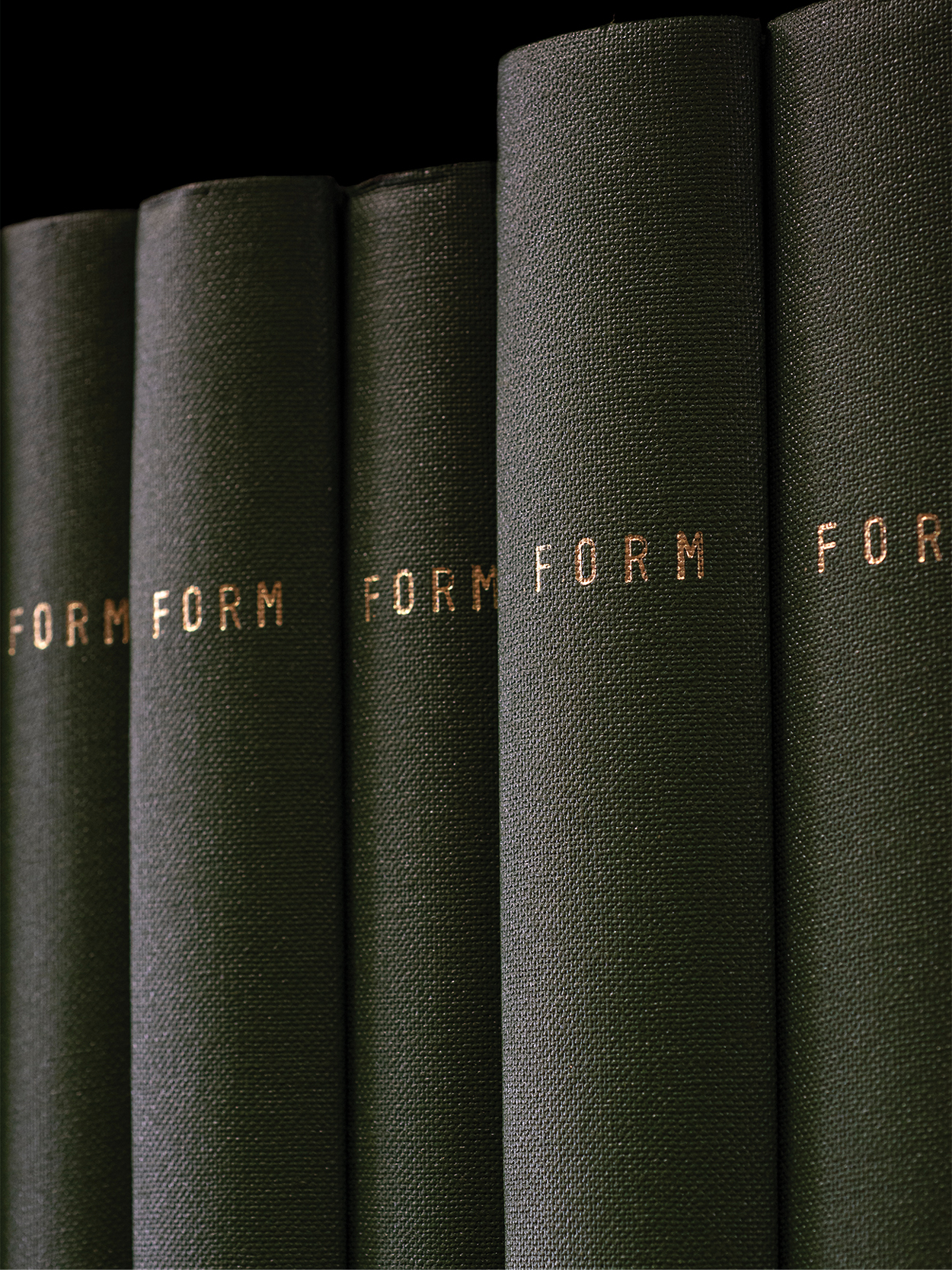 When you are setting out to photograph the volumes that you find, is it a case of letting the titles reflect an idea or feeling already present within you, or is the overall concept sometimes guided by the books that turn up?
When I scout a collection, I can't help but be drawn to titles within, as well as those which speak to the moment. Some titles just scream from the shelf. FORTUNE looking a bit ragged and dark, stamped in fake gold foil —
TRANS TASMAN, bound in ocean blue, was beautiful when I photographed it, but sat in my archive for a few years. The words themselves weren't terribly inspiring, I didn't think of it again until it became the almighty "Trans-Tasman Bubble" landed on our shores in 2021, representing the first chance to break free from the pandemic. Discovering MANA felt the same as finding POWER seventeen years ago. In an instant, I knew the title had to become a larger-than-life installation.
As a result of the pandemic, it seems as though the world has become more digitised than ever as we crave connection but often cannot be together in person. What do you think this means for the subject matter of your photographs?
Access to libraries has been limited and the benefit of the pandemic has been being able to access online content. The world has got smaller. With the titles I photograph, I know they'll be gone soon enough. Perhaps not thrown out, but shipped out to a storage facility somewhere until someone forgets about them, to eventually be deaccessioned. If one can consider the library as a metaphor for grief, my works may play a role in preserving our collective memory of a time passed and creating a visual monument to acknowledge the titles' existence.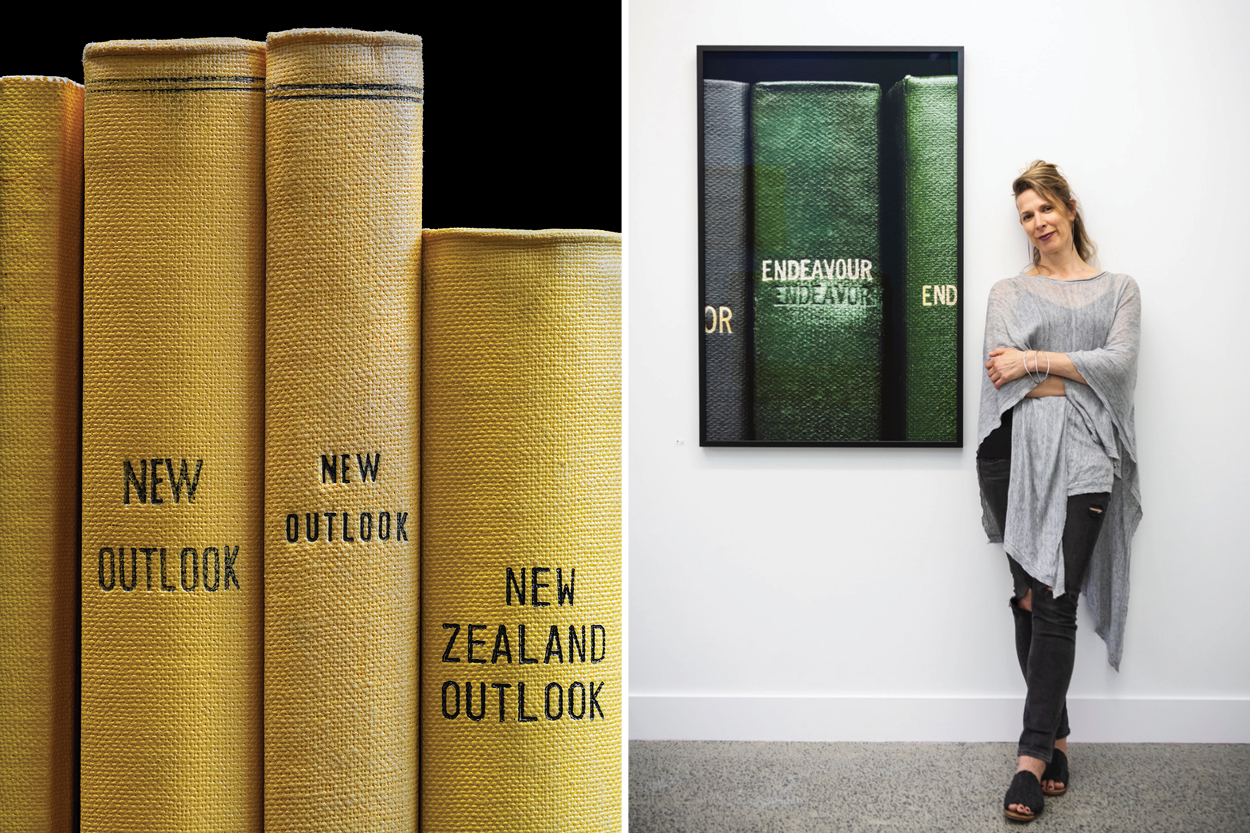 Part of New Outlook is a reflection of your ongoing investigation into New Zealand culture as an American living here for over a decade. What are your general reflections on this dichotomy now?
As a child of divorce, I was always moving between houses. Between cities. Now between countries. As a Gemini, this should come to me naturally! With two passports in hand, I used to be comforted by the fact that I could get to my mother's front door in 24 hours. Post pandemic (are we?) it is difficult to reflect that I have not been able to visit the U.S. for over two years. U.S. culture has changed significantly in that time, and the distance between the two worlds is surely greater.
What's coming up next for you?
I'm one of five international artists that have been selected for the first Obscura Foundry Commission. I've created twenty-five 1/1 NFTs with the library again in mind, formally and conceptually. Instead of having years to work on a project, I've had a few months — an exciting and liberating creative process. The collection, Time & Again, sold out sight unseen and will be revealed to collectors and the public later this week. Later this year I'll get back into the stacks, hoping to access the Hocken Collections in Dunedin and the National Library of New Zealand.
Most importantly, my son and I will be boarding a plane to the U.S. in a few weeks to spend time with friends and family. We have babies to meet, bodies to bury, meals to share, bottles of wine to drink — new chapters to begin.