This year we are taking a hiatus from Denizen's eagerly-anticipated annual celebration of Heroes. We look forward to paying proper tribute to influential New Zealanders when the battle against Covid-19 is over. In the meantime we look back at the inspiring stories of the trailblazers we have honoured in the past and continue to proudly call Heroes. Meet hero Nicholas Loosley.
Nick Loosley is the founder of Everybody Eats, a pop-up dining initiative established in response to New Zealand's issues with food poverty and food waste. Nick completed his master's degree in Green Economics at Schumacher University in England and as part of his studies, undertook action research at Jamie Oliver's Ministry of Food and The Real Junk Food Project. Becoming educated in the issue of food waste as well as witnessing various 'pay-as-you-feel' restaurants servicing the community using food directed for landfill, he endeavoured to bring the concept here and has done so incredibly successfully. The Everybody Eats pop-up takes place every Monday at St Kevins Arcade in Auckland City and is run by a constant rotation of volunteer staff who turn food that has been 'rescued' from supermarkets and establishments around Auckland into impressive three-course meals. Everybody is welcome and attendees can pay whatever they can for the food — even if that's nothing.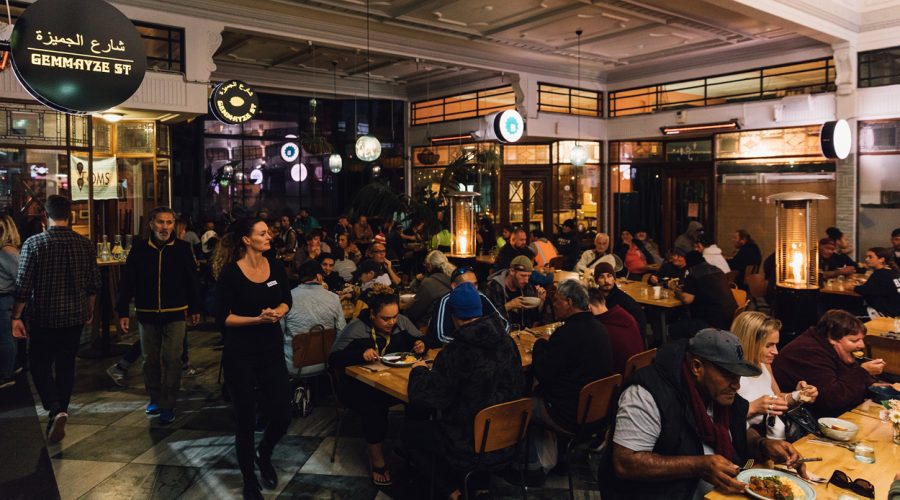 The act of sharing a meal is a time-honoured and sacred custom, designed to bring people together. From The Last Supper to the Sunday roast, there is something deeply primal about connecting with someone over good food and it is this school of thought that drives Nick Loosley in his quest to put meals in front of those who often go without. "Needing to eat" he explains, quoting a pertinent journalistic piece on the importance of cooking, "makes us animals; the way we satisfy that need, makes us human." In searching for solutions to society's issues around waste and poverty, Loosley is seeking to facilitate human connection in the hope that it will lead to greater social change. The popularity of his recent venture, a non-profit dining concept, Everybody Eats, is proving that this could be just what we need.
While completing his Masters in Green Economics at Schumacher University in England, Loosley noticed the positive effects of the University's ritual of stopping three times a day for students and teachers to share a meal. It was a phenomenon that spurred him to write his dissertation on the crucial importance of cooking together — a practice that has been in steady decline in the Western world thanks to our throw-away attitudes built on excess and impatience. Undertaking action research at supper clubs, community dinners, cooking schools (like Jamie Oliver's Ministry of Food), and places serving food that would otherwise be thrown away, Loosley was struck by the massive amounts of waste being cycled through the system. It was this realisation that became his main focus.
Launching his social enterprise in June last year, the huge impact Everybody Eats has already had belies the short amount of time it has been operating. In New Zealand, the dichotomy between the amount of food we throw away and the number of people going hungry every day is a shocking one. Around one third of our produce ends up as landfill fodder contributing to global warming, while many New Zealanders live below the poverty line, where the idea of nutrition is relegated to an afterthought. Articulating the problem as "one of the worst food poverty issues in the developed world", Loosley has established Everybody Eats as this country's first pay-as-you-feel system. A model that has been used widely (and successfully) in the UK, it works on the premise that anyone can enjoy a hearty meal and pay whatever they can for it — even if that's nothing.
With a mission to feed 'bellies not bins' (as the tagline reads) in the "most inclusive way possible", Loosley started the Everybody Eats pop-up restaurant at Gemmayze Street in St Kevin's Arcade on Karangahape Road. Powered by volunteer waitstaff and a number of prolific Auckland chefs including Ben Bayly (formerly of The Grove) and Samir Allen (of Gemmayze Street) lending their time and skills to the cause, the concept now feeds around 250 people every Monday, with an accessible, nutritious dinner made using leftover food sourced from Kiwi Harvest and New World Eastridge. Loosley outlines the ratio of those in need of a meal to those who can afford to contribute as 75 percent to 25 percent, with his first challenge being whether or not the concept could sustain itself financially. Citing the average koha as around $15, the pop-up is left with about $600-$800 each night. A portion of this, Loosley chooses to donate back to Gemmayze St for the use of their space, while $100 is used for the additional ingredients needed to serve complete meals, and the rest put towards buying key pieces of equipment. Initially intended as a three-month project, Everybody Eats' popularity has seen it operating for much longer — and it's due to more than just the nourishing fare.
Seeing Loosley in his element on a bustling Monday night is to watch someone deeply passionate about the work they do and it's a feeling that seems to permeate everyone present. When asked why they come to Everybody Eats, many diners comment on how good the food is, but more than that, they comment on the people, the service and Nick himself. A regular volunteer, Vernon Sorenson, emphasises what an honour it is to be part of Loosley's vision. "He's no teka" he says, explaining "teka in Māori means 'bullshit'". Contemplative and consistently well-spoken, Loosley doesn't seem the type to often let his guard down, but when one attendee grabs his hand to tell him how much the pop-up has helped him, and how he so appreciates what Loosley does, it offers an unfiltered moment. Receiving his accolade with humble mutterings, the warm handshakes, affable smiles and sense of kinship between the two men is a poignant example of the "magic" that Loosley credits for making Everybody Eats so unique and so important.
For Loosley, Everybody Eats goes beyond feeding those in need, to posit food as the great democratiser. He's seen people who have lived on the streets for decades, sitting barefoot, opposite affluent lawyers and prominent business people, engaging in in stimulating conversation over a warm meal. And while there is a definite need for the free food, many of the Gemmayze Street pop-up regulars keep coming back because they are treated like humans — with respect and warmth. Loosley is facilitating a moment in time where two people from entirely different circumstances, upbringings and beliefs can meet as equals; where the lawyer and the homeless man are peers — and when he talks about his journey, it is this idea that causes him to make his case with such fervour. "Food" he outlines "is the most powerful tool we have for bringing people together" and he's right. It taps into something fundamental about what makes us human and it's an issue that we can all connect to — not just those who have studied the problems around it.
Ensuring his sights remain set on the big picture, Loosley is now looking to the future. Seeking to meet the huge demand his idea has garnered, he has launched a crowdfunding campaign through PledgeMe, with the goal of establishing permanent, pay-as-you-feel restaurants across the country. Revealing that he has already had interest from parties in Christchurch, Wellington, Hawke's Bay and Palmerston North, Loosley's aim of creating a "national movement" is more than just a pipe dream. Needing to raise around $120,000 (at time of writing he has raised $87,000) the campaign will be running until early June and the money will be used to set up permanent premises, purchase the equipment needed, and pay a few, necessary full-time staff. It is a move that could usher in a new era of social awareness.
Without inciting significant change in societal attitudes towards food waste, the environment and the homeless, Everybody Eats would be merely patching over the deeper issues at play. But by looking to do more than simply offer free food, Loosley is pushing for open mindedness, shining a light on what's going on in our own backyards and encouraging equality through the small ritual of breaking bread. When all is said and done, everybody has to eat — it's just better when we do it together.
Image credit: Jono Parker