Harper Finn is in the recording studio when we first meet. He moves around the space like someone who's knowingly spent a large portion of his life there. Listening to a few singles from his soon-to-be-released EP, Newcomer, there's an air of contentment that transcends his career. Yes, the 24-year-old's lineage has helped form the backbone of New Zealand's music industry, but he's not riding on the coat-tails of his father (Tim Finn of Split Enz and Crowded House fame). Instead, he is harnessing his tremendous talent to pave his own way, and it's starting to pay off.
Born in Sydney, Finn grew up with music being the language spoken at home. It wasn't always the career he was planning; spending his teenage years toying with rugby, film and dreams of becoming a pilot. But on entering a new high school, he discovered a taste of music that left him hungry for more. "I didn't know anyone and didn't have any friends for quite a long time. So I would just go to the music room, into a little private piano room and shut the door and play piano at lunchtime."
"I feel like music has always been my retreat, my sanctuary. It's been like my friend," he confides. Through this creative outlet, Finn found his first musical connection where he could collaborate and be a part of the process. He joined an eight-person hip-hop collective, playing the piano, where he observed and found inspiration among other artists. He describes this process as 'osmosis', where like many teens, connections were formed through a mutual love of music.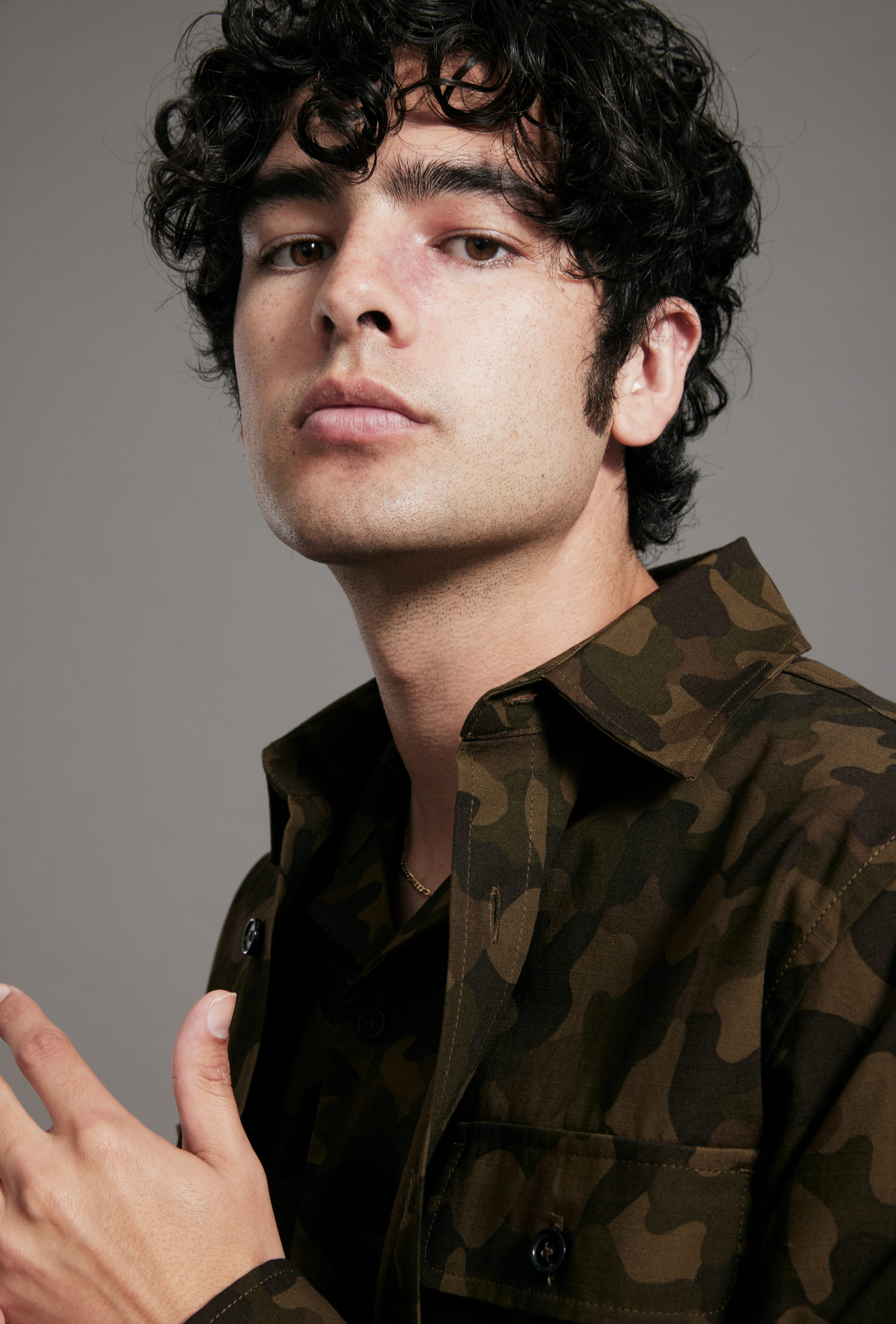 It was in the collective where Finn was first introduced to the idea of genre-less music. Around him, he saw musicians collaborating and pulling from different influences, from jazz to old school hip-hop, and as artists, they were involved in every step of the process. It's an element that is still very integral to Finn's own creative practice — the idea of genre-neutral music that doesn't subscribe to a set of rules. He's not afraid to try something different or new, a trait he's discovered is key for any artist to survive in the ever-changing world.
When questioned on the best advice he had ever received from his father, Finn says it wasn't so much about the lessons given, but more the dinner table conversations about composition or creative collaborations that have helped his confidence as an artist.
"Growing up around music being played or written in the house made it very normal. I was just used to that. When I was about six or seven, my parents were like, 'what instrument do you want to learn?' I said, 'maybe the piano' and so then I had a piano teacher."
But times have changed in the decades since, and the ascending musician is revelling in the opportunity to break free from the typical mould, and be a part of the change that shapes the new norm. It's in that place that he finds the 'newcomer' sensation he holds so dear.
In a pre-pandemic world, the first few years of Finn's career would have looked like back-to-back tours, and while that's an element the artist is eager to explore, he's not shying away from the challenge of creating something new. Social media platforms like TikTok are offering young artists a more organic, authentic way to connect with their growing audiences. And while he's 'still figuring it out', this presents an opportunity for Finn to take initiative and do things differently. While taking inspiration from the collaborative process, he ardently produces (or at the very least co-produces) his music, alongside writing the lyrics, and singing — a rare talent in the industry.
Finn's talents aren't reserved for the recording studio either. The singer-songwriter leans into all elements of creativity, and is still buzzing from the latest music video he shot just days before we speak.
"That's where I feel the most lucky to do this job," he confesses. "I write songs — it's not something you can see or touch. Yet I'm allowed to become a film director for a day and have a whole vision of what the song should be. How lucky am I that I can write songs, but then also step into the world of film and visuals, and still have this much stimulation creatively."

But living the creative dream isn't always easy. Dealing with rejection comes part and parcel with the job, especially as the industry simmers in the loss of its live element. "There's this weird constant up and down, especially if you're a solo artist, because your face, your name, is at the forefront. I had been in a band that didn't get signed and it was a real challenge. You put your heart and soul into something for people to sometimes not even react."
"You have to embrace it and accept it," he continues, "as cliché as it sounds, it's just part of the job. If you love music enough, I think that will trump the rejection feeling." And for the emerging artist, his idea of success is enough. It's not the Hollywood lights and accolades he craves. Instead, it's simply the ability to keep making music for a long time in a way that's sustainable, and he can find happiness and joy in that.
On happiness, we reflect that it can be elusive in an industry marked by milestones. Particularly because as humans, we have a tendency to believe that happiness will always be further down the line. But by way of his father's Bhuddist influence in his life, Finn has been inspired to see happiness in the moment, imparting him with a unique optimism about the current world.
And while he presents as someone who is content with who he is and where he's at, Finn expresses an eagerness to grow and continually learn, a lesson that he wishes he knew at the start of his journey. "I would probably tell myself, you still have a lot to learn," he laughs.
It is learning that has brought Finn to this point, where he's finally releasing his debut EP. After being crowned Breakthrough Artist of the Year at the 2021 Aotearoa Music Awards, it's something that fans and curious listeners alike have been hungry to hear. With the release imminent, the eight-track record offers the best insight into the musician's mind.
Newcomer reflects on the most recent chapter of Finn's life, and speaks to the themes of heartbreak, separation and a hunger to see the world again. It chronicles the months he spent stuck overseas with last year's border closures, and the melancholic joy he found in discovering new cities and spaces.
"The name Newcomer references the idea of being the new person," he shares. "When nobody knows what you're about, and everyone's looking and you're deciding how to reveal yourself. That's how I felt as a newcomer in the industry — trying to figure out how I should move into this space, be myself and represent my music."
The EP acts both as an opening and a closure. It marks the beginning of what is looking to be a long, exciting career for the young musician, and it simultaneously marks the end of a chapter in Finn's life. Not wanting to leave his first singles 'in limbo', he felt that releasing Newcomer would allow him to embark on the next stage of his journey, leaving no ties to his past behind.
For now, Finn has his sights set on becoming a newcomer once more, after recently moving to New York. A city that he describes as having 'a poem on every street corner', it is there that he plans to further his creative journey, collaborating with artists he admires and making music that breaks all the rules.