On a mission to protect the world's oceans from the widespread scourge of single-use plastic, Corona, Parley for the Oceans and the World Surf League have joined forces with a line-up of pro-surfers and artists to create a reusable bag made from Ocean Plastic. In a bid to support the recent single-use plastic ban in Bali, the parties involved have pledged that for every one of these bags sold, three reusable bags will be donated to the Balinese community and 20 plastic-bottles-worth of plastic will be removed from the area's oceans and coastlines.
The bags themselves have been designed by Stephanie Gilmore, Gabriel Medina and Rosy Hodge (internationally-renowned surfing legends) in collaboration with artists Nadia Hernandez, Speto and Gemma O'Brien. Offering three distinct designs the unique bags are eye-catching, illustrated representations of vibrant marine environments that Corona, Parley for the Oceans and the World Surf League are determined to protect.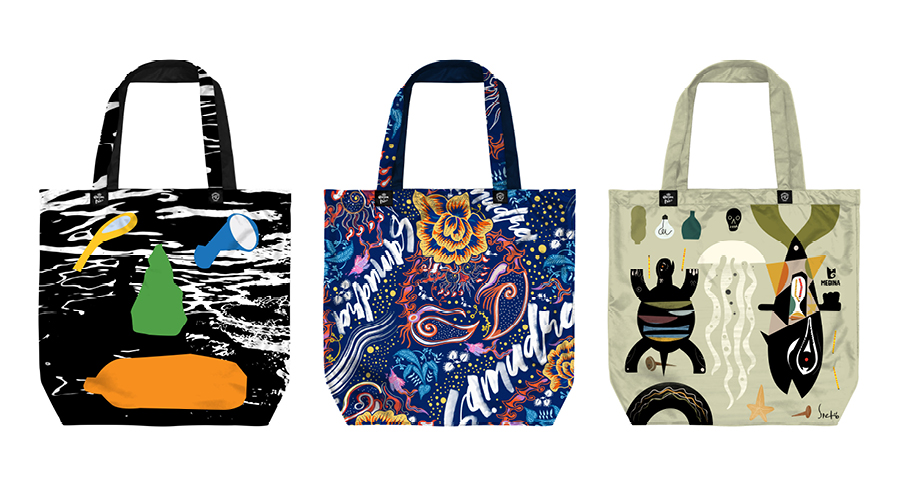 To say plastic is a problem is to seriously understate the issue. It has come to be absolutely vital (if we want to continue enjoying the beauty of our oceans and their inhabitants) that plastic waste is addressed without delay. And considering that around five trillion plastic bags are consumed globally every year — 10 million of which are estimated to be coming into circulation in Indonesia every day — this is not a niche issue by any means.
That said, it's heartening to hear about the kinds of initiatives that have come from the partnership between Corona and Parley for the Oceans. Initiatives that have seen 537 clean-ups take place across 23 countries, involving around 25,000 volunteers and resulting in more than three million square metres of beaches cleaned. This latest drive is just one example of how Corona and Parley for the Oceans are working tirelessly to not only stop more single-use plastic from entering circulation but to figure out how to direct the plastic already out there into something that is good for the environment. Ultimately, their aim is to provide every local household in Bali with its own reusable bag so that the old, plastic iterations can fade away seamlessly.
To learn more about this initiative and to purchase a bag for yourself, click here.