Hey BMW, I'm hungry." Four words I found myself repeating frequently over the course of the week I occupied the driver's seat of the new BMW 8 Series Gran Coupé. The answer? A list of destinations, entirely dependant on the location of the vehicle, that BMW's Intelligent Personal Assistant promised would satiate my hunger — as well as an alert about new places that I hadn't yet heard of. If that's not an efficient personal assistant, I don't know what is.
Something I came to realise quite quickly about BMW is that for this renowned German marque, attention to detail is paramount. From being able to give my new assistant a personalised moniker (one that almost became "Hey Batman" because of its sleek, black metallic sapphire frame) to being able to use the key to turn on its air conditioning long before I got behind the wheel, when it comes to this car there's nothing left to chance (and that's not even the half of it).
Long before I took possession of my new ride, I actually had my eye on the two-door coupé, thinking it would be great to zip around in. But with the promise of great weather and multiple friends eager for a ride in my new whip, the Gran Coupé felt like a better fit. It's the third addition to the 8 Series range and accompanies the two-door Coupé and Convertible which were launched earlier this year. The enhanced practicality, however, doesn't prevent BMW from ensuring the vehicle carries the same sleek, elegant presence we've come to know and love in the original two-door version. The final product is an enviable combination of luxury and performance in a vehicle I would certainly use as my everyday motor.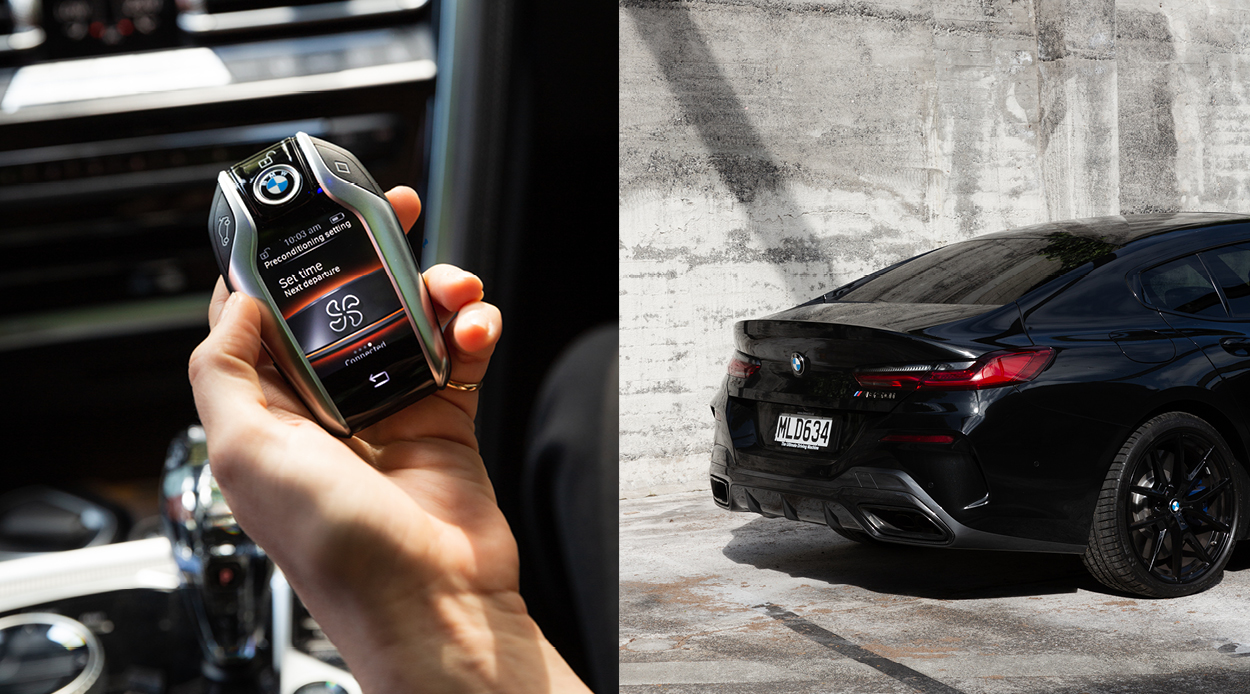 The first day I had the Gran Coupé, clear blue skies (the first in a while) offered up an invitation to put it through its paces on the open road. With a sneak peek of summer beaming through the sunroof, windows down and music on, I jumped on the motorway and headed north — keen to test out the car's capabilities on winding roads and various terrain.
I switched the car into sports mode, asking it to show me what it was made of. The 4.4-litre twin-turbo 8-cylinder engine purred beneath the bonnet, reaching 100km effortlessly in less than four seconds. The paddles make switching between gears seamless, which was an exhilarating feeling with my foot on the pedal, rendering the ride so smooth it felt as though the car was almost hovering.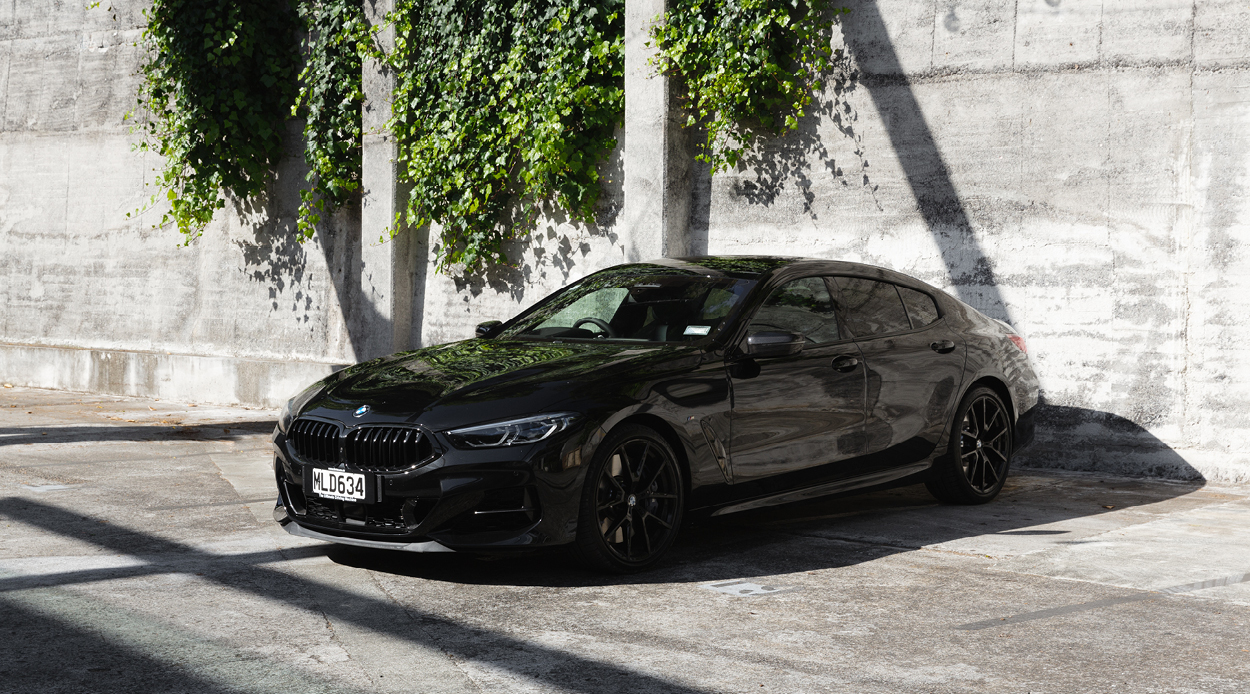 A road trip is never complete without a solid soundtrack to underscore the journey, and I'm someone who appreciates a good sound system, especially on a long drive. Saying, "Hey BMW, play Discover Weekly," would prompt my smart assistant to start playing a recent playlist from Spotify, but what really impressed me was the different modes I could listen to the music on. The choice between concert, stage, cinema, lounge or my personal favourite, studio, meant that I could tailor the genre of music to suit the output. For example, AC/DC's Highway to Hell puts me front and centre in the VIP section when listened to via concert mode, whereas listening to Jay-Z on studio mode produced a sound so crisp it was almost like he was doing a rendition of 99 Problems from the passenger seat. In which case, I'd be sure to make the most of BMW's Caring Car programme — a subtle change in atmosphere that can be activated to ensure all occupants are comfortable.
The 8 Series Gran Coupé is a head-turner, especially in small, rural towns. Its sexy, ultra-sleek silhouette carries curves in all the right places. And at just over five metres in length and two metres wide, it's bold and it's beautiful. It would also prove tricky to manoeuvre out of tight spots if it wasn't for the Parking Assistant feature, which made parallel parking a breeze and proved to sceptical onlookers that I was completely capable in the driver's seat (even if it wasn't really me).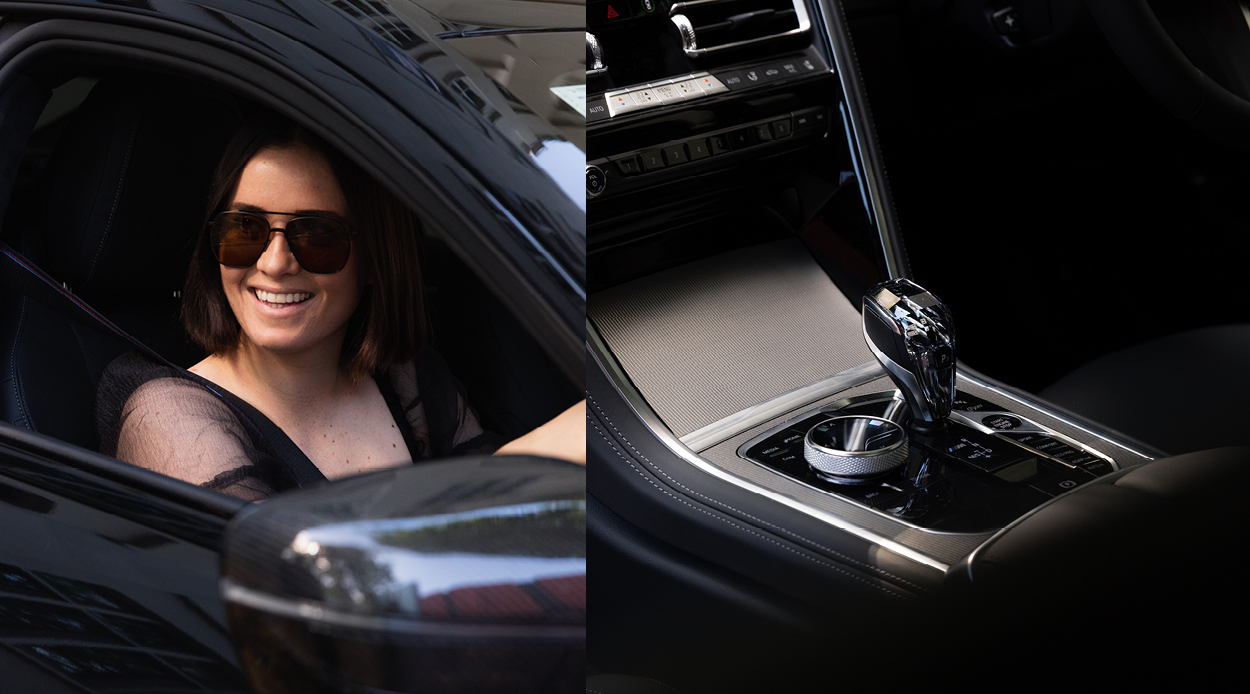 Returning home from my glorious weekend away wasn't ideal, as it meant handing back the keys to a car I had fallen in love with. Its lasting impression left me tempted to do a runner, stopped only by the thought of my efficient new personal assistant betraying my getaway plans by telling BMW Headquarters where we were.
Combining the practicalities you want from an everyday car, with the sleek form of a luxury vehicle, the Gran Coupé is proving the two ideas don't need to be mutually exclusive and is doing so in an appealingly understated, totally beguiling way.