This is your cue to put down the screen and pick up a book (or switch to your e-reader if that's your habit). These new novels are worthy contenders for your undivided attention, from a lauded debut to a Booker Prize-winner's latest release.
To Paradise by Hanya Yanagihara
She single-handedly destroyed the nerves and broke the heart of anyone who read her visceral book A Little Life, and now Hanya Yanagihara is back with one of the year's most anticipated works of fiction. Arranged in three distinct but correlated parts, To Paradise is a complex and multi-layered novel that spans three centuries. It explores themes of race and relationships, wealth and poverty, illness and autonomy — and what freedom means in a world that seems to be falling apart.
Cleopatra and Frankenstein by Coco Mellors
This much-buzzed-about literary debut centres on 24-year-old British painter Cleo (who has moved to New York from England), and 44-year-old, successful Frank. They impulsively marry, and the ripples of this decision are felt in unexpected ways by them and those closest to them. An immersive, affecting and memorable contemporary relationship novel.
The Lincoln Highway by Amor Towles
For lovers of a road trip narrative, this charming novel paints a rich picture. Set in 1950s America, it follows eighteen-year-old Emmett Watson, just released from juvenile detention. He plans on driving to California to start a new life, but this is sidelined by his car getting stolen. The process of chasing it becomes quite the adventure.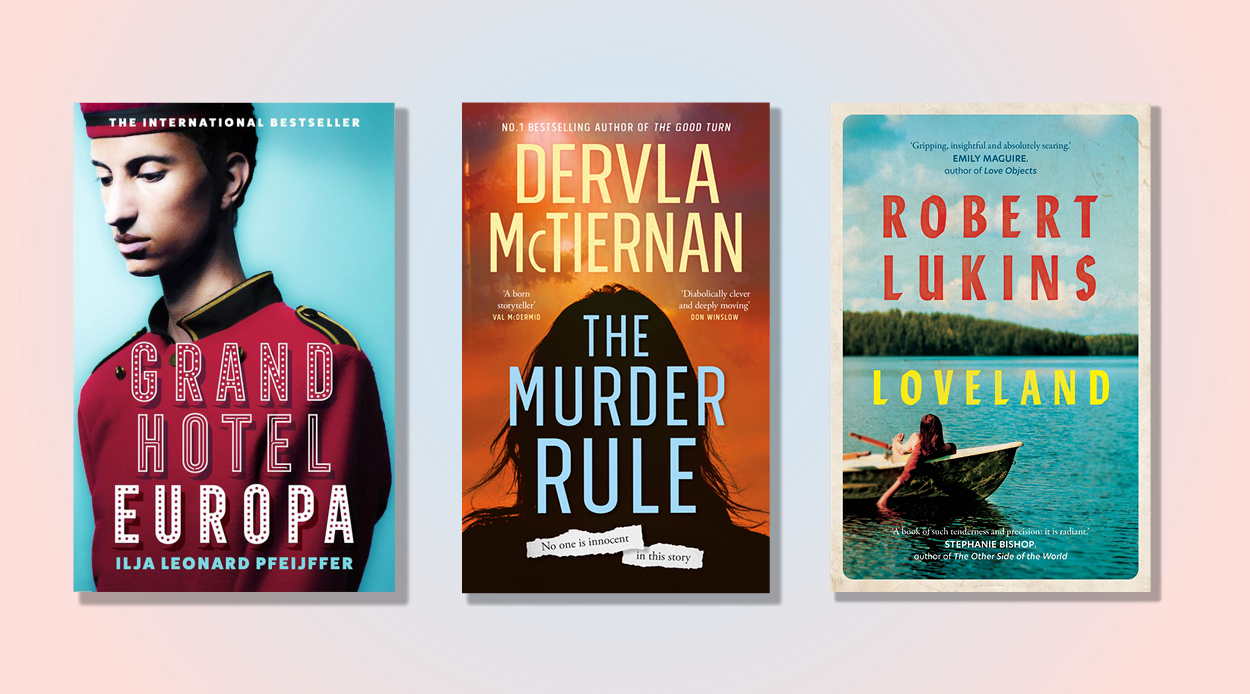 Grand Hotel Europa by Ilja Leonard Pfeijffer
When a writer is holed up at the lavish but past-its-glory Grand Hotel Europa, nursing heartbreak, he becomes fascinated with the Hotel's old-world charm. This highly-acclaimed Dutch novel (the English translation of which is out in April), is a compelling story that examines "the old continent" and asks how history can be preserved for the future.
The Murder Rule by Dervla McTiernan
A bonafide page-turner, The Murder Rule is a legal thriller that follows law student Hannah Rokeby as she sneaks her way into The Innocence Project — an initiative helping convicted criminals overturn their sentences. Why? For revenge, of course. As motives are revealed through the narrative, interspersed with excerpts from her mother's diary, all is not as it first seemed.
Loveland by Robert Lukins
A moving, beautiful read, the latest release from acclaimed Australian writer Robert Lukins weaves the tale of May who arrives in Loveland, Nebraska, to claim an old, damaged house left to her by her grandmother. The longer she stays, the more she finds out about this matriarch who kept her many secrets well hidden.


Mouth to Mouth by Antoine Wilson
When Jeff Cook saved the life of a drowning man, his own life was irrevocably altered. The narrator listens as Cook reveals how, after this incident, he sought out the man he'd saved, only to have their fates intertwine in unexpected and explosive ways. This is a suspenseful, clever and compulsive read.
Young Mungo by Douglas Stuart
From this Booker Prize-winning author comes a powerful portrayal of working-class culture, forbidden love and the foibles of hyper-masculinity. Two young men, Protestant Mungo and Catholic James, are raised in Glasgow in violent housing estates. They meet and fall for one another, and must stay strong in the face of discrimination.
The Unwilling by John Hart
A potent combination of crime, suspense and raw explorations of the human psyche, The Unwilling is set in the South at the height of the Vietnam War. It follows two brothers, Gibby and Jason, who are set on a dramatic trajectory after the death of a woman sees them fighting for their own lives.