Natasha Wright has made a name for herself with work that critiques the representation of women via an exploration of the female form. Her pieces showcase a clear fascination with materials and texture, often brought to life via intriguing combinations and abstract shapes.
Over the course of her career (and creative development) Wright has developed an artistic language entirely of her own, with distinct, monochromatic lines that depict women in both grotesque and beautiful forms, having drawn inspiration from a range of sources including The Three Graces, ancient fertility goddesses, Matryoshka dolls and contemporary culture.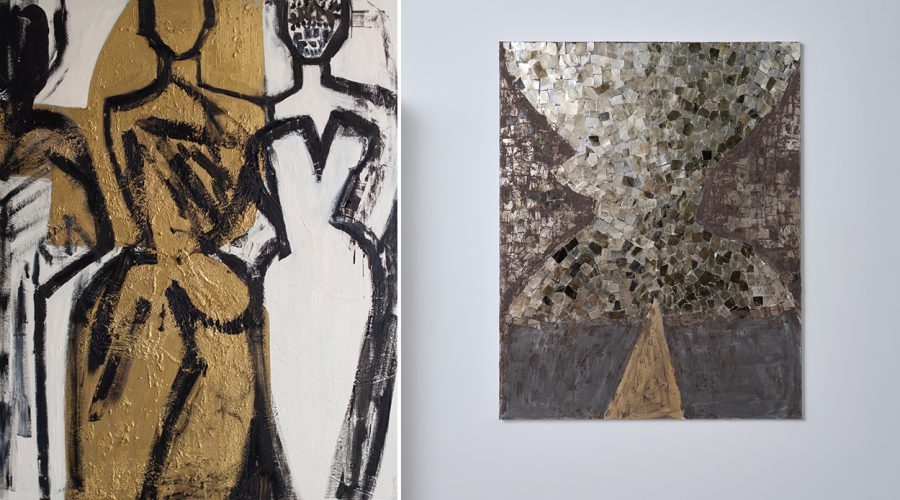 Despite being based in the United States and working out of her studio in New York, Wright has created a series of works as part of a solo exhibition here, at Sanderson Contemporary (her first with the gallery). Comprising a number of expressive oil paintings and works on paper completed over New York's quarantine period last year, the exhibition is aptly called A Place To Stand (perhaps a reflection of Wright's search for stability at such an uncertain time) and features pieces that play with a palette of rich golds, grounded earthy tones and varying shades of black.
On at Sanderson Contemporary now until the 28th of February, Wright's new works exemplify that one silver lining of a global pandemic is the rich variety of artistic responses that have emerged in the face of its turbulent circumstances. This exhibition is certainly one you do not want to miss.