Australian artist Jonny Niesche is hot property. Best known for his iridescent paintings that shimmer with pigment, being with Niesche's work can be a seductive sensory overload as well as a ticket to an elegant futuristic realm.
Materially fetishistic, his practice is celebrated for bold chromatic expanses and saturated tones that dissolve from one hue to the next in an unfolding play of light and colour. The effect is intensified by the indistinct edges between bands of colour that surround dark middle ground. These reductive forms that hum and vibrate with vivid colour are often set against metal and mirror, offering shifting, alluring experiences of form, space, and movement.
As one tone blurs and dissolves into the next, a silky insubstantiality of pure colour and sensation emerges. The glowing neon tones and soft pastels that flow from a mysterious centre are finished with reflective rims, mirroring the viewer back to themselves in a surprising encounter with the art work.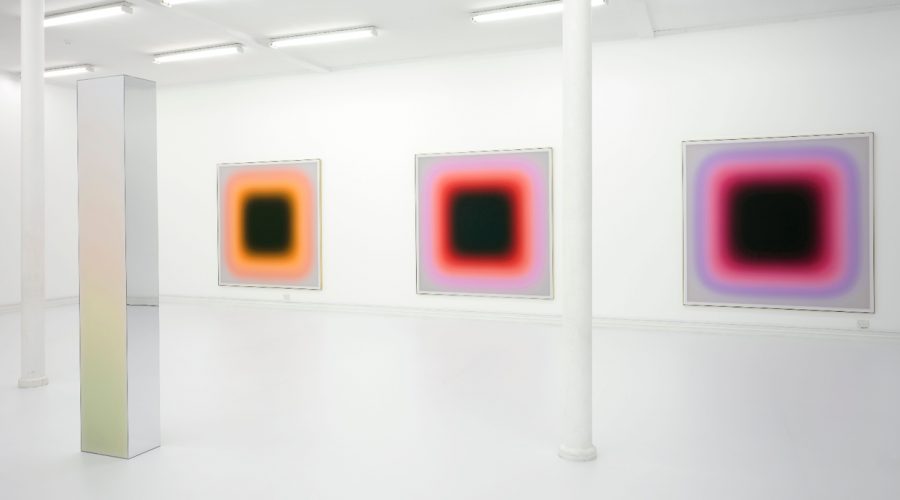 For his first solo exhibition in New Zealand this November at Starkwhite, Niesche pulled out all the stops, extending his practice off the wall to create a total architectural environment. Poikilos is a spatial, immersive experience carefully constructed from the ground up. Offering Starkwhite visitors a vastly transformed experience of the space than they might have known previously, each element in Niesche's intentional composition contributes to the creation of a spatial ambience that hedges us towards the emotional and slightly unknown. Crisply bright and filled with lushly seductive surfaces, the exhibition seeks to destabilise perception, offering an architecture to sharpen the senses.
In February, Niesche will also have a solo presentation at the Auckland Art Fair recreating the atmosphere of his Starkwhite exhibition. A practice that draws equally on formal elements of twentieth-century art and the shiny allure of popular culture — he has previously drawn on colours from David Bowie's Aladdin Sane album cover and Debbie Harry's 1970s make-up — Niesche's disco-era glamour fused with New York minimalism is sure to prove one of the fair's must see presentations.
Poikilos at Starkwhite, 17th November – 15th December 2020
www.starkwhite.co.nz
Jonny Niesche at Auckland Art Fair, 24th – 28th February 2021
www.artfair.co.nz