Contemporary artist Freeman White has confidently positioned himself within New Zealand's rich lineage of landscape painting, known for his works that bring a refreshing perspective to the genre and deftly bridge past and present.
Originally renowned for his portraiture, Freeman White's acclaim grew after winning the prestigious Adam National Portrait Award in 2006. Invitations followed to exhibit at Germany's REAL international symposium for Figurative Art and to paint portraits in Edinburgh under James Holloway's Tutelage (at the time. the director of the Scottish National Portrait Gallery). In 2009, White's artistic journey led him to explore landscape painting; redefining the genre through innovative techniques and a modern context. White's textured canvases pulsate with energy, offering a contemporary reflection on the natural world's political and emotional charge. Referencing both art history and current environmental realities, White's landscapes and seascapes create a deliberate juxtaposition. His brushstrokes expertly evoke shifting sunlight, rolling hills and crashing waves; inviting viewers into an undulating scene.
The artist's plein-air approach also captures the palpable qualities of painting, imbuing each piece with a human touch and cultivating a profound connection between viewer and artwork. White's contribution to Aotearoa's landscape painting and art history is widely recognised. His unique visual perspective invites us to embrace the enduring and ever-evolving allure of New Zealand's natural wonders, making him one artist to keep firmly on your radar.
Here we present an exclusive interview with the lauded artist, as his new exhibition of paintings, Salt, opens at Sanderson Contemporary.
Exclusive Q&A
---
When did you become an artist, and what were your first inspiring moments that made you want to become an artist?
I remember at the age of three getting my first pair of glasses. It changed my world completely. Before then I had been living in a blur of light and colour and all of a sudden everything came into sharp focus. From that moment on I wanted to document my world. I entered lots of art competitions when I was still at school and started exhibiting my work when I was 13. Art has never felt like a choice for me, rather it has always seemed like a calling. I knew from a very young age that I wanted to be an artist.
You started out as a portrait artist but have also become known for your landscapes and seascapes, painting 'en plein air'. When did you make this transition?
Although I first gained recognition as a portrait painter when I won the ADAM portrait award back in 2006 I had always painted landscapes, as well as portraits. After that major career break, I wanted to show people that I also painted landscapes so in my first solo show after winning the award, at Black Barn Gallery in Hawkes bay, it was all landscapes. The show went really well and from then on my landscapes have become the basis for my career. I still paint portraits, however. I love painting people who inspire me and I don't think that will ever change.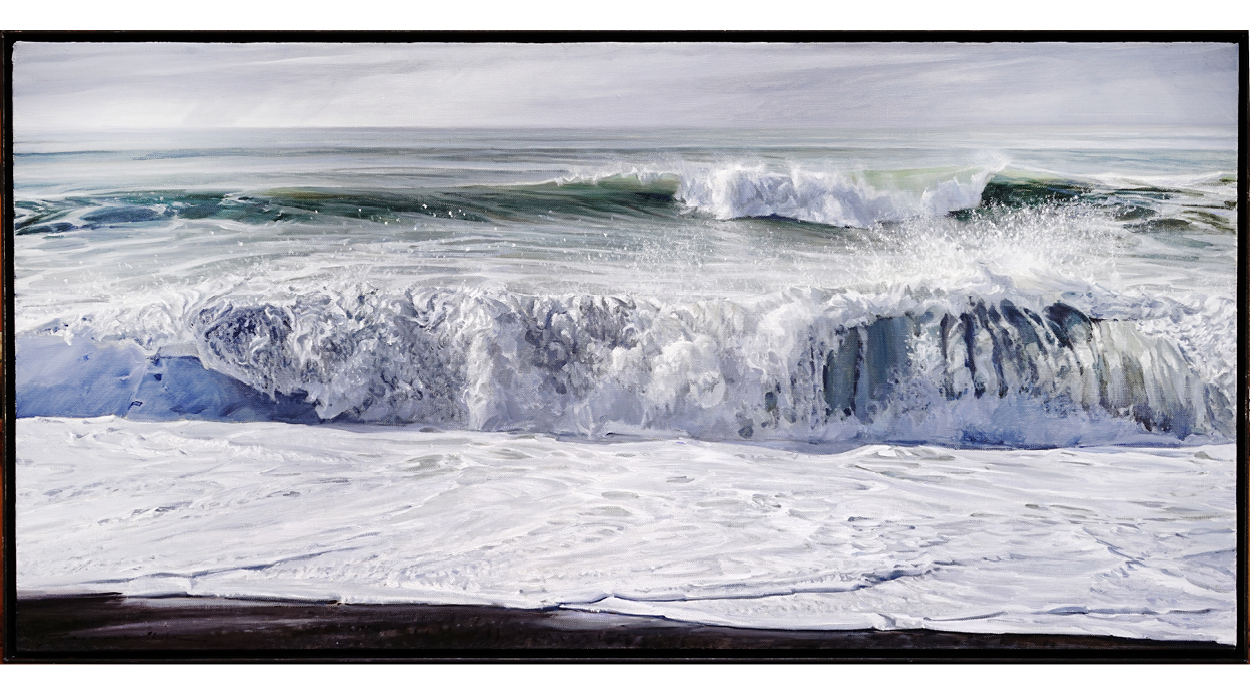 When did you begin painting the ocean?
It was after relocating from Wellington back to my home region of Hawkes Bay that I took an interest in painting the ocean. I bought an old, run-down villa in Napier, with views looking out to the sea along Marine Parade. Seeing this beautiful and ever-changing scene and listening to the waves crashing from my home is what drew me to start painting Seascapes, like the collection I am currently showing at Sanderson Gallery.
How did you get into painting En Plein Air?
I was first exposed to plein air painting on Instagram, in fact, and I still follow lots of incredible artists on there as a result. Plein air painting has made a huge resurgence in recent years and is considered by many to be at the forefront of contemporary landscape painting.
The action of painting 'En Plein Air' is simply painting outside on location and was popularised in the nineteenth century by the Impressionists. It has a very long tradition though, that dates back to the fifteenth century with Artists like Da Vinci drawing directly from nature. It is something I wish I had gotten into at the beginning of my career, as it has really changed the way that I paint.
When I was in my twenties I travelled to Europe with a sketchbook in my hand, making drawings of the old buildings and people that I met. At the time, these sketches became my travel memories as opposed to photographs or the modern-day selfies. Now I always take my painting travel kit. I can't think of a better way to experience a location than to sit down and paint it. Painting "En Plein Air" has become my absolute passion and what I choose to do in between painting gallery shows and producing commissions.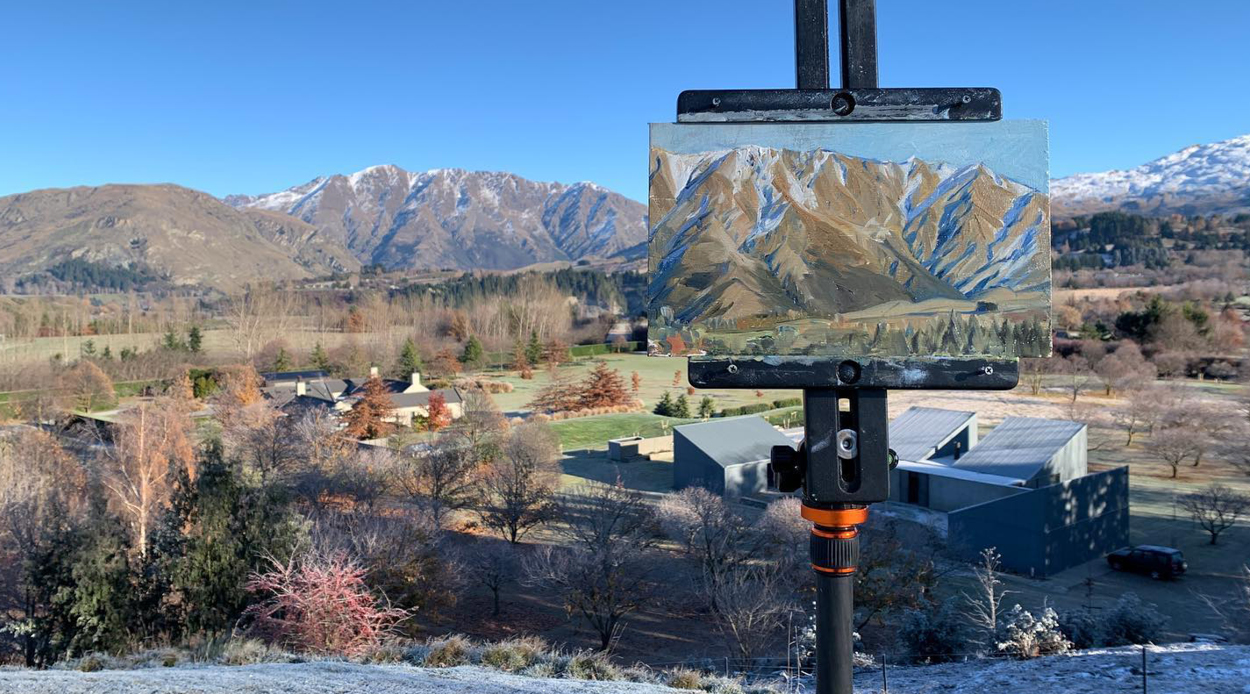 Is there one genre of painting that you love more than another?
I love paint as a medium and believe it has many expressive qualities. I am a realist painter but I don't only love realist art. I have been profoundly moved by works of art that I did not expect to be moved by, works that were more abstract than realist. So in this way the genre of the artwork has seemed less important to me than the reaction that it inspires from within me. I am interested in many forms of Modern and contemporary art and I have made it part of my life to travel and visit museums and international collections, seeing historical works in their original state.
What part of the world has been the most inspiring for you to paint?
I recently did a painting trip to Germany and France where I painted castles. I'm always inspired by new surroundings but I think some of my best work has been painted of the Te Mata hills where I grew up in Hawke's Bay. I would have to say that New Zealand is really the most inspiring place for me as a landscape painter. There is something very powerful about connecting to this place.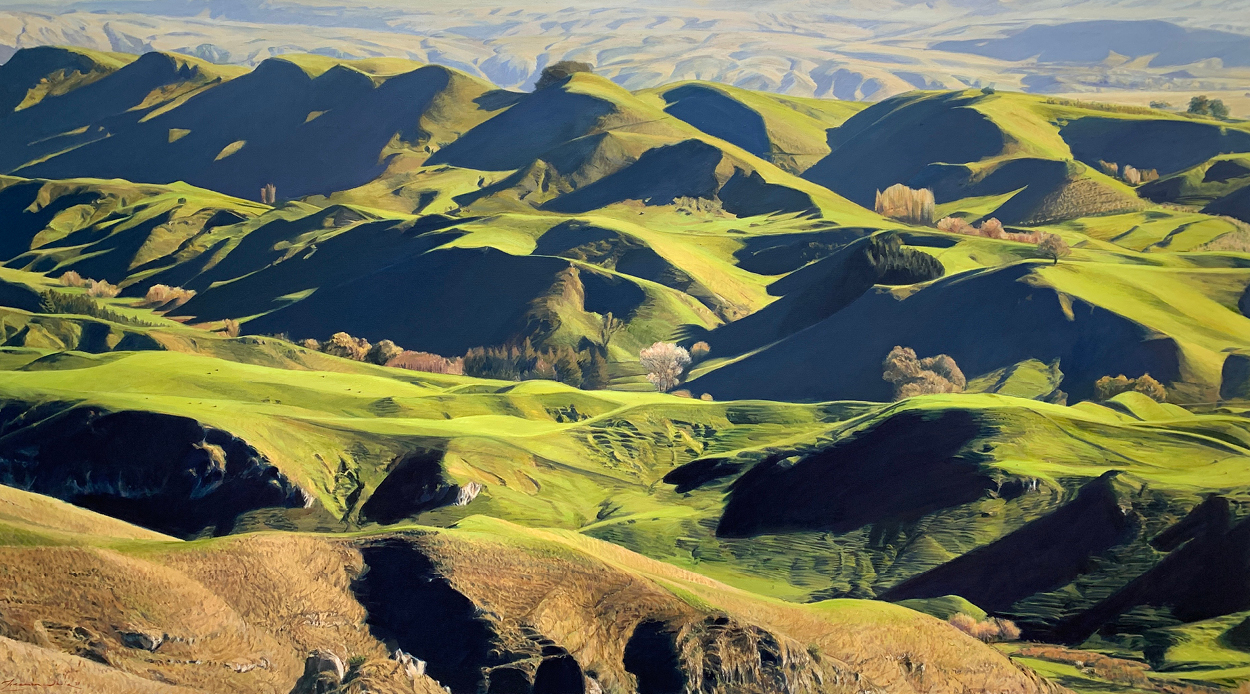 We were told you are friends with Tilda Swinton and her partner and have spent time with them in Europe. How did this friendship come about and what has your experience been like spending time with them?
Yes, it's true I'm friends with Tilda and her partner Sandro Kopp. I was recently in Paris with them and we had a wonderful time. I met Sandro almost twenty years ago at art school in Wellington. We sat next to each other on the first day at orientation and have been best friends ever since. Over the years I have been lucky enough to spend many memorable moments with Sandro and Tilda. They are two of my favourite people.
Which artists inspire you and why? And what advice would you give to young artists?
I'm inspired by many of the historical Greats Like Sargent, Sorolla and Velazquez to name a few. There are so many great painters that have inspired me, too many to list here really but there is no substitute for seeing artworks in their original form. So one piece of advice that I would give to young artists is to see as much original art as possible – work out what moves you and don't be afraid to experiment and make mistakes, it's the best way that you can learn.
Tell us one thing about yourself that people wouldn't know
Ha ha well not many people know this but I am a passionate cook and recently I have been upping my Wok game. I love lots of different styles of cooking but my recent obsession is Asian cuisine.
Freeman White's exhibition 'Salt' is on now at Sanderson Contemporary until the 22nd of October 2023.