You may not know her name, but you will recognise her illustrations. Ruby Jones is the brains (and heart) behind: "This is your home, and you should have been safe here." The artists' response to the Christchurch attacks, which depicted two women embracing, was promptly shared across the world upon her posting on Instagram. The single image received international attention on such a large scale that Jones was consequently singled out by Time magazine to design a cover for its April issue.
Now, the young illustrator has released her first book, All Of This Is For You: A Little Book of Kindness, a heartwarming publication filled with pages of enlightening, soul-stirring illustrations and hand-drawn messages. It is beautifully simple and oozes Jones' applauded compassion, but no one can describe the book better than Jones herself. And so, here, we sit down with the artist to learn more about her touching debut.
Hello Ruby! Congratulations on the new book, it's wonderful. Can you tell me a little bit about All Of This Is For You: A Little Book of Kindness?
Thank you! It's a small book exploring the ways in which we can be kinder to ourselves, each other and the world we live in. It aims to shine a light on some tender moments we often shy away from and might only think to ourselves at 3am when we can't sleep. It's not a guide to anything, instead, I want it to be a set of reminders of things we already know but might sometimes forget.

Is there an overarching theme?
Its focus is really just about what it means to be a human in the world today; what that involves, feels and looks like. Within that, it covers themes such as body image, mental health, relationships and social media.
How would you describe it in three words?
Small, tender and honest.

There are so many illustrations in the book, do you have any favourites?
I do have a couple! One of them is 'look after yourself the way you'd look after your 5-year-old self' which is something my mum told me as a teenager and I've tried to live by ever since. Another one is 'your family is whoever you love' with a group of friends sitting around together. I think that's an important reminder for everyone, especially for people who don't always feel accepted or valued by their biological family.

Is there anything that you hope people will learn from the book?
That no one on this earth is worth more than anyone else. Social status, ethnicity, sexuality, culture, religion, bank balance etc., none of it matters. We are all just silly tiny humans going through this weird, confusing thing called life and we need to remember to help each other through it rather than turn away from each other. I think the two main things I hope it will do is make people feel less alone and spark important conversations between people.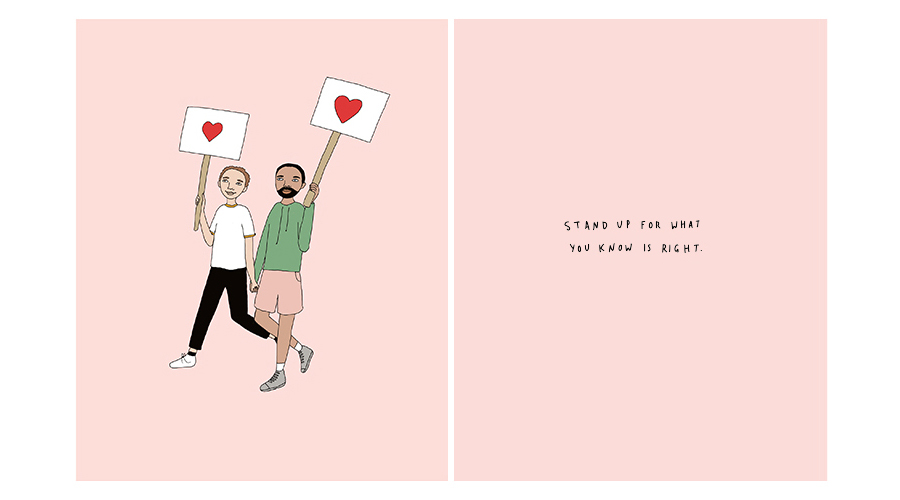 We've read that some of the proceeds go to a good cause, can you tell us a little bit more about that?
Some of the proceeds from each sale of the book are going towards I Am Hope's Spare Change Fund which provides free counselling for 20-25-year-olds. I felt strongly from day one about giving proceeds to a cause around mental health. I think mental health is an enormous area that we're really struggling to tackle in New Zealand, particularly when it comes to young people, so I'm really pleased we can help out, even in a small way.

You illustrated Time Magazine's incredible cover in April, how did it feel to be tasked with such a huge job for such a weighty publication?
I tried to not overthink the publication it was for and just focus on the story it needed to tell. I knew it was big and exciting, but it wasn't what was important to me at the time — suddenly an enormous magazine cover seemed like nothing compared to what our country was actually going through; real loss, real pain. And I think Time knew that in choosing a local, unknown illustrator to do the cover, they simply wanted an image that captured the feeling of our country in the aftermath.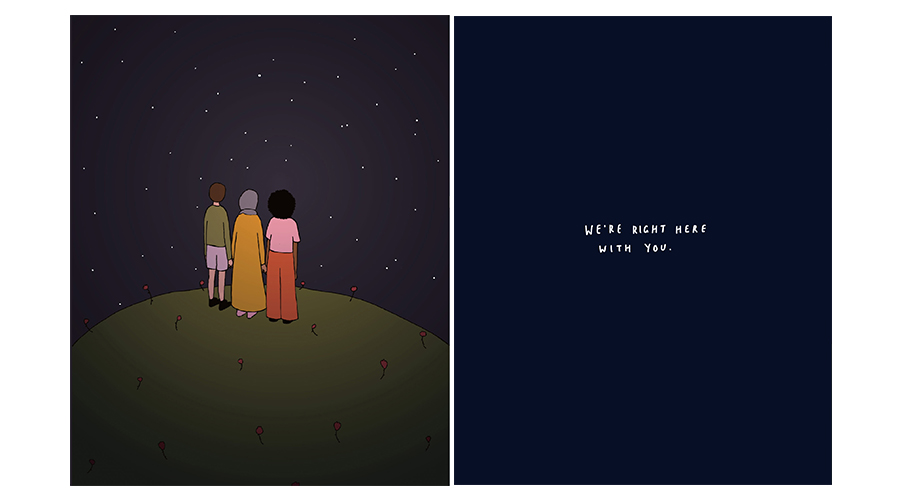 What kind of reaction did you receive?
A really overwhelming response from people all over the world. I think it meant a lot to New Zealand, especially our Muslim community, to have our story shared.

Was it a tough decision, landing on one particular image?
Weirdly no, as I said I knew I couldn't overthink it. It was the first image that came to mind and I knew it felt right. I wanted it to show how quiet it felt here in the following days, but also how much the attacks had brought us together.

Were there any other contenders?
No. I was totally prepared to do a few but they liked the first one. There was just one change made and then it went to print.

Your works are instantly recognisable: soft and cartoonish and colourful. Can you tell us a little bit about your creative process?
It's all about the idea for me. If I ever sit down and try to draw without anything in my head it's a disaster. So I'll usually be inspired naturally by something — an event, a song, a little moment in time — often that's when I'm out somewhere so I'll scribble a note down or write it in my phone to myself. Then when I am ready I'll start sketching it out on my iPad, then do a final version and add colour/text etc.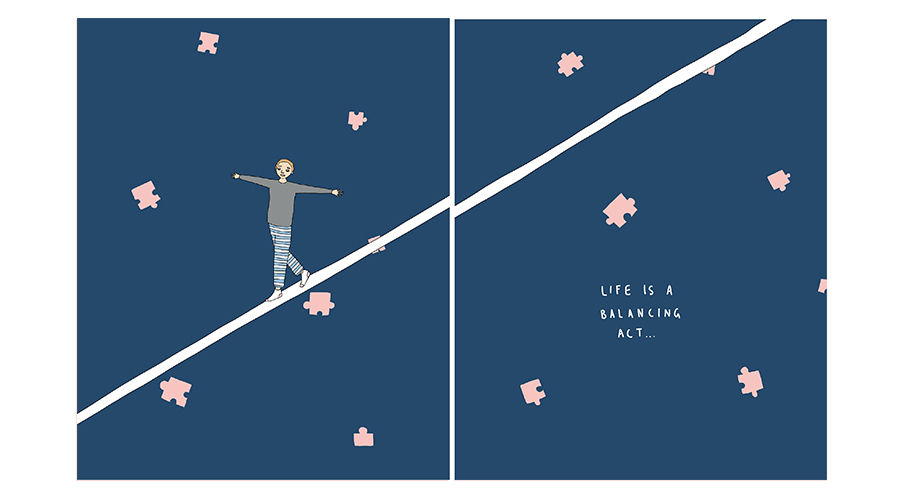 Is there anything you are working on at the moment?
I'm doing a few commission jobs and working on building up my online store. There are a few bigger projects on the cards but I don't think I can discuss those just yet!

What can we expect from you in the future?
I'll always continue to put my drawings out there for the world – hopefully both in digital and print, maybe even another book someday. I'd also love to get into some hands-on work around mental health at some stage.

Kindness in all its forms resides at the core of everything you create. What does kindness mean to you?
Kindness to me is giving your time and your heart, even for just a moment.
Ruby Jones' All Of This Is For You: A Little Book of Kindness is out now, available here.