Tradition is a beautiful thing. So too, are new practices that don't so much 'break' tradition as expand it. With the launch of its first men's diamond engagement ring this month, Tiffany & Co. has brought a new offering to the magic of the marriage proposal. The luxury jeweller has been capturing couples' hearts since 1886, when Charles Lewis Tiffany introduced a women's solitaire diamond engagement ring — the Tiffany Setting.
Following in that ring's iconic footsteps, the men's engagement ring is named The Charles Tiffany Setting, with the first release available in both round-brilliant and emerald-cut diamonds up to 5 carats. Designed to recall a signet silhouette, the platinum and titanium bands are a bold departure from the traditional wedding band, putting a new spin on classic men's style.
These rings are not delicate; rather, they make a confident yet elegant statement on the hand, with the round-brilliant cut diamond showcasing a streamlined, knife-edge band (inspired by the original Tiffany setting) and the emerald-cut diamond comprising architectural, angled edges.
With same-sex marriage on the rise and some couples, in general, approaching the marriage process in unconventional ways, Tiffany's men's engagement rings are sure to be chosen for and by stylish men with an eye for luxury, who are wanting to celebrate what is such a special moment in their lives.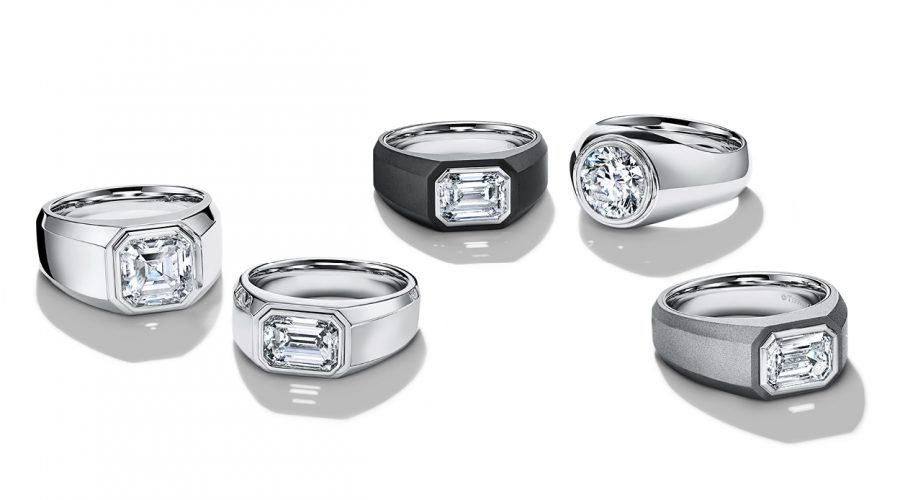 Tiffany is also a globally unique company in its transparency efforts, with the full craftsmanship journey available for each and every diamond — including the Charles Tiffany Setting. From the diamond's region, or country of origin, along with where it was cut, polished, graded and quality assured, the provenance of each diamond is traceable, an important aspect that increasingly astute purchasers are focusing on.
No matter how it takes place, everyone should be able to celebrate their engagement in a way that feels right for them. The release of the Charles Tiffany Setting ring captures Tiffany's long-standing legacy of love and inclusivity, offering a new way to honour the important commitment.
The Charles Tiffany Setting is currently available upon request in Auckland.