Over the last year, the number of us seeking escapism through our screens has markedly increased, with recently released series and films garnering not only critical acclaim but record-breaking viewing numbers. Chessboard nail-biter The Queen's Gambit, for example, became Netflix's most-watched miniseries just 28 days after it was released, while Regency-era romp Bridgerton was watched by a staggering 82 million households in its first month, becoming the highest viewed original series to date.
All this screen time is influencing not only our imaginations but our wardrobes, too. Film and television have long provided sartorial fodder for viewers to be inspired by — from Annie Hall to Breakfast at Tiffany's; Almost Famous to Sex and the City. More recent highlights have included Killing Eve, The Undoing and Scandal. However, a particular theme we've picked up on of late is more specific; a spate of excellent, era-based releases has us channelling the styles and silhouettes of times gone by.
As Vanessa Friedman said in a piece for The New York Times: "Indeed, the most successful fashion films are usually not films about the industry at all, but films that use fashionable clothing as expressions of character." The same rings true for dressing for life off-screen — what we wear can be a demonstration of who we are to the world. With these chic characters acting as inspiration, a stylish first impression is guaranteed.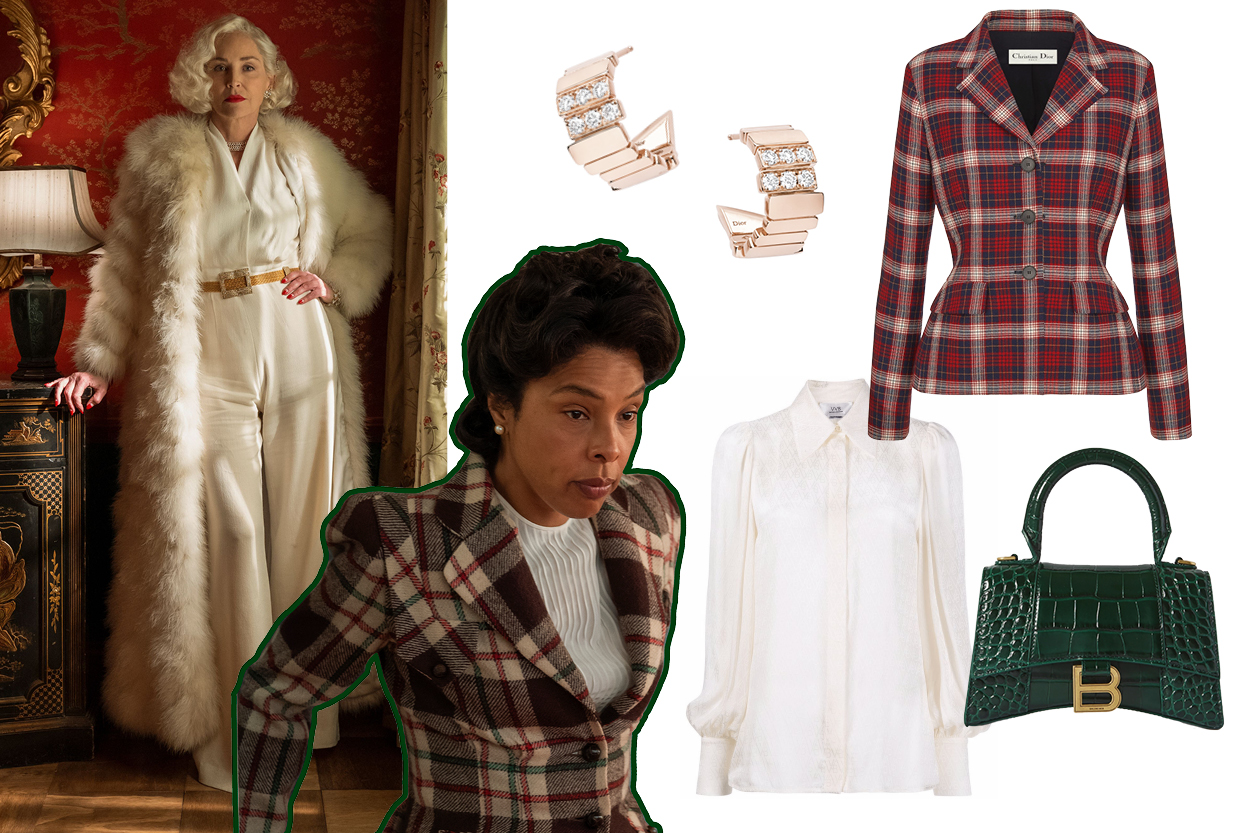 Ratched
If you've noticed that the fashion on television has gotten better over the last few years, you're not alone. With series now wielding blockbuster-worthy budgets and star-powered casts, costume designers that previously may have only worked on films are lending their expertise to the small screen. A prime example is the brilliantly deranged Ratched, starring Sarah Paulson as the terrifying Nurse Mildred Ratched herself.
With its impeccable art direction and vibrant sets, Ratched is a feast for the eyes — and the fashion is a large part of this. One can take inspiration from any of the saturated 40s costumes, which act as a glamorous foil to the more dastardly acts portrayed. Co-stars Sharon Stone, Cynthia Nixon and Sophie Okonedo also hog the spotlight in their incredible ensembles, with costumiers Lou Eyrich and Rebecca Guzzi expertly crafting wardrobes that demonstrate a meticulous attention to detail.
Channel Nurse Ratched with cinched-waist silhouettes, bright pops of colour (with a particular focus on various shades of green), and refined accessories. If you're feeling more lavish and louche, the ensembles of heiress Lenore Osgood (played by Stone) are undeniably showstopping with slightly more relaxed lines and plenty of ornate jewellery.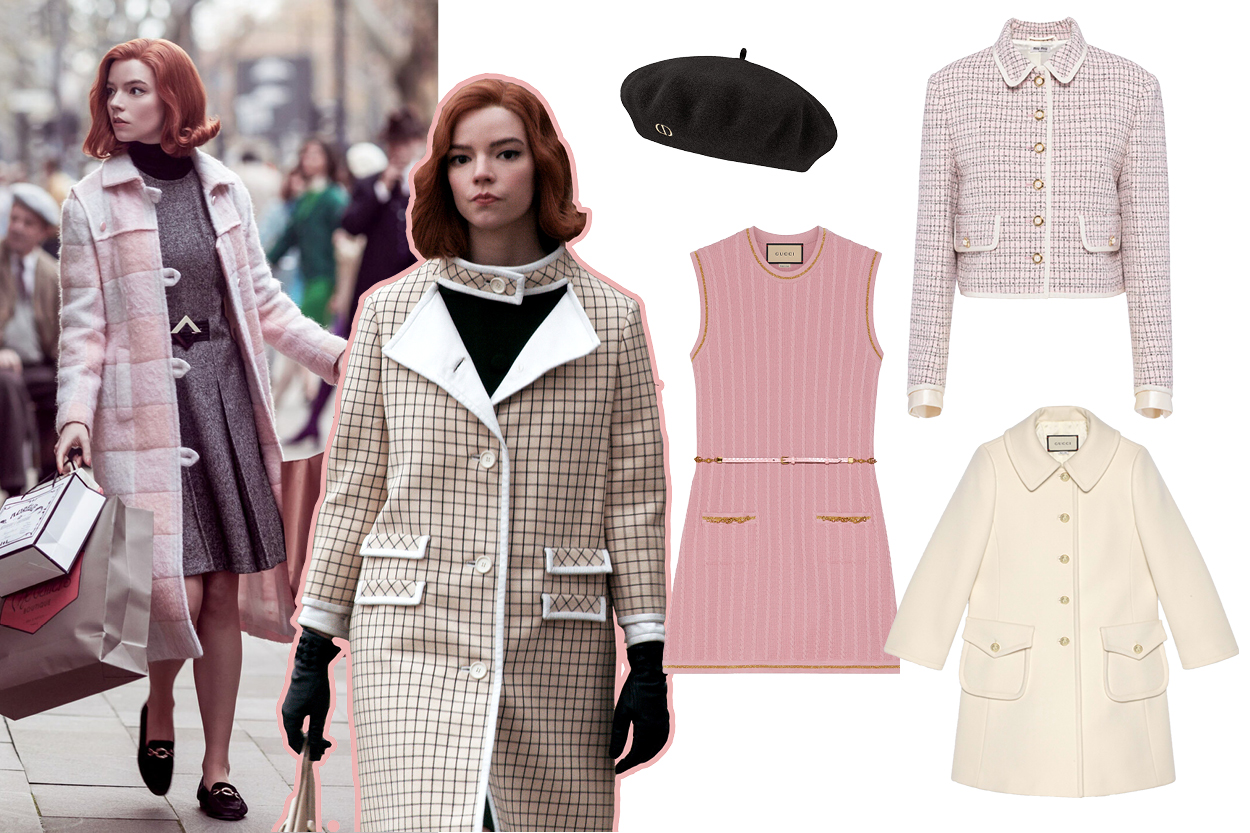 The Queen's Gambit
The aforementioned cultural phenomenon The Queen's Gambit was certainly popular for its compulsive plot, but chess prodigy Beth Harmon's polished yet wearable 60s style played a large part in its appeal — and this translated directly to clothing sales. Global fashion search platform Lyst reported that searches for checked-pattern pieces were up 43 percent month-on-month around its release, with coats being the most wanted product category.
Although the series is set during the Cold War era, Harmon's style can be emulated with contemporary pieces, with current styles from the likes of Gucci and Miu Miu easily translating the aesthetic. Start with excellent outerwear — you might choose a checked coat to really home in on the theme, or a more simple cream number like Gucci's cream wool rendition. Turtlenecks, layered pinafore-style dresses, Peter Pan collars, and high-waisted skirts will all have you feeling like a winner, as will finishing touches like loafers, leather gloves and sweet berets.
Halston
Based on the true story of one of fashion's true iconoclasts — and his meteoric rise and demise — this five-part miniseries has no shortage of fabulous clothing from which to take a cue. Halston's designs were beloved for their particular brand of glamour that hinged on assured simplicity, and in the show's first two weeks, a 550 percent spike in searches for Halston pieces was recorded, as well as page views for halterneck dresses rising 132 percent. We suggest seeking out luxurious fabrics and streamlined silhouettes, whether forming a floaty silk kaftan or a sequinned jumpsuit. Given jewellery designer Elsa Peretti was a Halston muse, a piece from one of her collections for Tiffany & Co. is a must.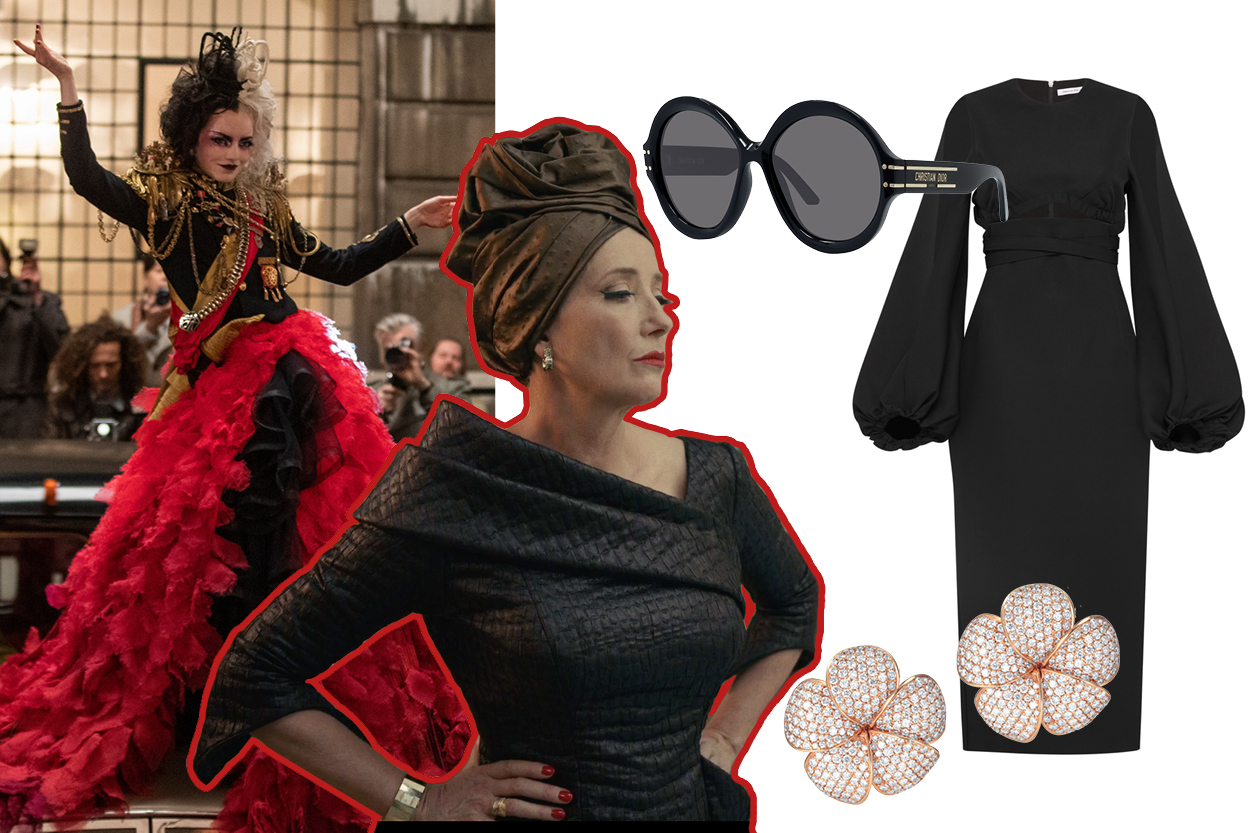 Cruella
On the silver screen, Cruella harnesses grunge and glamour, with Emma Stone's transformation from Estella to Cruella demonstrated with a sartorial evolution into punky yet extravagant looks, inspired by Vivienne Westwood, Alexander McQueen and John Galliano. The structured, slightly old-fashioned gowns worn by Emma Thompson's Baroness von Hellman were based on Christian Dior's seminal New Look aesthetic.
If a taste for high-octane drama has carried over into your daily ensembles, we suggest channelling either one of this film's formidable nemeses. There are several routes you could take — if you err on the side of the rebellious, seek out glam-rock leather pieces. For more polish, dabble in a colour palette of black, white and red. The Baroness might prompt you to go for sculptural shapes and attention-grabbing accessories. Either way, make sure you wear your attitude on your (voluminous) sleeve.