There was a solemnity that descended on the fashion set as they hit the streets of New York, London, Milan and Paris for the Fall 2022 season. After all, it was absurd to be chatting about clothes with war breaking out only a few countries away. The invasion of Ukraine by Russia hung over the shows like a fog, with some designers choosing a business-as-usual approach and others addressing it directly (see: Georgio Armani's eerily silent show in Milan). Although none could have done it as poignantly as Demna did at Balenciaga — the designer pivoting his dramatic show from a climate change allegory to an act of defiance, with every seat surrounding the glass rotunda runway given its own Ukrainian flag alongside show notes that spoke to the designer's first hand experience with war, ending with a message of love always winning.
Looking beyond its immediate geopolitical context, Fall 2022 still felt, in many ways, like it was reacting to the disruptions of the last few years. Suiting, for example, spoke to the question of whether people will ever return to the office, with new takes on tailoring at brands like Givenchy and Dior and preppy details like formal mini-skirts and neckties (here's looking at you, Gucci) feeling distinctly at odds with the idea
of sitting behind a desk.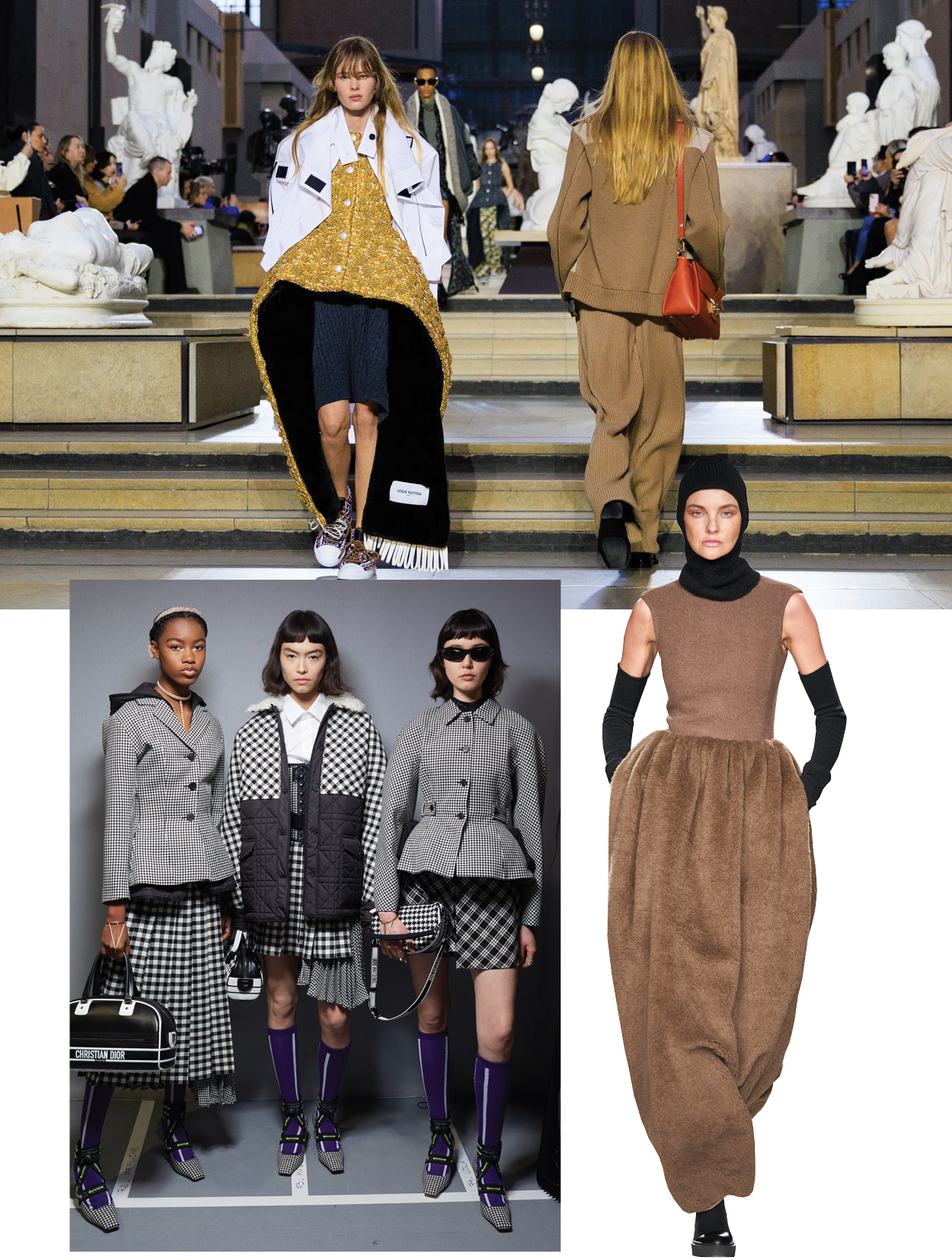 Elsewhere, Y2K nostalgia (encouraged by a pandemic-driven desire to reminisce) was responsible for a plethora of skin-baring looks at the likes of Nensi Dojaka, Coperni and Miu Miu, which bizarrely didn't feel out of place among the season's heavy suiting and winter coats. (So don't pack away your summer outfits too hastily.) In a similar vein, glamorous peignoire-inspired pieces by Fendi and Bottega Veneta (among others) shimmered in all their after-dark appeal, satiating our craving for clothes that feel flirty and fanciful. Building on this idea was the sense of playfulness introduced with various fur, feather and tassel trimmings at brands like Alaïa, Alexander McQueen and Prada, lending levity to traditionally severe styles.
Speaking of severe, the Fall silhouettes were exaggerated. Think elongated bodies, strong or dropped shoulders, slouchy sleeves and cinched-in waists. There were sleek, boxy tuxedos at Saint Laurent, corsets at Versace, Christian Dior and Fendi and geometric surrealism at Loewe, but nowhere was this idea as well executed as at Louis Vuitton, where coats were perfectly oversized, hips pushed out and proportions placed at the centre of every look.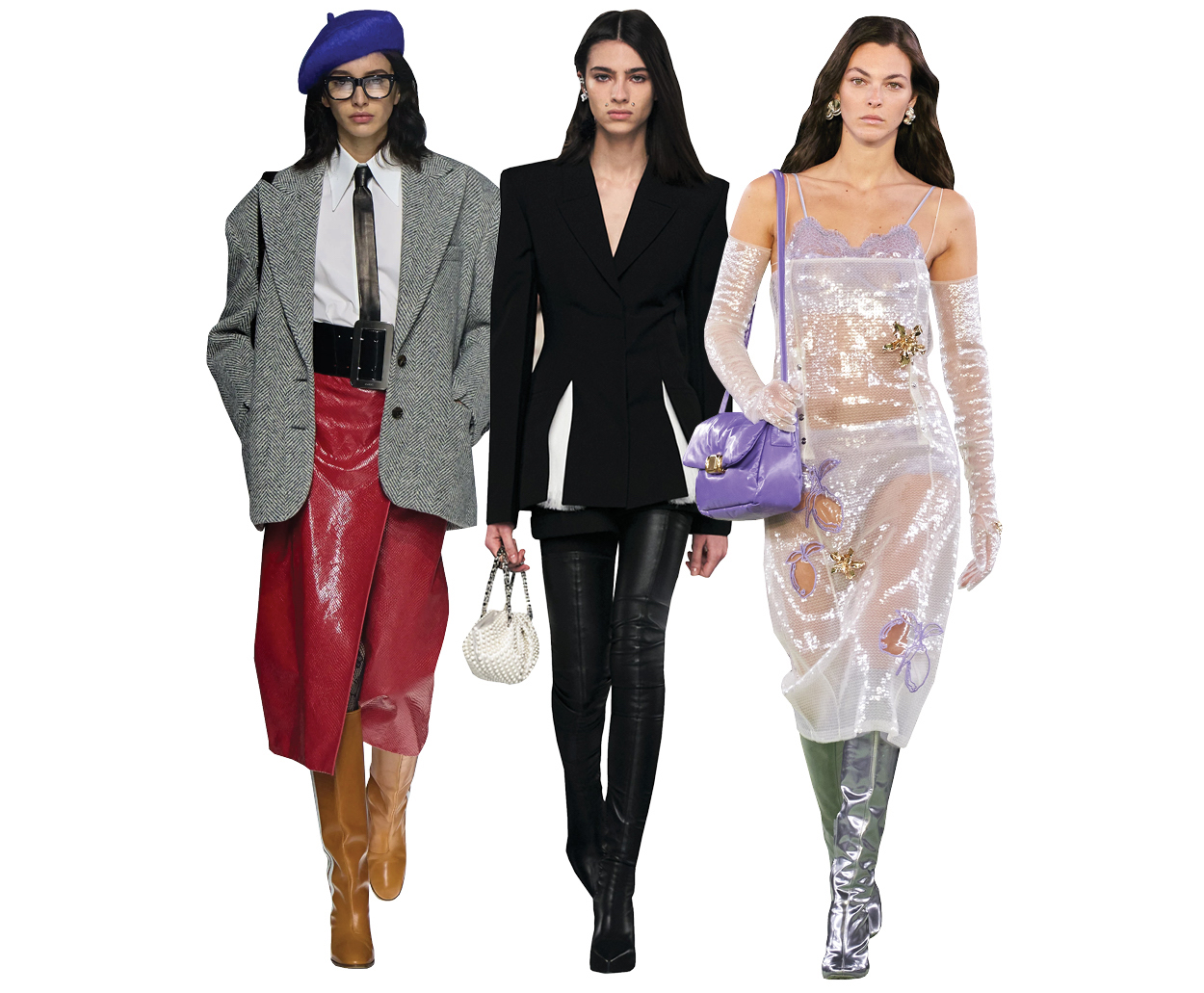 Hemlines dropped down just as boots were rising up. Over-the-knee styles at houses like Chanel and Givenchy saw those brands putting their best foot forward as showstopping boots became the shoe of the season. Floor-dragging skirts, trousers and dresses at the likes of Saint Laurent and Burberry offered an elegance that felt effortless and uber-feminine — while faux-fur and feather trimmings put a sumptuous spin on the season's more show-stopping pieces (think Valentino and Prada).
Leather and denim seemed to be the textiles of the season with almost every major brand sending their own versions of leather jackets, dresses, pants or all of the above down the runway. While the proliferation of denim heralded what was undoubtedly one of the biggest trends of Fall 2022 — elevated basics. The white tank top became an unexpected breakout star, and understated singlets, T-shirts and white collared shirts were hailed as winter wardrobe must-haves, often paired with simple blue-denim jeans. If nothing else, this ascent of basics from foundational to fundamental spoke to our collective desire to dress purposefully again. Fashion at large is becoming less interested in playing into 'trends' and more invested in looks that truly last. And thank goodness for that.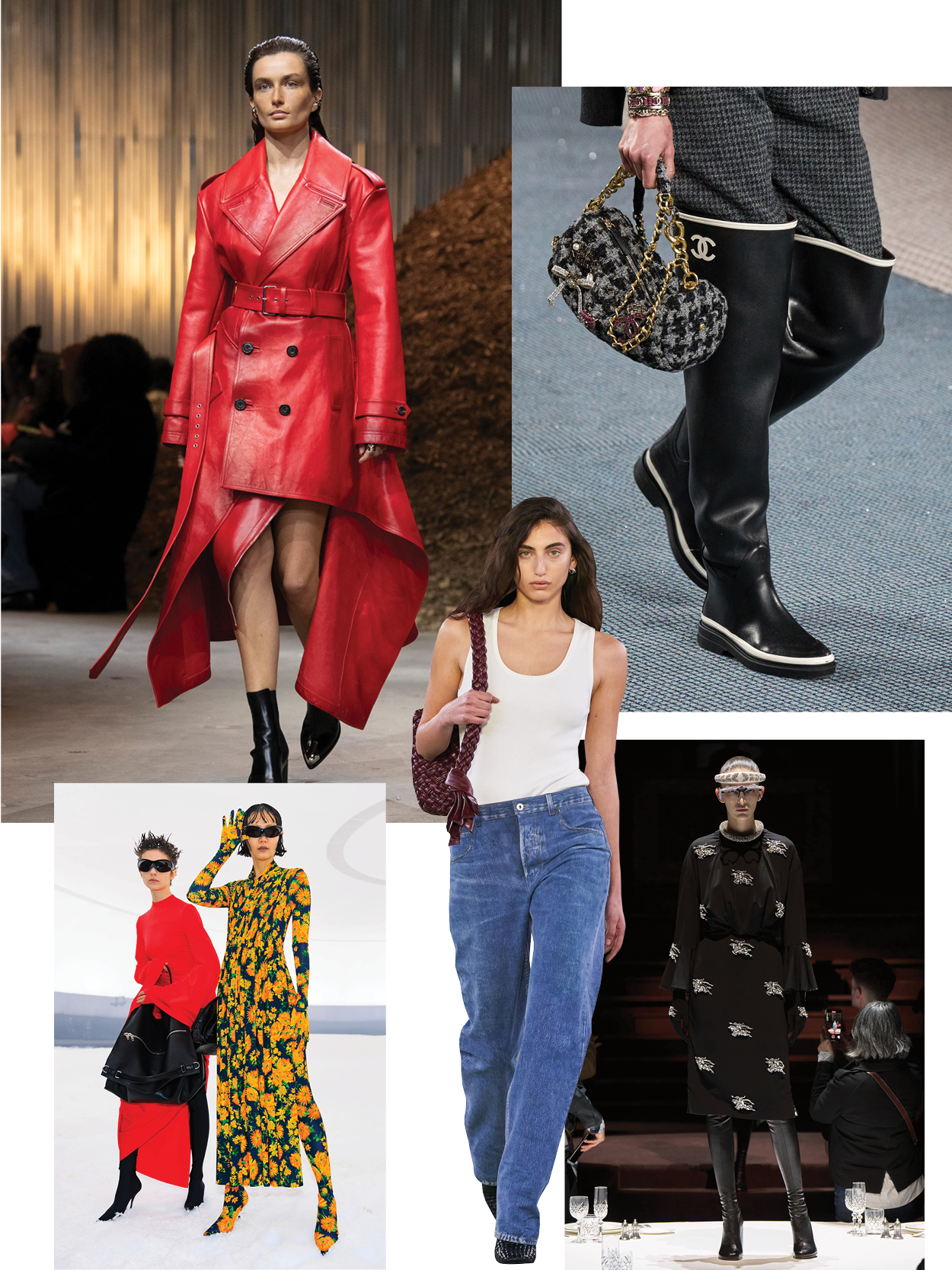 As far as accessories were concerned, handbags were doubled up and layered, offering a more chic (but possibly less practical) alternative to the single, oversized tote; while faux fur staged a fluffy takeover of bags, shoes and even hats. In fact, headwear in general really had a moment on the Fall 2022 runways. From the Gucci beret to the Burberry headband to the balaclavas at Max Mara and even the hair clips at Chanel and Versace — it would seem that forgetting to dress your head will prove a serious faux-pas this winter.
Reminding us how fashion is bouncing back from the last few years with aplomb, the Fall 2022 runways made a case for the industry's hearty resilience. And while we won't solve the world's problems with a new pair of boots or a tailored coat, maybe those things will help us to draw on the collective courage of designers who continue to create impeccable clothes despite everything, and face this changing world with confidence.