Emigrating to New Zealand from what was Soviet Ukraine at the age of 12, Mikhail Gherman first found his creative feet in art school, before becoming a widely-respected Creative Director in advertising. Now, he is most known for his current tenure as the other half of Karen Walker (the designer's husband and the brand's Creative Director).
He is a man with an unconventional story and a uniquely creative mind. His thoughtful outlook, inquisitive approach and ability to think outside the box have seen him achieve renown in a number of fields, but for the last 30 years it has been focused on developing and executing the visual language of one of New Zealand's most lauded fashion brands.
Creating quirky, attention-grabbing campaigns that have seen Karen Walker reach unprecedented, international heights, Gherman himself might be a quieter figure in the wider landscape of fashion, but his work speaks for itself.
Here he gives insight into his thinking and tells us why old sea captains are his current source of inspiration.
I've always been drawn to subversive-ness and outsiders. My formative years were the second half of the '70s and punk held for me a perfect combination of style, humour and "fuck you". It was a glorious moment of music, fashion and politics coming together in a way that anyone could be part of if they had the right energy. It was especially perfect for those who felt like they didn't belong in the system — it was kind of a revenge of the outsiders, and I related.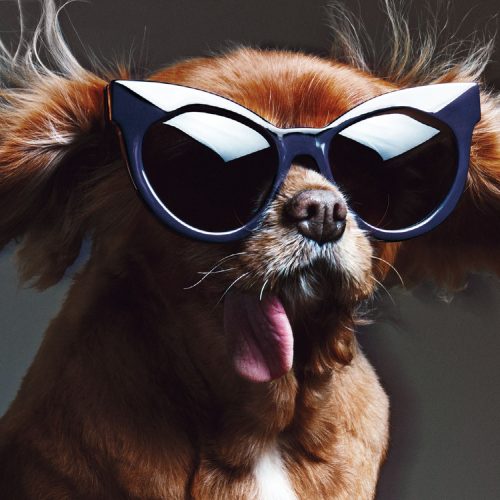 I'm inspired by things that are bland or quotidian or super uncool — I reinvent or elevate them. Dogs wearing glasses, for example, was an existing, slightly cheesy, genre that we elevated and made into a luxurious, tongue-in-cheek, blockbuster moment when we did our campaign with Toast. When we worked with Advanced Style for an eyewear campaign, and later a jewellery campaign, we loved that Ari Seth Cohen's central idea for Advanced Style was to take an entire group of people, those over 65, who had been, on the whole, swept aside and treated as bland or invisible, and allow them to take the stage and really play with fashion and being in the spotlight. Now the media is full of images of glorious, silver-haired people with over-the-top jewellery but when we did the projects with Ari it was unheard of and eyewear campaigns were, 99 times out of 100, shot on dewy-skinned girls at the beach.
Everything about Rome makes me nostalgic. I lived there for two years in my early teens and my feelings for it are palpable. The colour of the stone, the sound of the scooters, the skyline, the light, the stone pines. Also, when I recently picked up my paint brushes again the smell of linseed oil made me very nostalgic for art school.
The urge to create is something I have no choice about, despite being naturally lazy. I have to be creating and making. It's innate in me. It's what gets me out of bed.
My formative years were in the 70s, and that suited me just fine. I hated everything about them until I heard Sex Pistols' Never Mind The Bollocks and then I was hooked on the energy of raw talent pushing against everything and breaking it all down.
I learned resilience from my dad, his own could have filled a book. Surviving the Holocaust, four years in the Soviet Army, 40+ years in the Soviet Union and the uncountable trials and tribulations of a refugee's life are just the beginning. My wife is the other person I look up to, for her ability to create order out of chaos — the perfect counterbalance to my natural tendency towards creating chaos out of order.
I would love to collaborate with Grayson Perry — a contemporary British artist known for the subversive way he chronicles contemporary life. He takes the conventional and turns it on its head. And his work is beautiful.
I've been learning to paint again. Over lockdown last year a friend asked me to participate in an exhibition (really just an excuse for a party) of works by art school alumni friends of hers. The brief to respond to was The Male Gaze. The concept for my 35 oil paintings was Men In Isolation. They were all painted on Beehive matchboxes. There were several reasons for choosing matchboxes for my canvas: they speak to the intensity of manhood when reduced down to its essence; they speak to the fragility/danger/fleeting nature of manhood; they look like Instagram images; I knew Karen would freak out if my painting studio was bigger than an A0 piece of kraft paper; and, I'm lazy and they don't take much time to paint. My favourite story within the works were my 15 sea captains. I love sea captain paintings because it's a cheesy genre, an oeuvre reserved for small-town junk-shops — I thought it deserved a reinvention. Also, they all look kind of like me: hirsute, weather-worn, grey and with a Breton shirt (my summer uniform). The only difference is I don't smoke a pipe and all my captains do.
I'm most proud of my 30+ year marriage and my daughter's critical mind because both of these things are rare.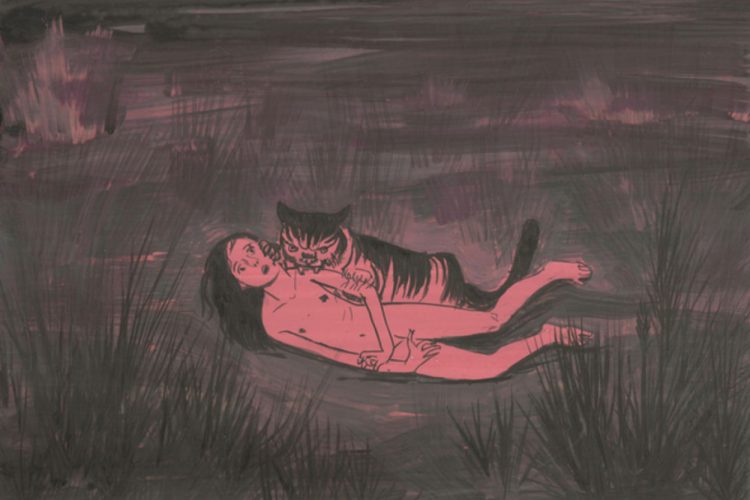 Everyone should be looking at the work of painter Aleksandra Waliszewska. She has a 21st Century, Breugel-esque, post-apocalyptic vision of the world.
I'm actually at my best in changing times. I embrace the discomfort that they bring. When there are massive changes and everyone goes back to zero I'm at my most energised. It must be my survival instincts kicking in and taking me back to my childhood when I had to adapt, embrace and affect huge changes after leaving my hometown at age 12 (Odessa, in what was then the Soviet Ukraine) and living the refugee's life through my early teens.
I'm quite happy at home right now but I would like to visit my brother in L.A. at some point.
I'm often reminded of a piece of advice I was given a long time ago, and always come back to: surround yourself with people who get it.