Often our most treasured items are those worn with the hands of time. Diamond jeweller Jessica McCormack appreciates this more than most, with her distinct handcrafted designs made to be held close, then passed down from one generation to the next.
Her latest collection, On The Rocks, hones in on this idea — with pieces in refined shapes reminiscent of pebbles smoothed over by waves on the riverbank, before being picked up. Like a prized keepsake, the softly imperfect forms come from materials found in nature, wrought from yellow gold and clouded blue chalcedony.
"I wanted to create a collection that spoke to lovers of landscapes and found objects," says McCormack. "I have always loved the work of sculptors like Barbara Hepworth, whose forms feel so evocative of British coastal walks, hills and skies."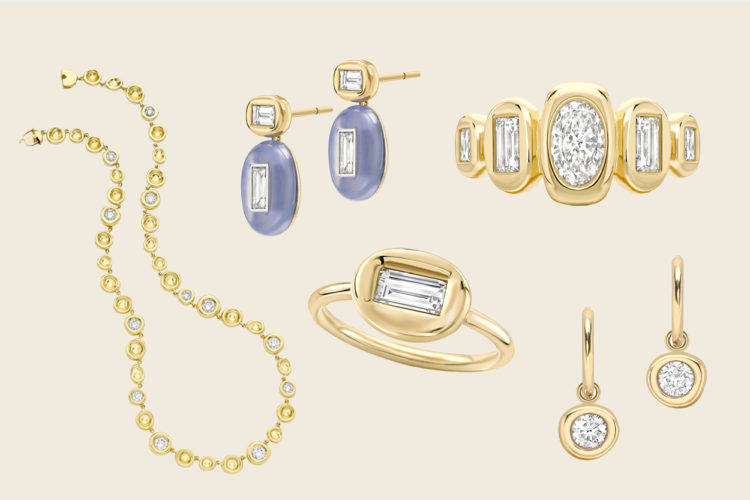 Dame Hepworth was known for her modern sculpture, and one quote in particular inspired McCormack during her design process: "If a pebble or an egg can be enjoyed for the sake of its shape only, it is one step towards a true appreciation of sculpture.''
For On The Rocks, symmetry has been cast aside for a more natural, tactile collection to be worn against the skin and felt between the fingers. Embedded with baguette, brilliant, or oval-cut white diamonds, the pieces range from sweet swivel clasp pendants to cascading chain necklaces, from subtle studs to a showpiece Five Stone ring with oval, baguette, and carré-cut diamonds all enveloped in pillowy gold surrounds.
McCormack has been blue sky thinking with her use of chalcedony, a combination of quartz and moganite, especially. "Chalcedony appears to me as a sky-hued stone, and marrying it with organic shapes and white diamonds has been in my mind for a long time now," she says.
A selection of auspicious pieces from the collection is launching at Simon James Stores across Auckland, in two drops from today, at the same time as Jessica McCormack's London townhouse studio and store.