It has often been said that when it comes to those big moments and questions in life, little details matter — something that definitely rings true when giving the person you love the most romantic piece of jewellery. And despite what you might think, creating a piece that is truly unique doesn't require you to be an expert on stones or have the most design-oriented eye, you just need to know where to look.
One jewellery purveyor who understands this better than most is Naveya & Sloane, a renowned, Auckland-based studio that has cultivated something of a cult following for its exquisite bespoke offering and coveted engagement rings. For the team here, the process of creating custom pieces is a collaboration between jeweller and client, replacing the often-daunting undertaking of finding the right engagement ring with an incredibly special and memorable experience that can help anyone uncover the perfect piece.
That said, as far as design is concerned, many embark on the bespoke process with very little idea of where to begin, or where their inspiration should be drawn from. For this reason, we sat down with Naveya & Sloane's Co-Founder and Creative Director, Rachel Sloane, who helped us with some advice on what to think about when commissioning a bespoke engagement piece and how, with Naveya & Sloane's help, you'll be able to create something unforgettable.
Make your jewellery tell your own story
Ensure it is your story (or that of your other half) that you want to tell, and articulate it into a priceless piece of luxury jewellery — that is what will make your piece unique. Draw inspiration from a mood board, a cornerstone element of Naveya & Sloane's bespoke design process. It may be a special destination, the place where you first met, a story you love, a favourite flower… There is inspiration to be found everywhere, and it doesn't have to be taken literally. Instead, these little moments that make your story so unique will shine through in a refined and inspired manner. For those who struggle with the idea of taking the first step, this can be an exciting and beautiful place to start.
Consider timeless elegance as an essential design element
Sloane explains that timeless elegance is the essence of all Naveya & Sloane pieces, including those made in their bespoke range. Their rings are handcrafted in a way that ensures they remain beautiful for decades to come and are not made with elements that easily date or age; an important consideration when mitigating trends in jewellery. Here, there is a delicate balance that must be struck between making sure something adheres to someone's personal preference and style, while still feeling inherently timeless. Luckily, it's something that Naveya & Sloane has down to a fine art.
Seek out a balance between the old and the new
When seeking out inspiration for her own collections, Sloane looks to inspiration throughout history in the places and spaces she loves the most. In some collections, Naveya & Sloane lends its jewels to a delicate conversation with jazz, with stones and ornate details reflecting elements of that era. While her most recent cocktail ring collection consisted of four pieces inspired by Palm Springs. "It's all about bold simplicity and old-world glamour," the founder explains. But she takes this design philosophy lightly, ensuring the longevity of her inspiration by mixing the reflections on history with a modern, refined approach. It is here, where old-world details are paired with contemporary finishes that magic can be found.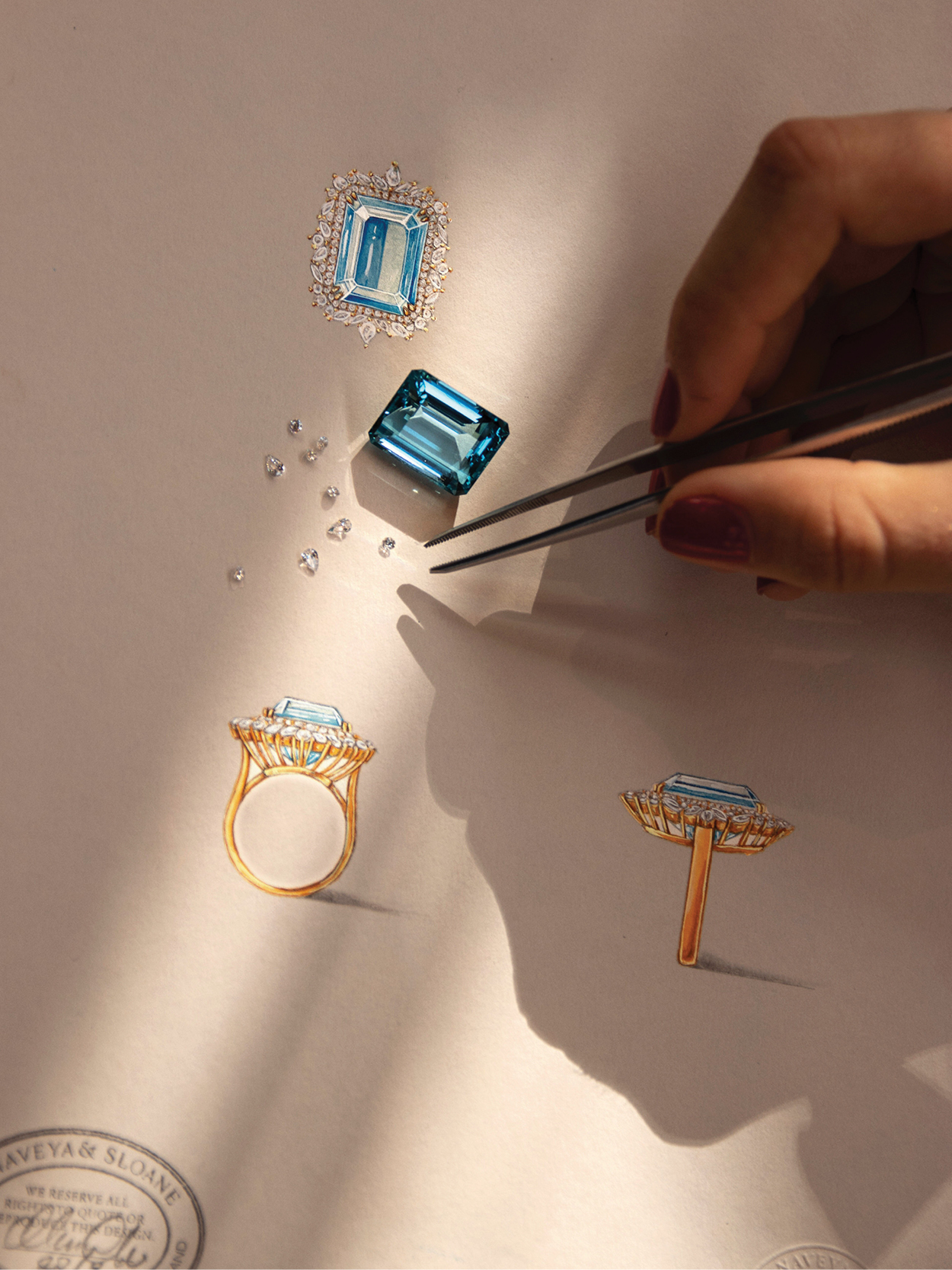 Embark on the creation process together
Asking your soulmate to spend the rest of their life with you can be a really big moment — a moment you want to be utter perfection; right down to the ring with which you propose. But getting it not quite right can be scary too, even under the guidance of designers and jewellers. It is why Naveya & Sloane birthed the Original Setting, a revolutionary concept that allows a couple to embark on the bespoke creation process together, making any ring truly special. With the Original Setting, clients are able to choose both the stone and precious metal they want for the final ring and propose with a simple, preliminary piece that has all of those components before embarking on a bespoke journey together to create the dream ring. Giving the clients the luxury of choice is at the heart of this experience, and one that makes all the difference when considering a proposal unique to them.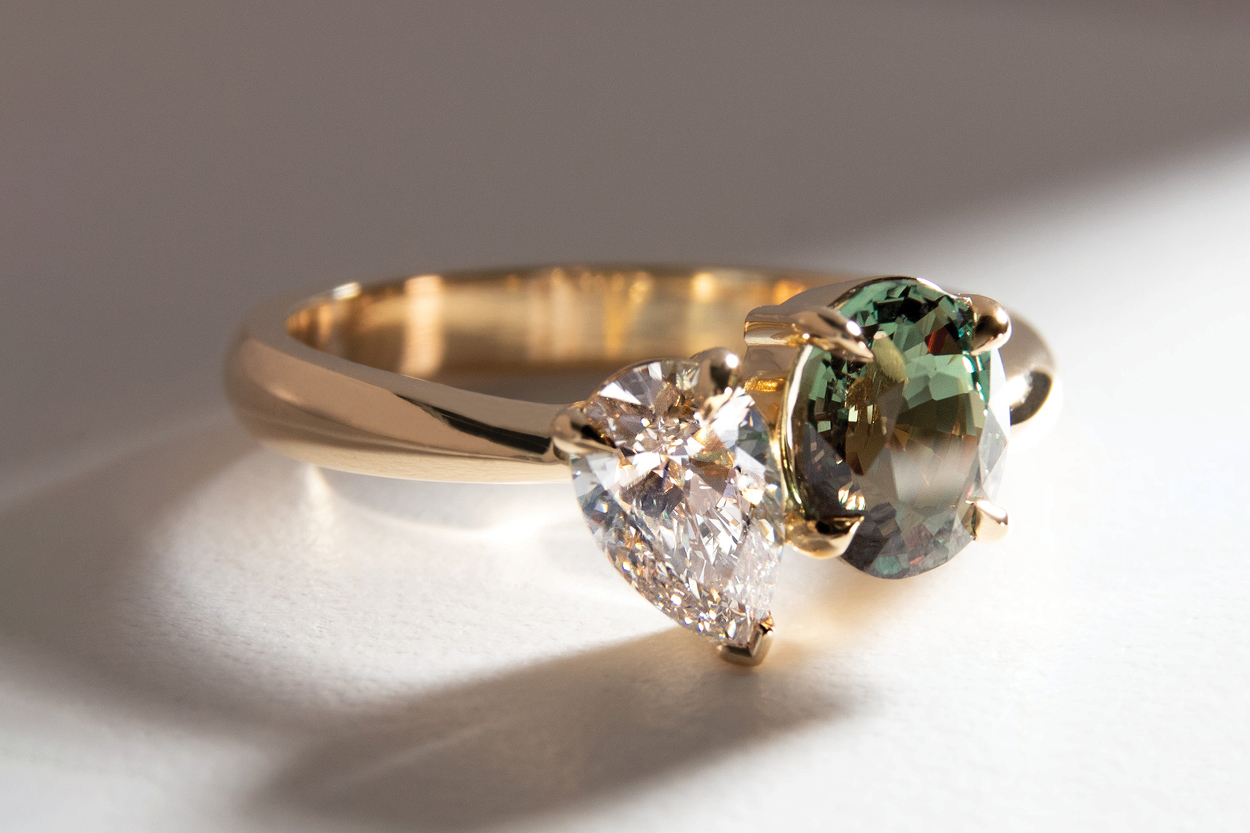 Make it authentic to you
When creating any bespoke jewels, few rings go from ideation to inception immediately. Instead, the purpose of bespoke is to bring a layer of creativity via the collaborative process, meaning that no idea is a bad idea, and every iteration will be beautiful. Sloane suggests bringing reference materials to your consultations; be these images or stories. She also considers it wise to reflect on your existing jewellery, as well as your own personal style to help you create something authentic. Typically, the bespoke process evolves from conversations, to mood boards, to design sketches, with the client bringing their style and personality into every step of the ring's creation.
In short, there is no one way to go about designing a special piece like an engagement ring. Instead, consider it a creative collaboration that reflects the wearer and speaks to a moment in time. And while drawing inspiration from your own story will ensure it is utterly perfect, having expert help from the likes of Naveya & Sloane will ensure the process runs smoothly and the end result is a soulfully handcrafted piece that lives on.