During lockdown, most of us prioritise day-to-day comfort when getting dressed. If you find you have extra time on your hands, it's also a great opportunity to catch up on wardrobe maintenance, such as sewing buttons, hand washing, mending hems and dealing with your cashmere. With increased home time, the cool comfort of cashmere offers both laid-back polish and sumptuous cosiness — and it's normal for cashmere pieces to start looking a little worn after sustained use.
Elle Pugh, co-founder of Elle + Riley, knows what it takes to keep cashmere looking luxurious and feeling softer than ever before. Here's Pugh's guide to being proactive about preserving your investment pieces and looking your smartest, even if your next outing is to the sofa.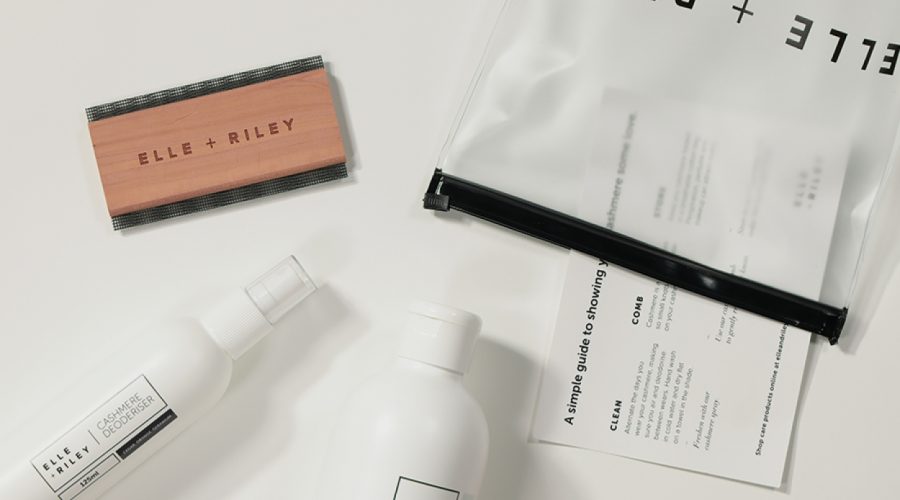 Pilling
"After wearing your new cashmere garment for the first few times, you may find small balls of fibre forming on the surface," Pugh says. "These small balls or 'pills' are caused by some of the loose fibre tangling together as areas of your garment are rubbed during wear."
Quite often, pilling occurs on new pieces around the arms or where you carry your handbag.
"The appearance of pilling should not be interpreted as an indication of low quality, it is often caused by friction and can be removed with proper maintenance."
By investing in a cashmere comb, you can tackle the problem.
1. Gently stretch the cashmere piece on a flat surface.
2. Hold the Elle + Riley cashmere comb in your dominant hand and use short strokes to brush in one direction, removing the loose fibres.
"Avoid wearing a cashmere garment two days in a row," Pugh says. "Let it rest for a day, airing your garment for a few hours on a flat surface, preferably outdoors, before wearing it again."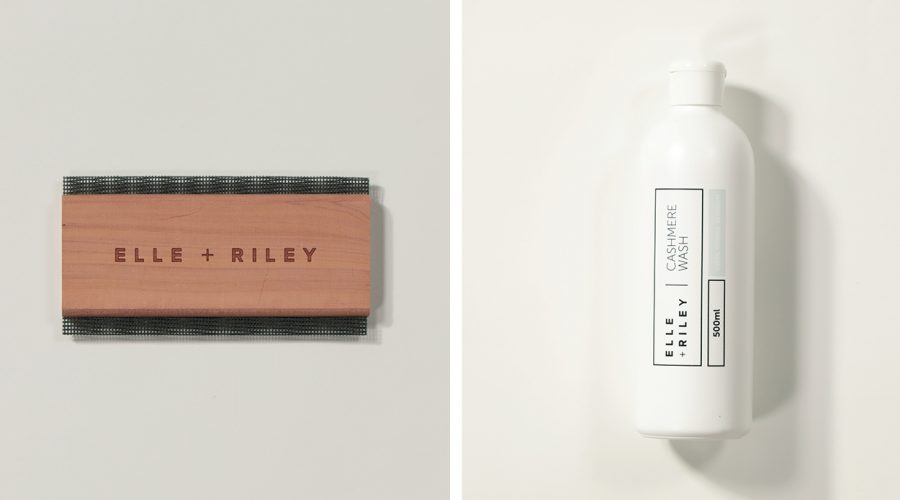 Washing
To keep cashmere looking clean, do not dry clean and avoid the washing machine. It's time to get your hands even cleaner with some handwashing.
1. Fill up a basin or wash bucket with cold water and pour in two capfuls of suitable laundry detergent.
2. Gently squeeze the suds through the fabric, taking care not to rub, wring or stretch your garment. Rinse well, squeeze out as much excess water as possible, and leave to dry flat on a towel in the shade. "An E+R tip is to roll your cashmere in a clean towel to squeeze the excess water out prior to laying flat," Pugh says. "Remember to always dry naturally away from direct heat such as radiators or sunlight. We do not tumble dry or hang up our cashmere as it will irreversibly deform your garment."
3. Steam if necessary to eliminate wrinkles.
Between washes
Cashmere pieces generally will need to be washed after three wears. This can be extended if items are layered beneath. To keep your cashmere smelling fresh between washes, use a spray, applied 15cm from the garment, which can eliminate some odours. "Our Cashmere Spray is made from 100 percent natural ingredients with notes of orange, geranium and cedar," Pugh says. "I use it as a room spray too."
Final tips
Keep your cashmere folded in breathable cotton care bags. "These are an essential accessory to care for any cashmere garments in storage or during travel," Pugh says. "Our Care Bags come in one size and each bag can fit up to two garments."
Place an Elle + Riley Cedar Block inside the bags to naturally protect from moths and perspiration.