In 2020, for the first time since the Second World War, the City of Haute Couture's shows were halted. While Parisians were holed up in their arrondissement apartments, the international industry had time on their hands to question the future of the most prestigious form of fashion — would it be a tentative next step of tapered collections, or an all-out celebration of sumptuous style?
After the austerity of the war years, designers debuted new silhouettes that still shape what we wear today. The most notable of which was Christian Dior's New Look from the couturier's debut in 1947. With a cinched-in waist and full skirt, the exuberant style heralded a new era of (relative) excess after the French government's fabric rationing. Fashion history seems to repeat itself, and the 2021 return to shows was closely watched as clients could finally see mesmerising made-to-measure couture up close again.
As one of the first storied Maisons to show, Christian Dior embraced materiality in front of an expertly embroidered mural conceptualised by artist Eva Jospin. "Reclaiming the values of haute couture after this period of restrictions when the Dior collections designed by Maria Grazia Chiuri were mainly presented through film," read the show notes. "The materiality of fabric becomes form, while the subversive language of embroidery is expressed in a project that becomes a performance."
Celebrating the crafts that are the essence of couture, the tactile tweeds were hand-loomed and the diaphanous goddess dresses were at times entirely hand-braided from strands of silk. As Monsieur Dior did in the post-war years, Grazia Chiuri drew attention to the ateliers and artisans that make her designs come to life.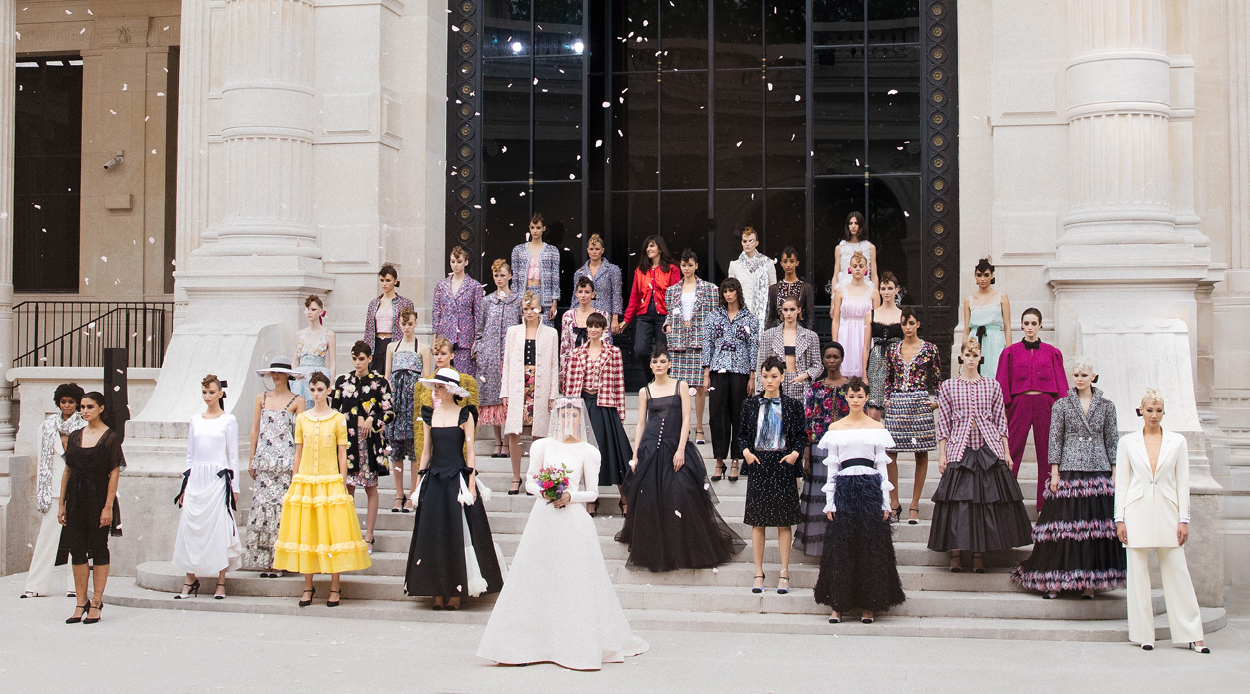 Guided by another resilient spirit at Chanel, Virginie Viard continued her refined vision for the luxury fashion house — with a surprising lift of levity. Inspired by 1930s photographs of Gabrielle 'Coco' Chanel wearing 19th-century costumes for balls — a form of escapism from the concurrent Great War — Viard's gentle romanticism gave way to a vibrant optimism.
The Creative Director began with tiered drop-waist gowns like Coco's, recreated in the pastel shades of the Impressionist art movement. Then, a playful and painterly mood saw the introduction of Pointillist strokes, where sequin daisies on a jacket became as evocative as Seurat's 1880s paintings of Parisians on the River Seine.
As restrictions eased and today's Parisians flocked to the parks and riverside, Giambattista Valli's tulle and silk confections were made for running around the reopened capital of couture. "There's an energy that's so beautiful, so youthful, so fresh. Everybody is out," Valli said during a preview at the couture salon. "There is this kind of generosity of happiness and sharing, and being all together, and getting this lightness back again."
While at first sweet, the cascading dresses spill over into after-dark fantasies, with hooded silk crêpe capes over intriguing suits. "The past is very heavy and the future is very uncertain, so it's about being open and free," he added. "You have this slight sense of danger — in a positive way — because you're going out facing the unknown."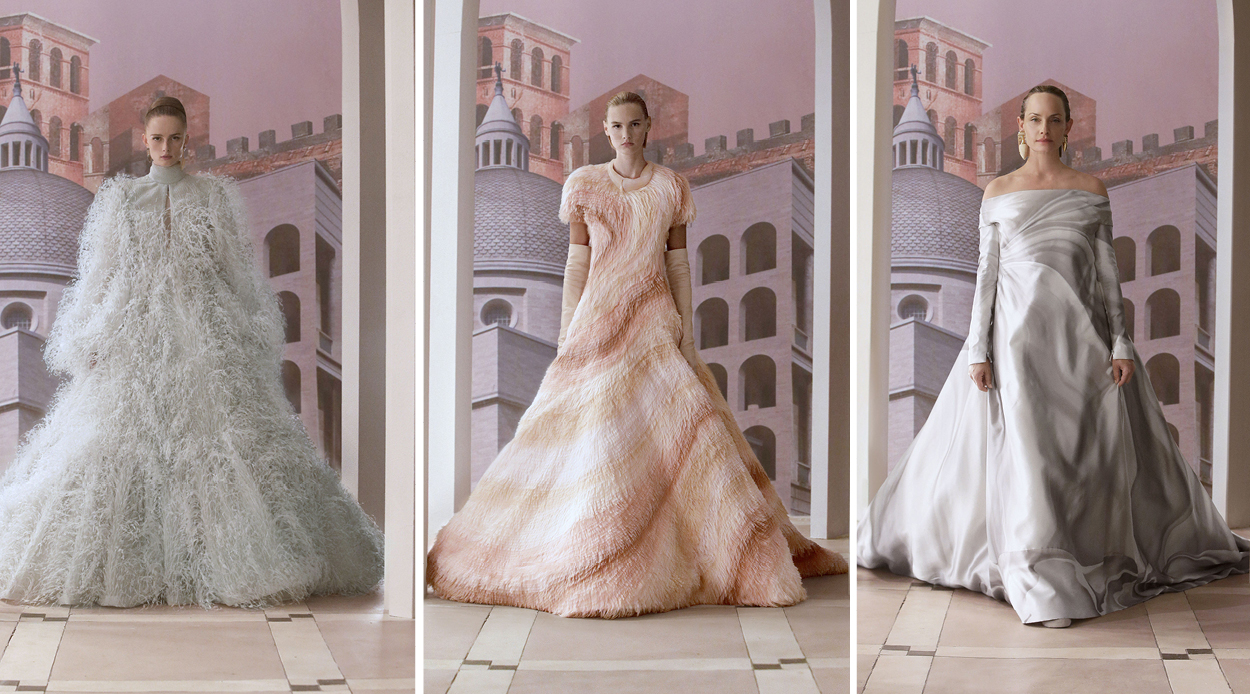 At Fendi, an unexpected appointment created a new world of opportunities. Artistic Director Kim Jones' first couture outing bridged layers of history (from another cultured city, Rome) to forge a new future for the House. After a "liberating journey", Jones came to a cultural crossroads of goddess dresses and modern, statuesque suiting. "That is what is happening to me: connecting eras, the old with the new, the past with the present," read the show notes.
Jones is not the only designer to turn his streetwear skills over to sublime swathes of fabric. Demna Gvasalia's highly-anticipated couture collection was the first for Balenciaga in more than five decades. Giving equal value to turtlenecks as overblown taffeta gowns — in a restored version of Cristóbal Balenciaga's original salon — the mixed men's and women's pieces honoured the greatest couturier of the 20th century with a new vision of inclusive grandeur. Here's looking at you, Look 9.
"Couture represents freedom of creativity and freedom in fashion. And that's maybe the reason why I wanted to do it so badly," Gvasalia told WWD before the show. "I believe strongly that couture actually may save fashion, in its modern way."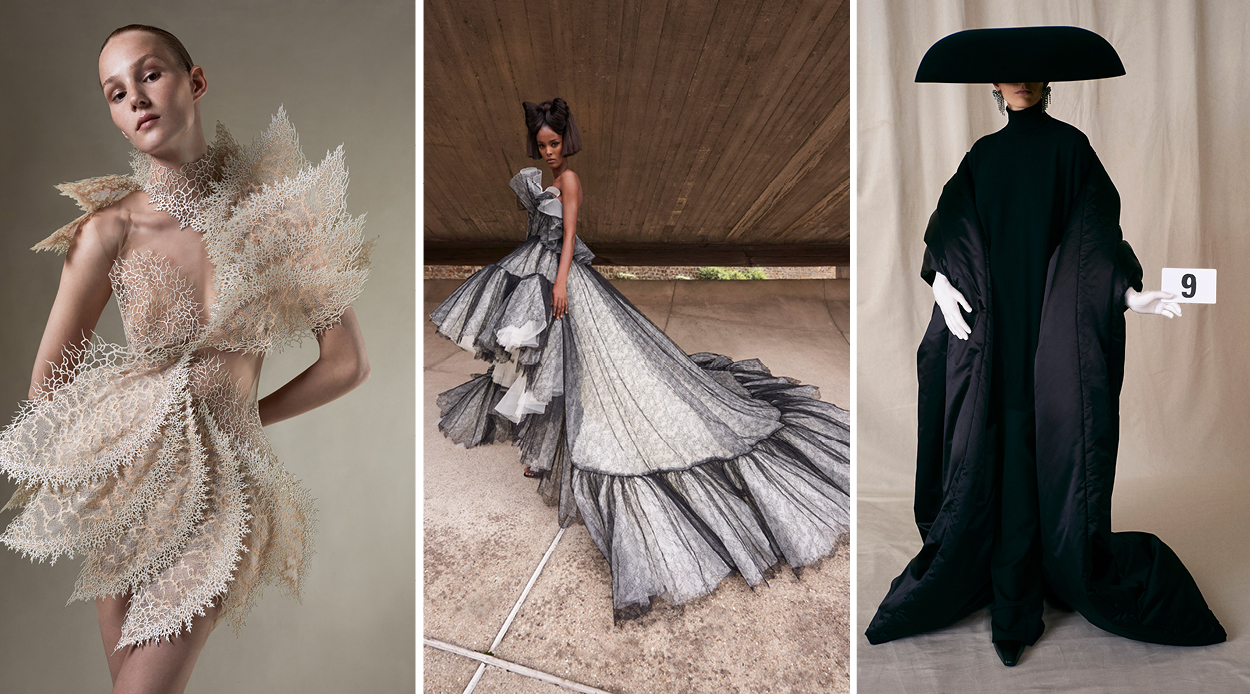 Dutch designer Iris van Herpen also challenged what couture could be, by collaborating with leaders outside of the tight-knit industry. Her lace-like dresses were made with layers of hand-cut multi-dimensional materials by sculptor Rogan Brown. To launch the collection, French champion skydiver Domitille Kiger was photographed leaping out of a plane in a custom creation. From such lofty heights, the earth below appeared to be more united, at least to gaze upon.
In hindsight, the most lauded fashion week on the calendar could only have returned with a new sense of legacy and levity. Under the allure of unpredictability, the time-honoured inspirations and crafts of the métier have become a beacon of creativity, and hope. Vive la couture.