This year we are taking a hiatus from Denizen's eagerly-anticipated annual celebration of Heroes. We look forward to paying proper tribute to influential New Zealanders when the battle against Covid-19 is over. In the meantime we look at back at the inspiring stories of the trailblazers we have honoured in the past and continue to proudly call Heroes. Meet hero Jessica McCormack.
There is something transcendent about Jessica McCormack jewellery. While it thrives in its contemporary context, there is an unmistakable air of elusive, old-world appeal. This is jewellery for the modern woman, and yet, in many ways it feels like an ode to women of the past, seeming to exist both as a product of its time and at odds with the concept of time altogether. When it comes down to it, it's a reflection of its creator. A woman who not only balances practicality and glamour with enviable ease, but in whom the idea of preservation — whether it be of a craft, of an object, or of an attitude — was instilled at a young age. With her unique sensibilities, Jessica McCormack is resurrecting historical craftsmanship to redefine the genre of fine jewellery as we know it and is putting New Zealand on the map in the process.
McCormack's obsession with the artistry behind fine jewellery started after moving from her native New Zealand to London to work in the Sotheby's jewellery department. "I was exposed to Russian crown jewels, 1920s Cartier, Lalique," she tells me, explaining how it opened her eyes to a world into which she had never had access growing up in Christchurch. This hands-on experience combined with a potent blend of work ethic, inherent creativity and good timing, propelled McCormack into the beginnings of her career. But it wasn't a cut-and-dried path. "I didn't set out to do this," she explains. "It was just very incremental, very intuitive and very much about going with my gut and working really, really hard."
While McCormack was building her first collection, she worked for a diamond wholesaler, gaining an education in gem grading and how best to work with precious stones. One of the first pieces McCormack ever created sold to Rihanna, and while at the time it might have felt like a fortuitous beginning, looking back now, it was an early indication of the kind of success her label would eventually achieve.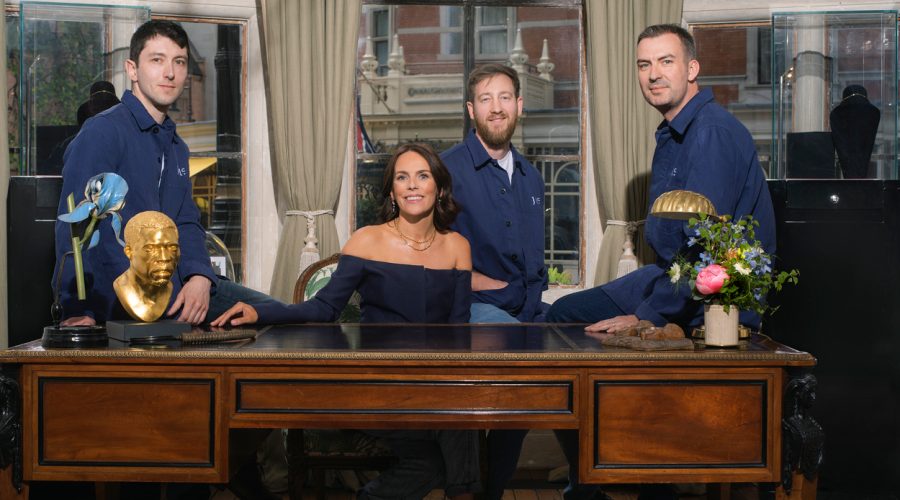 Speaking with McCormack, what strikes me first is her unaffected manner. Despite having created what is the undisputed 'it' label in women's high-end jewellery, she doesn't put on airs, nor does she seem to possess so much as a hint of the haughtiness often associated with those in her industry. While her business might have been born and bred in London's lofty Mayfair, she still embodies that quintessential, entrepreneurial Kiwi spirit that keeps her grounded, and ensures an ethos of quality remains at the heart of her success.
It's almost impossible to trawl Instagram without bumping into at least one of McCormack's designs, usually adorning the décolletage of some Hollywood star or other. Her client list includes the likes of Madonna, Rosie Huntington-Whiteley, Liv Tyler, Victoria Beckham and Meghan Markle. McCormack's delicate but striking aesthetic was made distinctive from the beginning, thanks to her decision to revive the traditional Georgian setting. "What I feel it does, is soften the diamond," she says, explaining it as a more pared-back, refined look. "Diamonds can be super twee and a little bit ageing and harsh," she says, and although I tend to agree, McCormack's collections tell a totally different story.
Dispelling the classic claw settings, and instead, encasing her diamonds in a button shape (usually in yellow gold, white gold or oxidised silver), the resulting pieces allow the wearer the unprecedented ability to don their finery at any time of the day — without it ever feeling out of place. "I love the idea that you can wake up in the morning and have your diamonds on with your pyjamas, and then wear them to the gym, and then go to work and afterwards go out for dinner and drink tequila and dance on tables," McCormack laughs, crediting her unique, "360-degree, holistic way of wearing diamonds," as part of the reason why her collections have found such a wide and willing audience. "My clients range from 16 to 93," McCormack tells me, describing a beautiful bracelet she had recently completed for a nonagenarian. Her ability to take something as classical and as typically untouchable as the diamond, remove it from its historical context and reimagine it as something modern and versatile is what has given her pieces such universal appeal. And in many ways, it's a testament to her upbringing.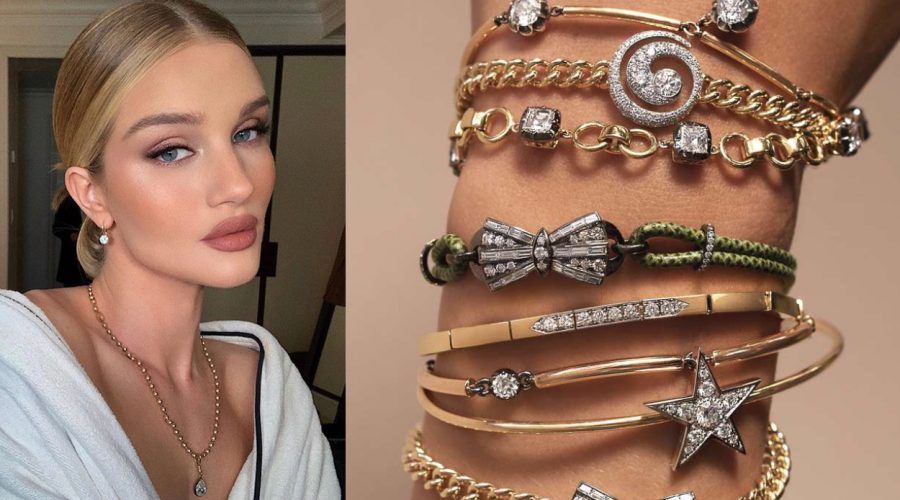 McCormack's late father was an antiques collector and dealer, although she tells me he really had a great many interests. "He was so entrepreneurial," she says, "he was always doing a million different things whether it was art or antiques or car racing." Explaining how he was constantly taking her to auctions or antique shops up and down the South Island as a young girl. McCormack credits her dad's eclectic, collector's attitude with teaching her how to make something thrive outside its natural environment, by recognising its potential in another. And what her father would do with art and antiques, McCormack now does with diamonds. "My whole thing," she explains, "is taking something that's old and beautiful and building it into something that's modern, relevant, usable, workable and well-designed." Alongside her revival of the Georgian setting, McCormack draws inspiration from the likes of Art-Deco and The Bauhaus, as well as traditional New Zealand motifs like the Koru. "I'm working on some bigger pieces that will look at more high jewellery with the Koru shape," she tells me, "by adding Art-Deco-inspired, baguette diamonds to it." In another nod to her heritage, McCormack reveals that she has just had a number of Pounamu hearts carved for her on the West Coast of New Zealand, as she looks to incorporate the deeper cultural significance of the greenstone into a number of very special, new pieces.
It's this ethos of embracing and promoting the symbols of her upbringing that is resulting in McCormack drawing attention to the beauty and rich history of her home country. When Meghan Markle wore McCormack's Tattoo Pendant, for instance, the world's fashion media started talking about the art of 'Tā Moko' and the richness of New Zealand culture. "McCormack's designs pay tribute to New Zealand and the people who live there," wrote Amy Mackelden, for Harper's Bazaar. And it's true. By her drawing on her own heritage, McCormack is shining a light on our collective one.
It comes back to the idea that, for McCormack, jewellery is as much about telling a story as it is about the craft. Her heart-shaped diamonds talk of love in a charmingly obvious way; her spiralling, Koru pieces speak of family lineage; her Ball n Chain collection is underwritten with the complications of modern womanhood and its need for versatility. "It's about collection, curation, craft and cult," the businesswoman explains, outlining her "four C's," and telling me how important it is to keep building upon collections in order to create your own story. Jewellery, she tells me, is a lifetime pursuit. "It's never throw-away, and I think it's so nice to be able to keep the soul and the energy of a piece while being able to add another layer." Exemplifying this ethos is her Party Jacket collection, designed to breathe new life into existing rings by enhancing them with specifically-designed, add-on pieces. Even McCormack's atelier in London is about telling a story. The over 5,000-square-foot townhouse is the site of her store and her workshop (she now has six specially-trained jewellers working for the brand) and is filled with beautiful textural details, walls of books, various decorative objects and art (three of her paintings from the house, she tells me, had recently been loaned to the Tate Modern) that imbues her jewellery with a meaning beyond its aesthetic appeal. "With jewellery," she tells me, "it's about the whole experience."
As important as building a collection that tells a story, McCormack says, is the idea of handing precious jewellery down. "One of my most treasured pieces is a gold Hei-tiki my dad gave me when I was younger," she tells me, "with garnet eyes." That jewellery is timeless is not a groundbreaking concept. The custom of passing down pieces from one generation to the next has been going on since time immemorial, but McCormack is giving it a new face. Recently creating a line of antique-inspired custom jewellery boxes, the designer is encouraging her customers to preserve and grow their collections so that they become a kind of personal snapshot. A line up of cross-generational pieces that McCormack likes to think will hopefully still be in existence in a few hundred years. It's an idea she's been expressing since her first collection, Messenger of the Gods. Inspired by Greek mythology — specifically Hermes and his winged sandals — it saw McCormack launch her brand with an idea of where she would like it to ultimately end up: passed down through generations after the fashion of folklore.
For now, though, McCormack says her focus is on continuing to build her brand alongside her business partners Rachel Diamond ("Yes," McCormack says, "she actually married a man named Diamond") of the famous Oppenheimer diamond dynasty and Michael Rosenfeld — both coming from places of huge expertise in the industry, which makes their partnership and investment something McCormack says is invaluable. "I feel like I'm out of the growing pains stage and now I can look at expansion," McCormack says, "I'd love to open somewhere in New Zealand." Despite the designer following this by saying it isn't something on the cards in the near future, we can take solace in the fact that her jewellery is stocked in Auckland at Simon James Design (the furniture designer is her brother-in-law) — the only place in the world outside her Mayfair store that McCormack's coveted pieces can be purchased.
That McCormack's brand will continue to grow, I have no doubt. Her father, beyond instilling in her an appreciation for antiques, encouraged in his daughter an infallible work ethic, something the businesswoman still carries with her today. "As my dad always said,'" McCormack explains, "it doesn't really matter what you're doing, as long as you do it to the best of your ability and apply yourself." It's something she tells me she wants to pass down to her three children — now aged two, three and four — saying "I just want them to have that similar, New Zealand, no-nonsense work ethic, which I think is everything."
Recently, one of McCormack's rings was included in a major sale entitled 'In Bloom,' at Sotheby's New York, where it sat alongside incredible pieces from the likes of Cartier and Van Cleef & Arpels. To me, it felt like a full-circle moment for the designer, whose career has seen her go from working in auction houses to being included in the pages of their catalogues. Having created a business that is making serious waves in an industry populated by long-established, historical houses (not typically an easy space to break into for newcomers), Jessica McCormack with her practical attitude, creative approach and ability to see the bigger picture, has established herself as an entrepreneurial force to be reckoned with, and someone whose work will speak for her long after she stops creating it.
Image credit: Casey Moore