Fashion is notoriously fickle but there are some things we have come to expect. Seeing a line-up of outrageous, eclectic looks at Gucci's show in Milan is one. The incredibly unique (incredibly popular) world that the house's Creative Director Alessandro Michele has created, even has its own terminology — where pieces featuring detailed appliqués, over-the-top bedazzling and detailing that toys with the idea of ugliness in a bold but not unappealing way have all come to be referred to as "Guccified". It has carved out a particularly profitable niche for the brand, with Michele's vision drawing in a raft of new fans over the last few years and the house's show at Milan Fashion Week guaranteed to be one of the more fascinating fixtures of the fashion month calendar.
But last night, Gucci presented a collection for Spring/Summer 2020 that seemed to wave farewell to the outrageous aesthetic that anchored its predecessors. And while we were certainly taken off guard, it felt the right time for Michele to switch things up.
Underscoring the whole presentation, was this idea of a clean slate. From the sterile, moving runway illuminated by bright fluorescents to the opening series of monochromatic looks that felt like they'd come out of some kind of asylum (like white tops clearly inspired by straight jackets), Michele seemed to be making a symbolic break from the old before he sent his new-look collection down the runway. It was a palette cleanser of sorts, a neutral prologue that foreshadowed change.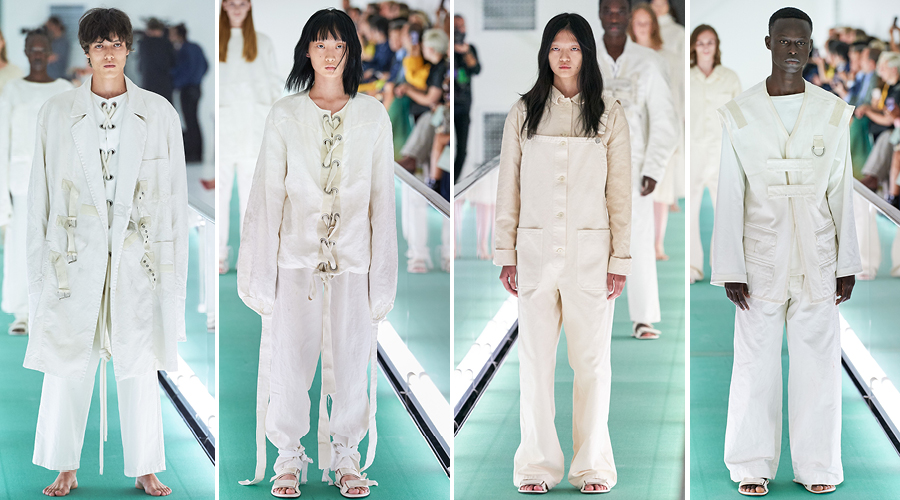 From tailored suiting to pencil skirts to sheer, peignoir-inspired pieces, Gucci's Spring 2020 asked how ideas of sensuality and contemporary practicality could coexist in the modern wardrobe. Where most looks felt altogether appropriate for the workplace, there were nods to the show's title, "Orgasmique" in leather detailing, plunging necklines and cheeky accessories like the chunky chains on the sunglasses and the whips some of the models were carrying. The difference here was that the accessories felt quirky without being polarising, and the definitive DNA of Gucci was present but subdued.
Because despite the fact that the looks themselves indicated a clear change of pace for the house, Alessandro Michele is (and always will be) provocative. The opening sequence was bold and the collection still served up surprises while feeling immediately wearable. In all, it seemed to be a timely maturation for the brand and indicated a promising step forward. These were some of our favourite looks…