A label long known for its cool-girl silhouettes, unique prints and pieces that are leading the new wave of elevated everyday wear, Georgia Alice is one of our go-to brands. Offering clothes that handle eye-catching, elegant details with an effortless hand, GA is consistent in its mission of providing women with pieces they can wear for any occasion — and its new High Summer/Pre-Fall season is no exception.
Anchored by tones of sky blue (and fittingly shot against a backdrop of expansive ocean) Georgia Alice's new collection is perhaps, its best yet. Executed in a way that combines soft colouring and feminine shapes with bold, exciting prints, GA's new season is set to see us all donning snakeskin pants with simple blue shirts and pleated skirts with perfectly oversized blazers (like the kind you'd borrow from your boyfriend but much, much better). Speaking of which, masculine touches (like long, tailored shorts) are paired with patterned crops, shirts with sculptural sleeves and sheer turtlenecks that are putting a chic spin on typical winter wear.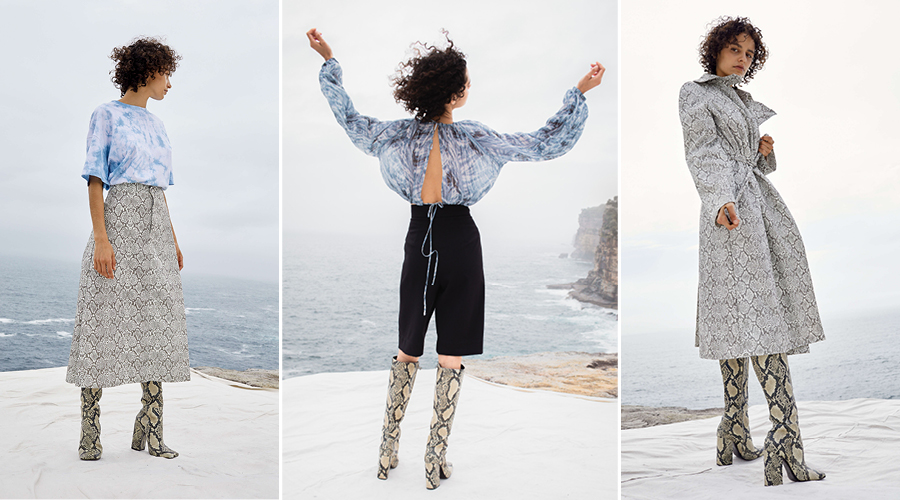 All in all, it's a collection that fits beautifully into the arch of the Georgia Alice brand narrative. It's wearable but unique and undeniably striking without being gratuitously loud. But more than that, it's a considered collection, rife with pieces that are not only interchangeable with one another, but that also work with GA pieces from the brand's previous seasons (which is ideal for the loyalists among us whose wardrobes are slowly morphing into a GA look book).
Landing at Simon James Design (pieces will be coming in over the next week), this new collection is one you truly don't want to miss out on. And considering how in-demand Georgia Alice has become, we suggest getting in there sooner rather than later — lest you miss out.