Aperitivo is, without question, an art. It is similar to our Happy Hour, if our Happy Hour was a beautifully lit affair laden with elegant citrus-infused libations, that is. It is something that we have long wished we could incorporate into our daily lives but, unfortunately, the act of knocking back crisp cocktails each evening isn't deemed as appropriate on this side of the world. Luckily, we here at Denizen have stumbled across the next best thing, and it comes in the form of Ecoya's latest candle offering.
The new release is reminiscent of everybody's favourite aperitif, from the scent — undeniably crisp and citrusy — to the 'ingredients' list. Entitled Blood Orange, the latest iteration to join the iconic candle house's line-up blends sparkling blood orange notes with bergamot before melding the duo with ginger, cinnamon, carnation and musk.
This isn't the first time that Ecoya has based a candle scent upon a sublime beverage, just last year they blessed us with the fruity and refreshing Wild Strawberry Frosé, but this time around the new addition has been added to the brand's core collection and thus is here to stay. As such, the cocktail-inspired candle is available across all Ecoya's products, including The Madison Jar, Mini Madison Jar, Metro Jar, Fragranced Diffuser and Mini Diffuser.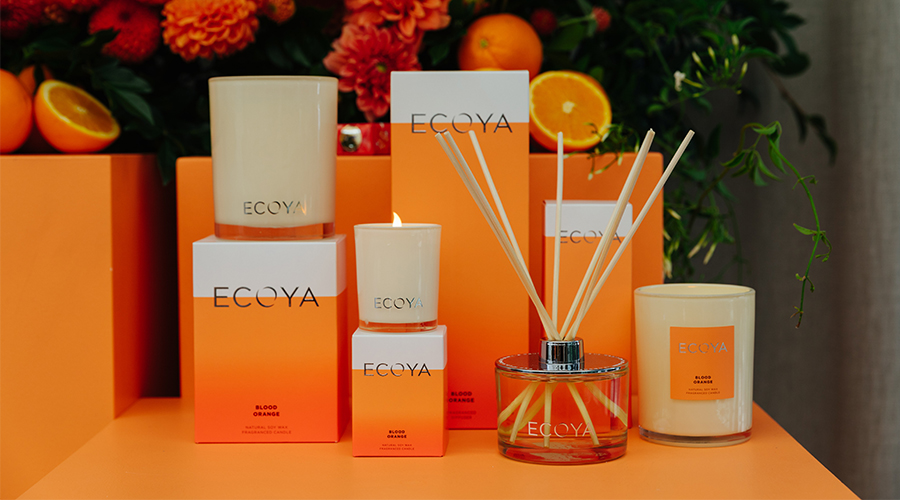 Last night the Ecoya team, reminding us that they know how to throw a party just as much as they know how to make a good candle, put on a wonderful event to celebrate the Blood Orange launch in a roof-top room at the SO/ hotel. What took place was an intimate affair, complete with glasses of Aperol Spritz on tap, delicious canapés, plenty of fantastic company and, of course, numerous Blood Orange candles littering the scene.
Ensuring that the home remains beautifully lit while filling each room with deliciously citrusy aromas, Ecoya is bringing the thrill of Aperitivo hour into our very own homes. It is a scent that is at once playful, effervescent and uplifting, so, suffice to say, we'll be setting the scene with Blood Orange candles for all dinner parties to come.