Always at the avant-garde, the Cartier Tank watch design has stood the test of time for aesthetes and creatives looking for the ultimate elegant edge — since the late 1910s, no less.
Legend has it, Louis Cartier himself drew a parallel between the architecture of his eponymous brand's Tank watch and that of a combat vehicle, when viewed from above. While the Tank watch is much more luxurious than this likeness would let on, the sheer precision of its proportions, accuracy of shape and purity of its lines are markers of its uncompromising style.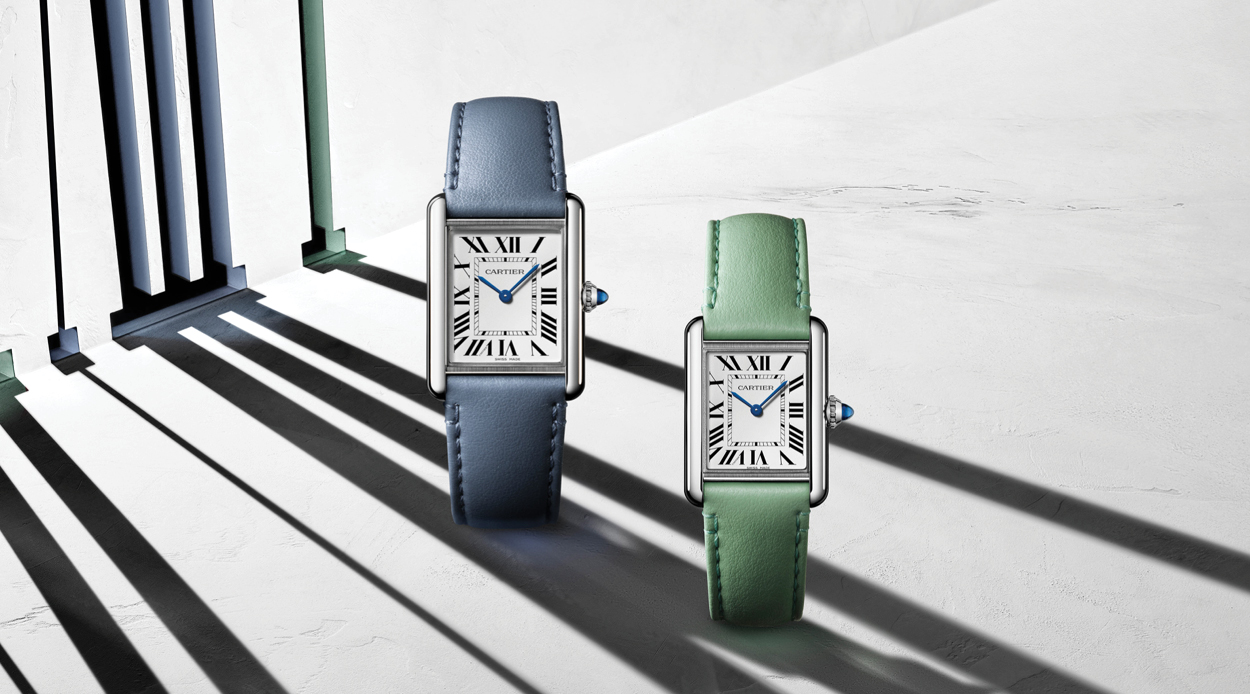 After more than a century on the wrist of taste-makers, the Tank has been reinvented with two new styles, the Tank Must and Tank Louis Cartier. While they have the same unwavering line, Cartier's commitment to constant progress is seen in the refined details, while staying faithful to the historic model.
The Tank Must combines the essential prestige of the Tank with the conventional luxury of the 70s-swayed Must. Not one to dial down the classicism, it incorporates a precious cabochon winding crown. Whether in leather or a steel strap with interchangeable curved links, its sophistication is measured on every level.
The option of a new photovoltaic dial, developed with the Cartier Manufacture at La Chaux-de-Fonds, is a technical feat. It relies on the delicate and invisible perforation of the Roman numerals for solar energy to reach the photovoltaic cells hidden underneath. It's the first watch to benefit from the integrated SolarBeat movement, which has a lifespan of over 16 years — with no need to change batteries.
No one can still the hands of time, and with an eye on the future, the bracelet to go with the photovoltaic dial is composed of 40 percent plant matter. This is made of waste from apples grown for the food industry in Switzerland, Germany and Italy, as Cartier looks to more sustainable solutions.
Meanwhile, the Tank Louis Cartier includes the same detailed rail tracks, cabochon sapphire, and Roman numerals as the original Louis Cartier remake of the Tank from the 1920s. Available in an intense red and a bright blue, with manual winding, it enhances the watch's precious details and visual power.
Once again, the Tank is armed with a polished balance of rounded shapes and lines, volume and harmony. A timeless design, that's always right on time.
Cartier timepieces are available in Auckland at The Hour Glass, one of the world's leading specialist watch retailers with an established presence of 50 boutiques in twelve key cities in the Asia Pacific region. Whether you are new to watches or are a seasoned connoisseur, the team of passionate watch specialists remain poised to assist you on your journey with The Hour Glass.
Visit The Hour Glass website here, or visit the store at 154 Queen Street, Auckland.