"I think in everything we do, we should first consider how it may affect the planet," Bruno Harding tells me. It's a sentiment that makes sense coming from someone who has spent the last few years building a brand with sustainability as one of its core tenets.
Harding started his clothing line in 2017, making one-off pieces from recycled materials under the moniker Mofu Clothing, which he switched to Bruno's Originals last year. And while the designer might have changed the name on the label, his driving aim has remained constant. "I didn't want to create new waste," Harding says, "so that has translated into simply working with already existing vintage and found materials… taking something like a pre-loved tent, for example, and reforming it into a jacket." The pieces Harding creates for Bruno's Originals are unique in the way they bring something entirely different and at times, eclectic to the table, while managing to still feel timeless and tailored. It's an aesthetic that is totally compelling and one clearly born from Harding's experience working for Martin Greenfield Clothiers in New York, where he spent three-and-a-half years apprenticing for renowned master tailor Joseph Genuardi. It was there that he honed the skills he gained studying fashion at AUT, and it was upon returning to New Zealand that he decided to set up his own studio.
Harding's process and aesthetic seems to be driven as much by the fabrics he sources as it is by his design imperatives. "My work is a direct response to the materials made available to me… and I am always looking out for fabrics with interesting characteristics," he tells me, "I like the challenge of reinterpreting one thing into another." Some of the unexpected textiles from which Bruno's Originals pieces have been fashioned include the canvas tent that had been in Harding's family since the 80s, a sail given to him by a kite-surfer and embroidered tablecloths from his Nana, the vast and varied scope pointing to the largely untapped potential of fabrics that (once their usefulness has run its course), are often seen as waste, and nothing else.
But Harding isn't alone in recognising the sartorial possibilities of discarded textiles. Recently, Macpac invited the designer down to its head office in Christchurch to transform its 'un-usable' goods into a collaborative capsule collection of functional garments. "In all clothing companies there are waste materials that cannot be used for large-scale production," Harding says, "but for someone like me, making one-off designs, they work perfectly."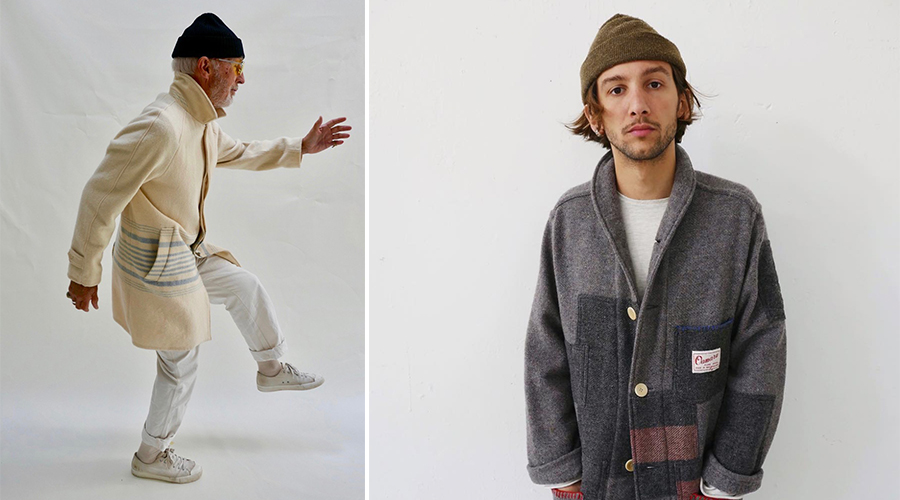 Unsurprisingly, the response from customers has been mostly intrigue. "The designs appeal to people in different ways," Harding says, "the fabric and the fit matter, of course, but people are also interested in the unique details, the history of the fabrics and the idea of having something no one else does."
Currently there is a selection of Bruno's Originals pieces stocked in Auckland store Waves Vintage, but Harding tells me that with an imminent move to Amsterdam on the cards, he is looking forward to discovering new materials and finding new stockists. That said, he isn't in a rush. "I'm enjoying the process of slow growth," Harding reveals, "I would love to be able to make and sell as an artist would, with small collections of one-of-a-kind pieces."
At its core, Bruno's Originals is about, as its designer articulates, "shifting the consumer narrative away from fast fashion," a goal that will only be achieved when people are given the option of shopping in a more sustainable way. And although this locally-made Kiwi label is just one cog in the wheel, its in the actions of independent labels, caring about where their clothes come from and how they are impacting the world, that the mandate for change finds a platform.