Marking not just one but several historic firsts, the stars of Tiffany & Co.'s new campaign are none other than two cultural icons who form one of the most powerful couples on the planet: Beyoncé and Jay-Z.
Celebrating modern love, the 'About Love' campaign marks the first time the duo has appeared in a campaign together, and is the latest evolution in the heritage brand's new creative direction.
The seminal occasion required some of the house's most spectacular jewels. Beyoncé looks incredible in her form-fitting black gown, a perfect backdrop to the iconic 128-carat, 82-faceted Tiffany diamond. In another seminal moment, she is the first Black woman to wear the piece. The famous stone was unearthed in South Africa in 1877 and has been worn by only three other people — Mary Whitehouse, Audrey Hepburn and Lady Gaga.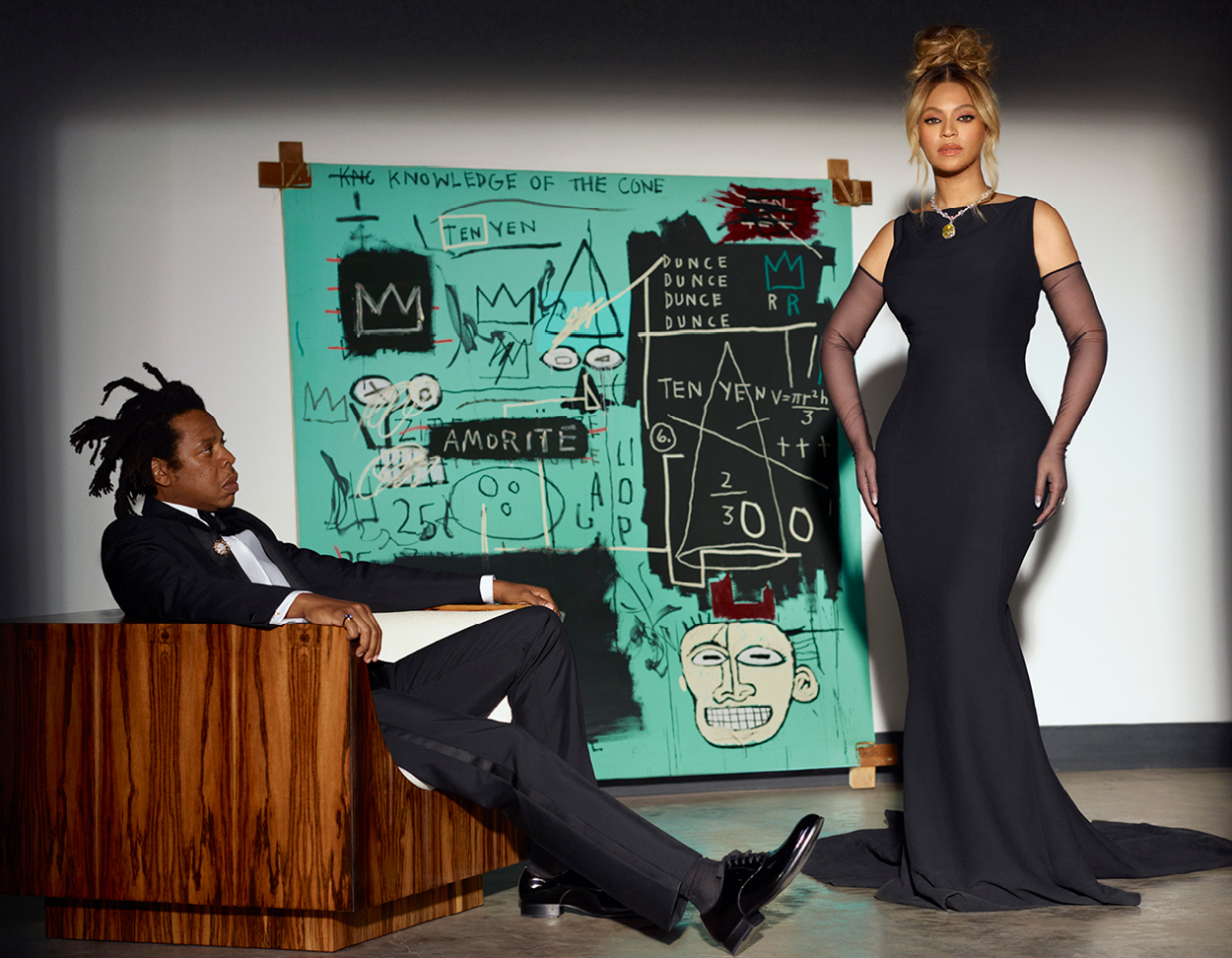 Jay-Z also cuts a polished figure in his black tuxedo; the rapper is wearing one-of-a-kind cufflinks, refashioned from lauded 20th-century jeweller Jean Schlumberger's A Bird on a Rock brooch. He also wears the eye-catching Apollo brooch in platinum, yellow gold and diamonds, one of Tiffany's new engagement rings for men, and a host of other incredible pieces.
The campaign was lensed by Mason Poole, and (in yet another groundbreaking moment) a never-before-seen painting by Jean-Michel Basquiat named 'Equals Pi' is featured throughout. The remarkable 1982 painting has been in a private collection from its creation until now, and is coincidentally the perfect shade of Tiffany blue, another reason for its suitability.
Styled by June Ambrose and Marni Senofonte, there is also an accompanying video directed by Emmanuel Adjei, who directed Beyoncé's visionary 2020 film Black is King. The film will be released on the 15th of September, and features a musical performance of the 'Moon River' — made famous in the 1961 film Breakfast at Tiffany's, it has been covered by Beyoncé and captured by Jay-Z on Super 8 Camera.
The final facet of the house's partnership with the Carters is a pledge from Tiffany & Co. of USD$2 million towards scholarship and internship programmes for Historically Black Colleges and Universities (HBCUs).
"Beyoncé and Jay-Z are the epitome of the modern love story," Alexandre Arnault, executive vice president of product and communications, said in a release. "As a brand that has always stood for love, strength, and self-expression, we could not think of a more iconic couple that better represents Tiffany's values. We are honoured to have the Carters as a part of the Tiffany family."