When it comes to a regular exercise routine, finding something that yields results regardless of fitness level and time availability can be a challenge. Whether an occasional weekend walk is the extent of your prowess or you are a professional athlete, EMS training will be a positive addition to your exercise regime.
For those who aren't familiar, EMS training is an acronym for "electro-muscle stimulation" and describes a unique form of strength training, whereby small impulses activate your muscles during a bespoke workout regime. These impulses activate up to 90 percent of the body's muscles, meaning a 20-minute session can deliver a high-intensity workout that equates to 90 minutes in the gym. Now, that's efficient.
Boutique workout studio fu/nis EMS training has been helping a vast array of Kiwis achieve their fitness goals since it opened on Shortland Street in 2016. The only EMS studio of its kind in Auckland, it has proved so popular that a second location has been opened to bring the offering to even more clientele — and North Shore locals, count yourself lucky because fu/nis' stunning new studio is on Takapuna's Hurstmere Road.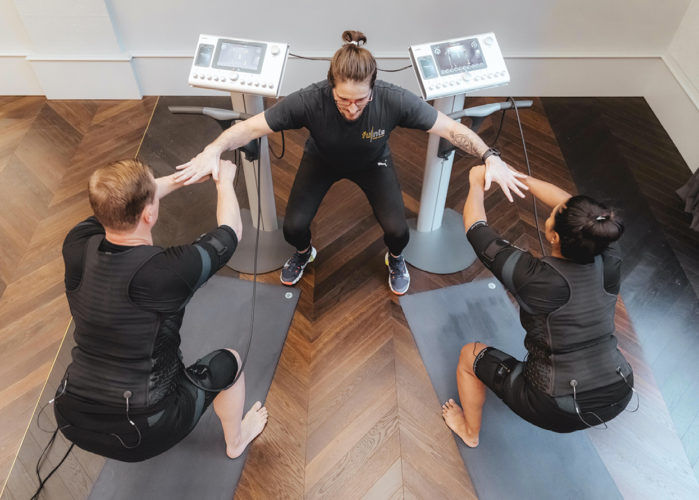 Founded by Catrina Kuehler and now co-owned by Kelly Percy, fu/nis specialises in workouts that are designed to challenge the mind and body. With upbeat sessions led by motivating personal EMS trainers, each individual's needs and abilities are catered to, and there is a remarkably low barrier for entry given EMS training does not require a base level of fitness.
And, the recommended dose of sessions per week is just one or two — incredibly, even this is enough to improve both physical and mental wellbeing. The studio itself is an airy, modern and naturally spacious environment in which to work out, with a community space that can be used before or after sessions as needed.
"At fu/nis you can be in and out in 30 minutes, as gear, water, and towels are provided, so guests can show up with nothing but themselves — making it more convenient than ever to prioritise their health," says Kuehler. "Physical exercise makes up just one part of overall wellbeing, and due to the session only taking up 20 minutes of your time, it gives people time back in their day to enjoy more forms of self-care in addition to exercise."
Opening hours:
Monday to Thursday: 6am — 7pm
Friday: 6am — 6pm
Saturday & Sunday: 7am — 3pm
fu/nis EMS Training
178 Hurstmere Road,
Takapuna