When many of us think of newly built apartments, what might come to mind are potential compromises that have to be made in terms of space and character. But this need not be a worry with Shelly Beach, the new luxury development that's set to raise the bar of apartment living to magnificent heights.
Located at 87 Shelly Beach Road, the secluded 1890m2 site will be home to eight penthouse-sized apartments, set over four levels. Hidden from street view down an extensive driveway, Shelly Beach will cut an elemental figure as it takes in unsurpassable views of the sea, the stone-anchored materiality of the building set to draw from its immediate coastal surrounds.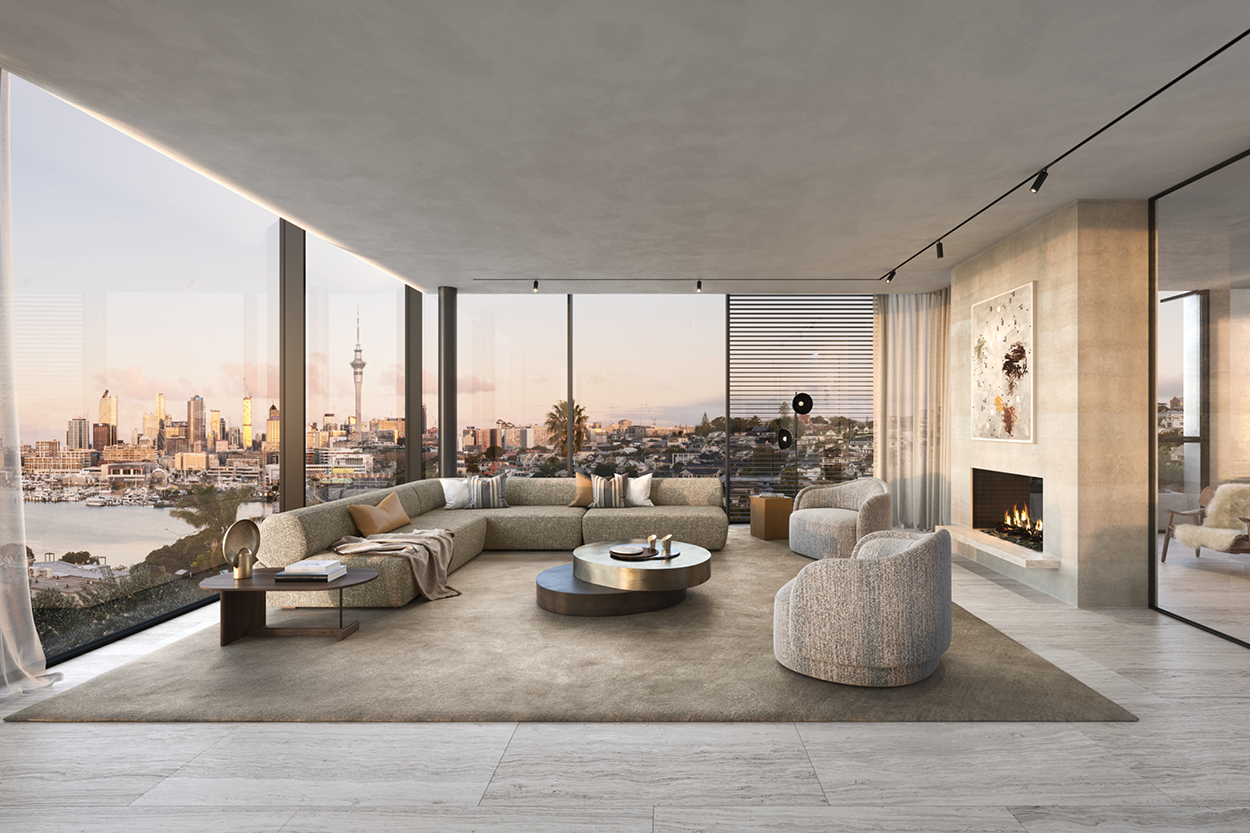 The project has been designed by renowned architect firm Monk Mackenzie in conjunction with respected Auckland-based property developer Vanguard & Co, and Interior Architect Ella Dallimore — Ella is the designer behind the Ocean Suites and a number of private homes at Tara Iti. From the outset, the team has approached Shelly Beach with a level of design focus and plan for bespoke detailing that is normally reserved for an architect-led residential build or a luxury lodge.
The strongly defined exterior will be punctuated with outdoor terraces that are recessed into the overall form, with overhanging planters adding verdant texture. Balance is to play a large part in creating a sense of liveability here; curved concrete internal and external walls will add a sculptural element to offset more linear shapes, and interior solidity will be balanced with softness from lush planting in winter garden spaces and high-quality, tactile fabrics used in the furnishings.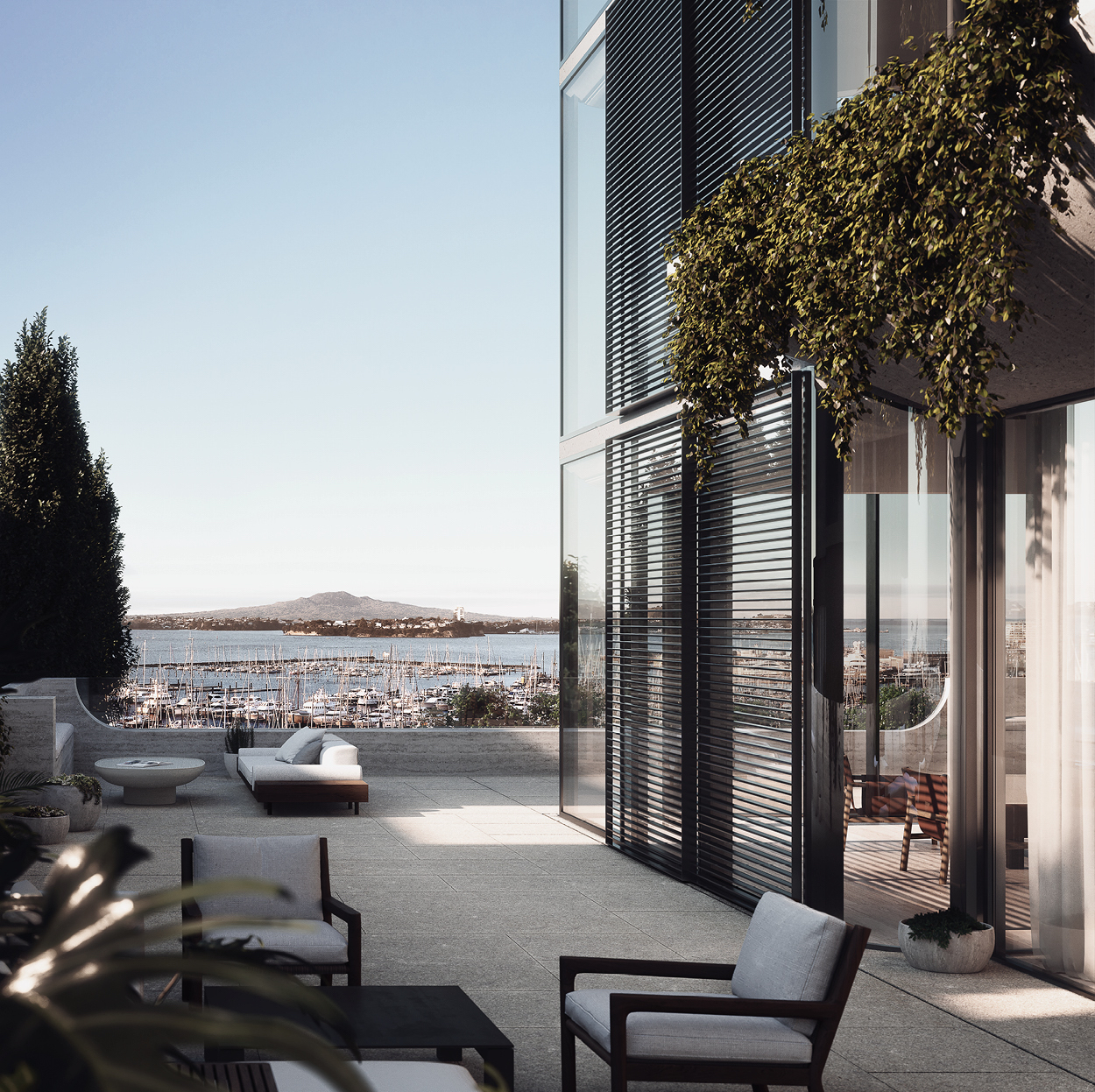 Each apartment is to have a generous floor plan of over 255m2, offering three bedrooms plus a flexible media room. The exquisitely appointed show kitchen, butlers kitchen, living and dining area in every home will boast an expansive 2.9m floor-to-ceiling height, and master bedrooms are designed to have an adjoining ensuite and walk-in wardrobe. The living areas are to be open plan and embrace an airy outlook, while the master bathroom is set to envelop the inhabitant in a zen-like retreat.
Spaces to display wine, art or classic car collections are an intrinsic part of the brief, and each apartment will also have its own lockable basement garage for up to four vehicles, all with an EV charger.
"Liveability is changing and New Zealanders are embracing the thoughtful design practices they see internationally," says Developer Michael Dallimore of Vanguard & Co. "Our market wants house-like proportions and spaces that are flexible and efficient, enabling rest and relaxation while also providing the ability for people to work from home."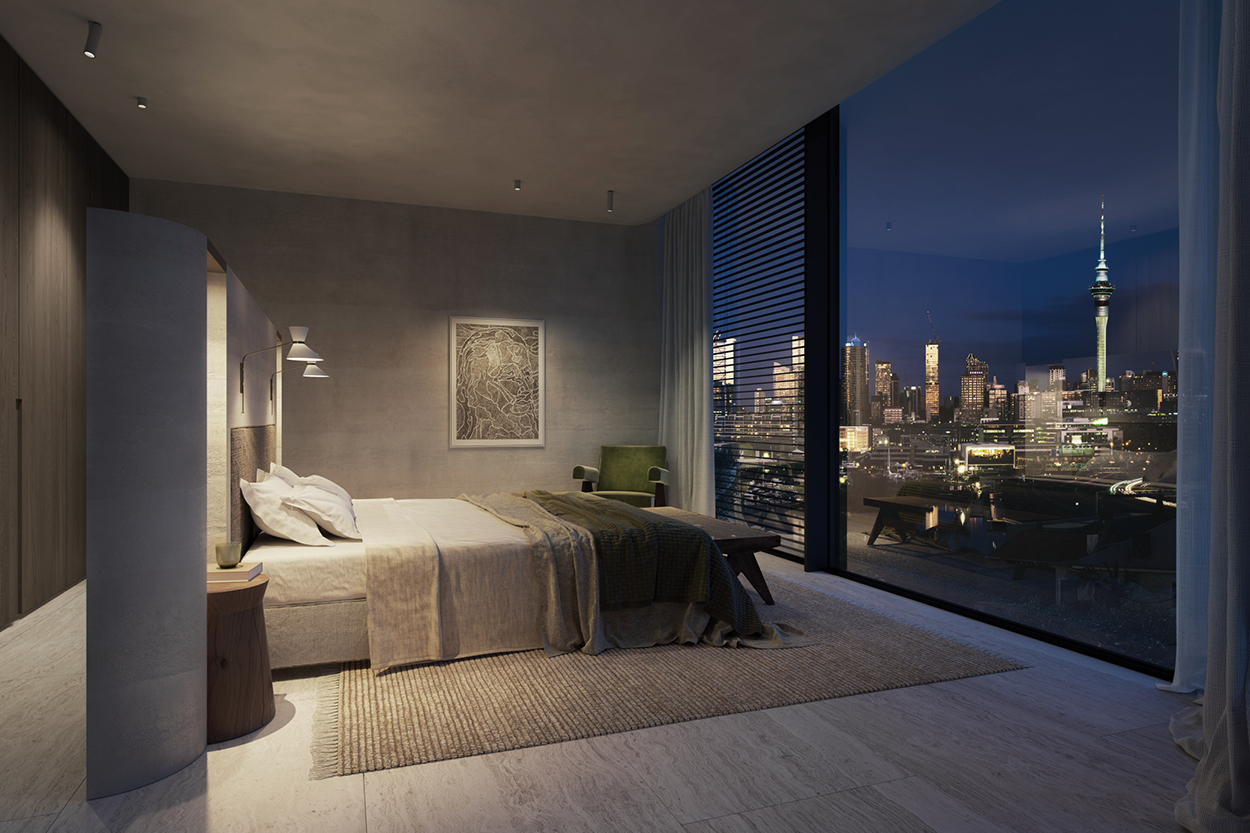 Shelly Beach's prime location offers short walking proximity to local Herne Bay and Ponsonby stores and eateries, as well as to Point Erin and Westhaven Marina. Looking out over the Auckland Harbour Bridge, Westhaven Marina and Rangitoto Island on one side, Auckland CBD and the Waitakere Ranges on the others, one is sure to be reminded every moment that there's no better place to be than home.
Shelly Beach apartment sales particulars and pricing are by application, and an on-site display suite is available with viewings by appointment through Pene Milne at NZ Sotheby's International Realty. Construction is scheduled to start in 2022 and the development will be completed in 2024.