There is something so inherently special about Paris Georgia pieces. Unique for the way they fit to and flatter the female form, the thoughtful collections from this New Zealand based (and made) brand have seen its profile grow exponentially in the last few years, and the duo behind it doesn't look set to slow down anytime soon.
Paris Mitchell Temple and Georgia Cherrie have just been named the Mercedes-Benz Presents designers at this year's New Zealand Fashion Week, and it's an opportunity the pair are looking to make the most of. "Being a Mercedes-Benz Presents designer has been a goal of ours since we started Paris Georgia three years ago," Cherrie tells me, explaining how joining the ranks of global predecessors like Carolina Herrera, Dion Lee and Derek Lam, and local ones like Zambesi and Harman Grubiša is a surreal feeling.
It's a move that makes sense for Mercedes-Benz, a car marque long known for its sophistication and innovation, to join forces with a brand that represents how womenswear is evolving both here and overseas. Recently, Paris Georgia was featured on the cover of Elle Croatia and has been worn by the likes of Rosie Huntington-Whitely, Kourtney Kardashian and Katy Perry (among others) forging a reputation for the way it gives contemporary shapes and tones a timeless twist. As Mitchell Temple and Cherrie tell me, "Paris Georgia is evolving with us… so as we grow we know the brand will too. It's exciting, our designs are only getting more refined and sophisticated each season."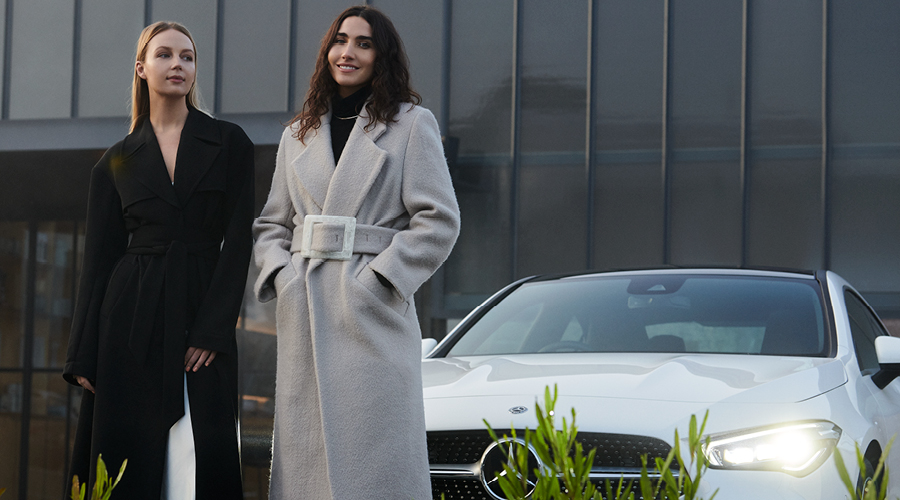 Part of being the Mercedes-Benz Presents designers at New Zealand Fashion Week 2019 means that Paris Georgia will present its Fall/Winter 2020 collection as the week's headlining show — a collection that will include two bespoke outfits designed exclusively for the event and inspired by the Mercedes-Benz brand.
As for the show itself? "I can't say much just yet," Cherrie says coyly, "but we couldn't be more excited, it's going to be influenced by our Paris Georgia Muses and will feature collaborations with both local and international brands." Mitchell Temple continues, "we are so lucky to be working with an incredible team of creatives who will help us produce the show and we will also have Seb Hunt and Dylan Richards styling it for us."
Despite the success Paris Georgia has garnered globally, the heart of the brand is still grounded in New Zealand. "We are so proud to be from New Zealand, it has this beautiful mystic to it which has always carried through to our brand," the pair tells me. "Being somewhat removed from the industry's core has allowed us to not be influenced by 'trends' and has given us a sense of freedom to make our own rules."
"The Mercedes-Benz initiative recognises and celebrates designers who are dedicated to delivering garments of the highest quality, through innovative design and unique style," says Lance Bennette, general manager of Mercedes-Benz cars New Zealand. And off the back of what has been a whirlwind three years of dedication and hard work for Mitchell-Temple and Cherrie, acknowledging them as Mercedes-Benz Presents designers feels like an apt reflection of how they are taking New Zealand fashion to the world stage.