Outland Denim really started after its Founder, James Bartle was in Southeast Asia and witnessed a girl no older than 12 for sale on the side of a road — a story that even now (around 10 years later), still causes him to well up. It was a moment that drove Bartle to create a brand that could be used to help people escape human trafficking, and which is now being applied more broadly to help vulnerable people lift themselves out of systemic poverty. Outland's ethos of sustainability goes far beyond the materials and processes used. For Bartle and his team, it's all about the people. As such, the Cambodian seamstresses and factory workers that make Outland Denim garments are paid full living wages and are given educations in areas like money management and basic health care.
Having been worn by the likes of Meghan Markle, Outland Denim is growing incredibly fast and has recently released a collaborative capsule collection (the first collaboration they're ever done) with Karen Walker. We spoke to Bartle to learn more about how the collaboration came about, and what the future looks like for this sustainable brand.
Explain how the design process behind this collaboration worked… what did Outland and Karen Walker each bring to the table?
The Outland Denim and Karen Walker teams worked collaboratively in the design process to create a range that our customers would enjoy for years to come. We started by drawing inspiration from favourite pieces from the Karen Walker archives, and refining them, making a priority the denim composition, feel and quality, and working with a colour palette that fitted with the cleanest washing process we could achieve. As with all Outland Denim pieces, this range was made by our production and finishing teams in Cambodia. The "Drummer Girl" icon created exclusively for this collection, found on the classic-cut T-shirt, perfectly encapsulates the partnership between the two brands, which is fundamentally about empowering women and taking action.

What was the inspiration behind the collection? Where was the starting point for you and Karen?
When exploring the possibility of producing a co-designed capsule, Karen Walker was an obvious choice. We've been longtime fans of not only the label's design lens but also Karen's ongoing commitment to prioritising transparency and ethical practices over profits. To the Karen Walker team, sustainability is not an after-thought, greenwashing, or a marketing campaign; it's at the forefront of their design process. We also saw our approach to transparency mirrored in the way the Karen Walker team has not only thoroughly investigated their supply chain but also made this information readily and easily accessible online. Until it goes without saying that your garment was manufactured with respect to the maker and the environment, transparency is key in building this trust with customers who are longing to belong to brand communities that mirror not only their style but their values, too.
Like much of the sustainable fashion community who believe in collaboration over competition, it was our shared values that brought us together, and the conversation started from there.
Who do you feel you designed it for?
The common thread that ties our customers together is an appreciation for quality pieces with longevity. This range is for people who value buying well and buying less, and, of course, who march to the beat of their own drum.

What are the most important things you learned through this process? This, as our first collaboration collection, cemented our brand's belief in collaboration over competition. The changes we hope to see in the fashion industry, we cannot achieve on our own. But more importantly, this collection presented a lot of up-skilling and learning opportunities for our staff in Cambodia. It is a huge milestone for us, to work alongside someone so highly regarded in our industry. The fact that our team has tailored this collection is a testimony to their dedication to their craft, and we are incredibly proud of this achievement.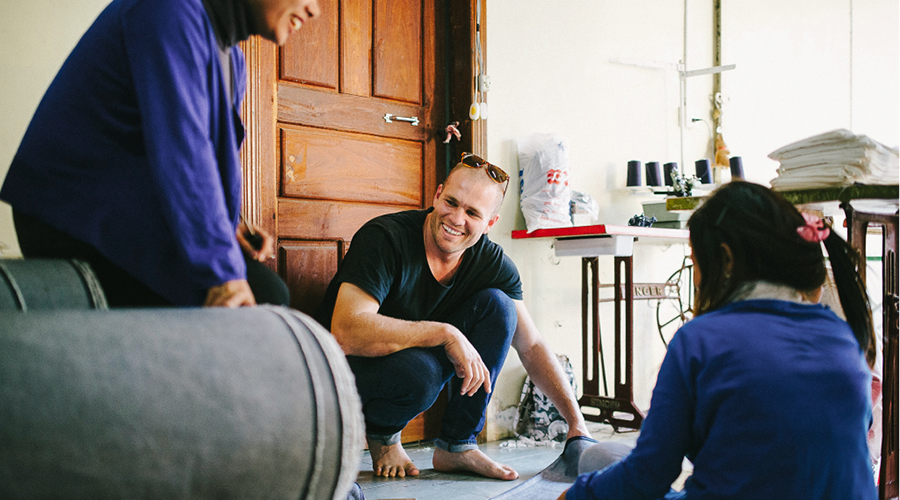 Denim often gets a bad rap for the largely unsustainable practices surrounding it. When you started Outland, was it a challenge to reconcile the idea of working with this environmentally-harmful textile in a more sustainable way?
In developing Outland Denim, we quickly learnt that not only is denim one of the most challenging sectors of the fashion industry to break into, it's also one of the dirtiest environmentally. This was a bit of an uncomfortable revelation for a company that had social justice at its core. The idea that you could help one group of people, while contributing to undermining another through environmental degradation was something we couldn't ignore, so we set about cleaning up our supply chain pretty quickly, and with that came the notion of ensuring that every aspect and person within our supply chain, from the cotton pickers to the denim mill and courier company, were slavery-free while utilising the most environmentally responsible practises. We now have a team wholly dedicated to this side of our business.  Every button rivet and stitch is selected from suppliers who are leaders in their fields of social and environmental sustainability; they share in our values and goals.

But the greatest environmental milestone for Outland Denim happened earlier this year, when we opened our first stand-alone Wash and Finishing facility, equipped with state-of-the-art water and energy reducing technology, which allows us greater control over our environmental footprint, and the ability to grow our team.
What have been the other challenges you've faced establishing a brand that is ethical, sustainable and successful?
Culture, location and values are factors that contribute to the type of response we receive from suppliers on the topic of transparency. It can be a new, daunting concept to some suppliers when we ask to put information about their company online. To encourage their support in our endeavours, we explain the value Outland Denim places on transparency, and we invite the supplier to set the bar high with us. We believe transparency is crucial to produce genuinely ethical fashion, so we seek to align with suppliers that hold these same values – desiring to transform the industry from the inside out.
What, in your opinion, are the biggest things companies should be looking at when it comes to ethical business practice? Have you noticed change happening in this space?
Consumers and brands take ethical fashion a lot more seriously now than when we first started out eight years ago; it was more a niche conversation happening amongst members of the fashion community, and perhaps a bit elitist, but there is a lot more education and awareness now by comparison. It's a really exciting time period for the fashion industry in terms of environmental sustainability. There is a culture of innovation and collaboration, particularly in the areas of supply chain transparency, denim finishing, textile recycling, and plastic alternatives. We can see a day when our collective successes in sustainability as an industry are not a point of difference but the norm.
While there is no denying the necessity for an urgent shift toward environmental best practise in the fashion industry, we do believe that there is still a lot of work to be done to protect the rights of the people making our clothes; in ensuring they experience a respectful, safe, fulfilling workplace in which they are paid fairly, especially garment workers who are migrants or subcontractors of a label's primary production facility – these workers are even more vulnerable to exploitation. The 2018 Global Slavery Index estimates that $127.7 billion worth of garments at risk of modern slavery are imported into G20 countries yearly, placing fashion within the top 5 exploitative industries. To offer an alternative way of doing business is the reason we exist.

Was Meghan Markle wearing your jeans a turning point for the business? What were the major flow-on effects from it?
 The immediate effect following the news of the Duchess wearing the jean was a 3000 percent website traffic increase to our Australian home site and about 948 percent to our global group of sites, including .com, .ca, and .co.uk. Sales increased 640 percent for the week following the first sighting of Meghan in our jeans. The black Harriet jean worn by Meghan sold out in Australia in the first 24 hours. A sizable waitlist grew, with customers patiently waiting six months for the jean to be restocked six months later. But most importantly, thanks to the "Markle Effect", it was possible to employ a further 46 seamstresses in our Cambodian production house. So in terms of growing our business exponentially, Meghan has enabled us to do this in a very tangible, immediate way.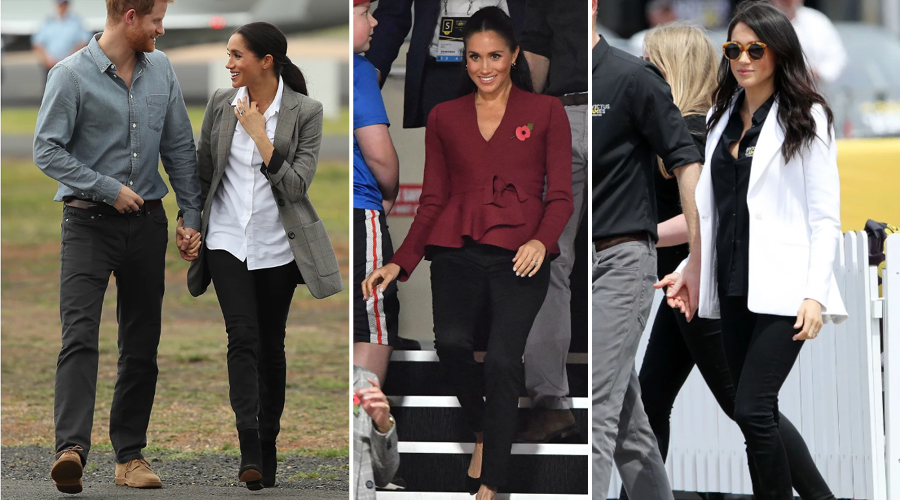 What are the biggest things you are looking at/working on for Outland Denim at the moment?
At the moment we are working on bringing to life our SS20 range, which will expand our offering to include dresses and chambray shirts, and our largest range of vegan options to date. We are about to announce some really exciting retail partnerships which will make our jeans more accessible to customers around the world, and we also are continuing to pursue a cleaner way to manufacture jeans, through partnerships with universities, governments and institutions around the world. Our current research and development projects begin in the areas of water purification, carbon footprint reduction, and zero-waste production, and extend to the intricate tracking of social and environmental impact with the use of big data.
What advice would you give other businesses looking to implement a more conscious, ethical supply chain? 
Dive into the design stage of your product. Is it designed with longevity in mind? Where are the materials coming from? What are your suppliers doing to mitigate social exploitation and environmental harm? Sustainability starts with good, intentional design.
Karen Walker's collection with Outland Denim is now available online and in Karen Walker stores. For more information and to see the full collection, click here.