Muse's Boutique's in-house cashmere line has something of a cult following. Designed by Owner Olivia Healy and her team and sustainably produced by artisans in Nepal from some of the world's finest cashmere, the pieces are elegant, well-made and warm, making them some of our favourite things to wear when winter rolls in.
Now, Muse Cashmere is returning for its seventh season, and this time, the collection is making a case for colour. Inspired by the silhouettes and 'joie de vivre' of the 60s, the new Muse Cashmere combines classic neutrals with bright, bold tones. From an unapologetic 'Basil' green and a high-octane 'Citron' yellow, to a vivid 'Marmalade' orange and an eye-catching 'Violet,' the colours used in this collection feel new and fresh for the brand, and a good reminder for us to have some fun with our winter wardrobes.
That said, there are a number of timeless designs to sit alongside new silhouettes, and a raft of beautiful, pared-back layering pieces to balance out the more statement-making ones. Those seeking a classic high-neck sweater, for instance, should look no further than the 'Becky' or the 'Madeline,' available in a range of hero colours (or a simple black, white or grey marle). The former also comes in a distinctly Parisian 'stripe' and the latter, in an understated 'Honey' beige — promising the perfect, throw-on layer for the season ahead.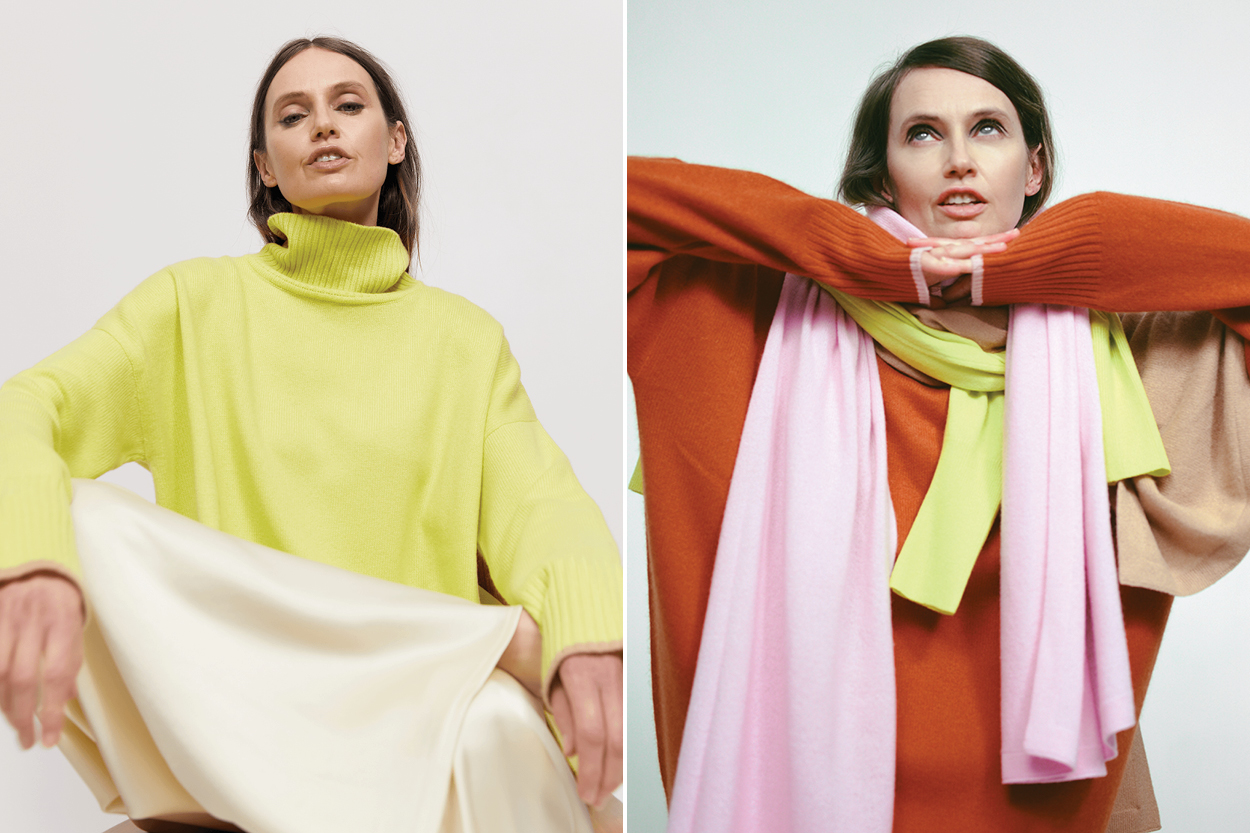 Elsewhere, the 'Mimi' v-neck and the 'Rosie' crew neck exemplify how Muse has balanced simple design with unique detail in this collection. And while both styles are available in bold colours, they also stand as an ode to classic sweater shapes — universally flattering and unchanged by trends. Similarly, the 'Elizabeth' scarf is a new piece that forms a central part of this collection, offering a simple (but deliciously warm) cashmere layering piece to deliver that extra boost on winter's coldest days.
"After months of talking, brainstorming and designing, our seventh season of Muse Cashmere is here, and it has something for everyone," Muse Boutique Owner, Olivia Healy, tells me. "These pieces have been designed to offer gentle warmth and to bring a touch of luxury to your everyday. And whether you wear them at night or during the daytime, for work or for relaxing at home, they're meant to be worn and loved forever."