Steeped in rich, aristocratic English culture, the Penhaligon's brand is the Downton Abbey of the fragrance world. Since its beginnings back in 1869, the perfume house has become inextricably connected to The Royal Family, due to founder William Penhaligon's role as Royal Barber and Perfumer to the Royal Court during Queen Victoria's reign – a role which the brand still firmly upholds today.
Not only beloved by The Royals but by us commoners too, the Penhaligon spell is a hard one to resist. Take the Portraits collection, for example. Far beyond your average scent troupe, each fragrance is handcrafted to a divine degree, given its own individual story and bottled up in exquisite gilded-topped bottles that look just at home on the mantlepiece as they do your vanity table.
Luckily, thanks to WORLD, we don't have to be born into royalty (or even be English) to dabble in the opulent scents — because the store has a Penhaligon's collection that's growing by the second. The newest recruits? The Changing Constance and The Blazing Mr Sam, These two new fragrances are as distinct as they are captivating, and are launching in-store and online in the last week of October. Now that you've become acquainted with the newbies, it's high time we introduced you to the rest of the bunch — because, like every family, each member of the Penhaligon's clan has their own story, history and personality — and we guarantee there's at least one you'll resonate with.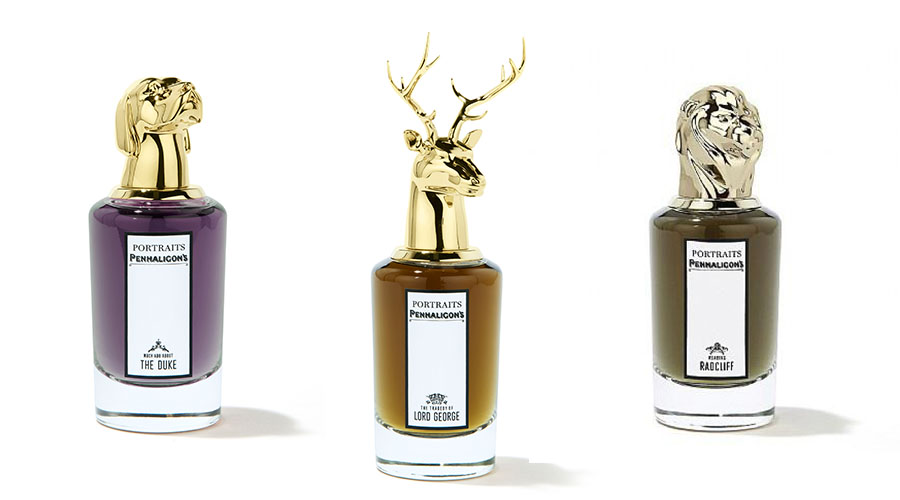 The Duke: perfect for the unconventional, eccentric, flamboyant, carefree.
Like the Duke himself, you're no stranger to controversy. In fact, you seek it, because it sure as hell is exciting – isn't it? If you haven't heard the Duke's story yet, let me divulge. Crumbling under the pressure of his class, Duke Nelson married the most sought-after maiden in London: the Duchess Rose. However, rumour has it that the marriage is yet to be consummated… pair that with his flamboyant manner and we'll let you do the maths. Oh, the scandal! His perfume is as unresolved as he is: a floral yet masculine combination that leaves you questioning what you've just experienced, but not in a bad way.
Lord George: perfect for the stoic, refined, honourable, traditional. 
One of those particular folk who has everything in order — you're on step two of your life plan, (job, wife, house, kids) and you take every opportunity to make sure everyone else knows, littering social media with updates on your traditional, well-respected life. But, of course, social media is nothing but a highlight reel. We find you'll resonate with Lord George, the wealthy and esteemed, quintessential patriarch. He embodies only the noblest values of the aristocracy, or at least, that's what he wants us to believe. His fragrance? Masculine and traditional, with underlying notes of something we can't quite put our finger on…
Roaring Radcliff: perfect for the mischevious, rebellious, bold, charming.
Are you one of those jammy few whose devilish antics land you in trouble, but whose dashing good looks and smooth charm swiftly clear the air? You may be a diabolical sort in your parts, but even those with more cheek than Prince Harry's hot-tub controversy can't match up to the likes of Radcliff, for he is the lothario of all lothario's. The illegitimate child of Lord George and Clandestine Clara (you didn't hear that from us), has led Radcliffe to indulge in a sinful life filled with parties, provocativeness and pretty women. His scent is as rebellious as he is, spicy, rum-based and heavy on tobacco.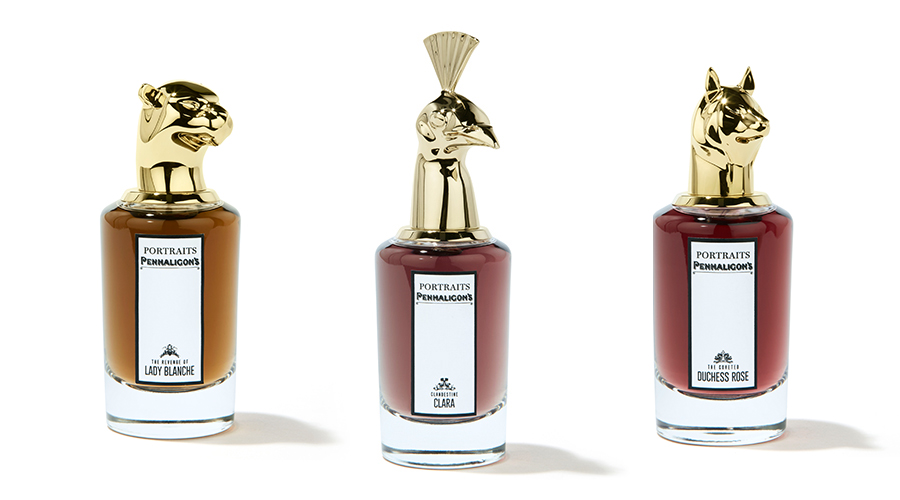 Lady Blanche: perfect for the lavish, gluttonous, extravagant, 
Lavish meals, 5* hotel rooms, private jets and a 24/7 glam squad — you like the finer things in life, and what's so wrong with that? Much like Lady Blanche, there's only one thing in your future and you'll stop at nothing to make those money bags a reality (i.e you've never been adverse to the idea of a sugar daddy.) A woman after your own heart, the Lady herself treats climbing the social ladder like a competitive sport, and the word on the grapevine is that she's currently crafting plans to poison her husband, Lord George, in a bid to inherit his wealth. An encapsulation of her personality, her fragrance is a green floral narcotic — beautiful, but dangerous.
Clandestine Clara: perfect for the complex, layered, multifaceted, mysterious.
Confident yet still quiet, intelligent but not showy, funny but not boisterous and sweet as pie until somebody ticks you off, your personality can be a mashup of qualities that forever keeps people guessing. Clandestine Clara, as we've come to know her, is probably the only person who's capable of figuring you out — and that's because she's just as complex herself. An enigma of sorts, she has come to be independent, rebellious and unconventional following a stint travelling in both exotic countries and company. Her mysterious charm is strangely irresistible, just ask Lord George… Her fragrance is just as contradictory as she is, both spicy and sweet and unexpectedly alluring.
Duchess Rose: perfect for the romantic, seductive, fun, frivolous.
During your younger days, you were the type who always did the right thing in a bid to make your parents proud, keep within the status quo, please others (let's face it, you never really wanted that Business degree) — but inevitably, you found that spending your life so firmly within the guidelines leads to a rebellion like no other.  Much like yourself, The Duchess was a conforming sort once. That was, at least, until she married the Duke to escape the stifling rigidity of her parents, Lady Blanche and Lord George. A shotgun marriage that leaves little to be desired, young Rose is now forever in search of fun and frivolity elsewhere. Her fragrance? A not-so-innocent fresh rose.
All of the above fragrances are available from WORLD, both online and in store. The newly launched The Changing Constance and The Blazing Mr Sam will be available in the last week of October.