With a slew of carefully packaged wonder pills offering everything from ingestable beauty to miracle health, navigating the world of vitamins can be easier said than done. Step forward: Wondermins, the company set to revolutionalize the way you supplement, by cutting out the middleman and sending specially curated, specifically designed vitamin packs straight to your door.
Whether you take the carefully calculated approach, or supermarket sweep through the Vitamins aisle in a 'take everything and hope for the best' strategy, supplement searching can be time-consuming, expensive, wasteful and downright confusing. Opting for a simple and easy-to-navigate scheme, the Wondermins process begins with a free online questionnaire regarding your current health and lifestyle goals before delivering a custom fit combination of vitamins tailored to suit you.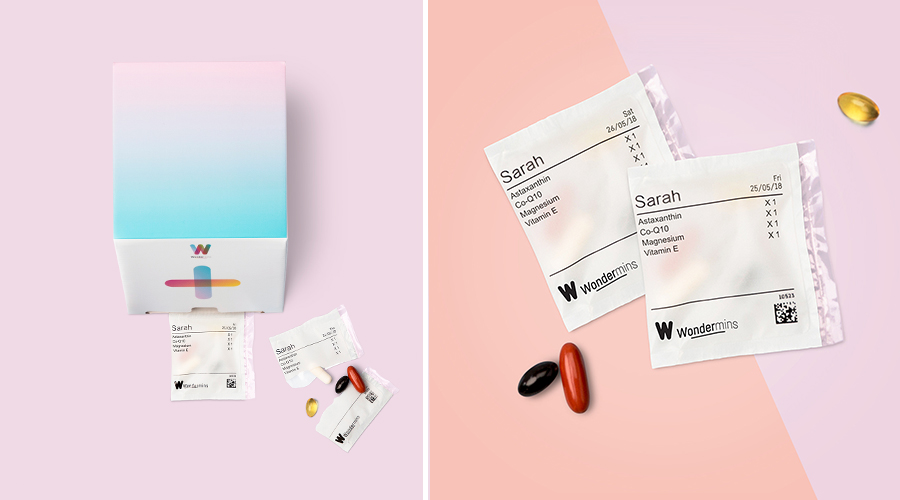 So how does it work? The beating heart of the whole process is the Prescription Engine, a sophisticated algorithm that sorts through millions of combinations. The prescription engine searches deep into the realms of nutrient health to deliver a bonafide concoction of pills that are catered to your dosage preferability, age, current nutrition and bodily needs. The engine even takes into account everything from nutrient release speed to vitamin compatibility, meaning the research can be left to the professionals and your bewildered googling days are over.
Taking an evidence-based approach to every recommendation, Wondermins scours the market for nutrients that are backed by scientific research and are delivered directly from the suppliers. With the opportunity to run a new test at any time, the tailored vitamin package can change alongside your health, updating your prescription automatically for the next month.
While we're all for the waste reduction and the saving benefits — nutrients can sometimes be found up to 30% less than in the pharmacy — it's the overall convenience and simplicity that has us sold. With vitamins being delivered right to our door, we're wondering why we didn't sign up to Wondermins sooner.
Click here to start your bespoke vitamin regime.