Are you looking to switch up your workout routine? From endurance coaching and combat sports to breathing techniques and core strengthening, these are the new breed of fitness aficionados changing the training game right now.
Amin Afzaly — Boxing
With 15 years of experience under his belt and a gig training New Zealand rugby player Carlos Spencer, former Golden Gloves champion and New Zealand Championship Silver medallist Amin Afzaly trains anyone from professional fighters to average Joes at his gym, Dos Manos. An average boxing session with the best in the biz takes around 50 minutes to an hour. "I begin with skipping or a few minutes on the bike to warm up," he explains "followed by shadow boxing mixed with core work, pad work and all over body conditioning drills. I finish the session with a warm down or conditioning." Dos Manos is a fresh, new gym with a fantastic lifestyle element and a great culture, but is there anything else that makes it stand out from the rest, I ask? "Anyone is welcome, whether you're a corporate, parent or student. It's a contemporary and modern take on the traditional boxing gym, so don't expect to see any aggressive, ruthless stereotypes lurking around!"
To book a boxing session with Amin Afzaly, click here.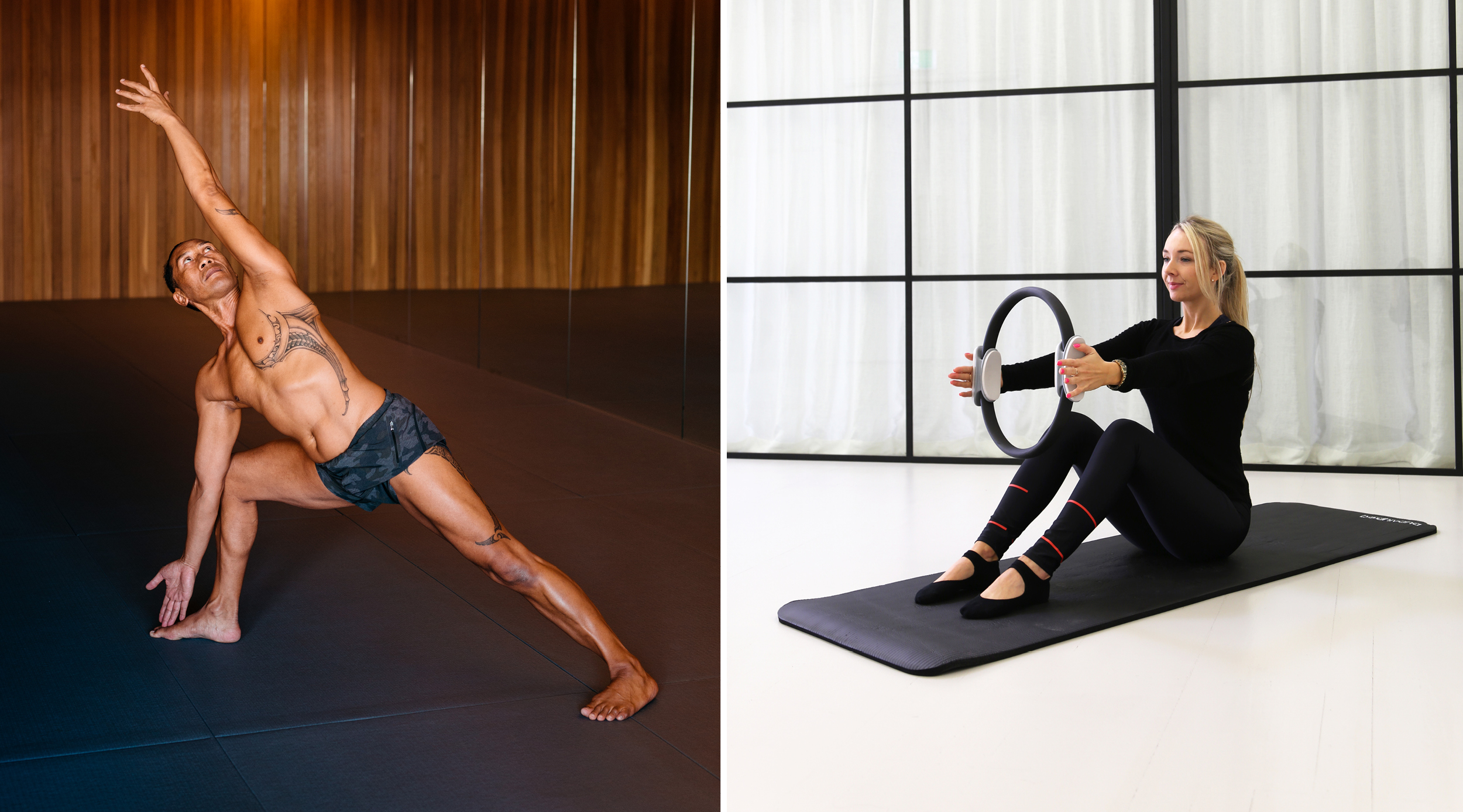 Taane Mete — Yoga
Known for his unorthodox and intriguing methods, teacher Taane Mete combines his Māori heritage with conventional yoga to create a full body and mind experience like no other. "I specialise in creating an experience that connects people to their entire body in a mindful way," he explains, "I teach Open Vinyasa and Red Fusion classes at Studio Red, both are in a heated room. I enjoy teaching these classes because, for me, they are closely related to dance." Being both Māori and a dancer sets Taane apart as a teacher, even further so since he incorporated more of his culture and singing into classes, "I combine fluid flow style sequences, Māori language and waiata/singing into my classes while integrating the body conditioning and alignment necessary for a safe yoga practice." Yoga, according to Taane, is a practice that allows change to happen slowly and subtly. "Our overall health improves and our minds open up to the truer essence of ourselves. Greater awareness develops one's own spirit and purpose in life. Yoga becomes the spiritual journey as a place of connection with ourselves and those around us."
To book a session with Taane at Studio Red, click here.
Stella Mitchinson — Pilates
With a personalised, mobile service, certified Pilates instructor Stella Mitchinson brings her bespoke technique, individualised advice, vibrant personality and can-do attitude to homes and workspaces, transforming the bodies and minds of Aucklanders one session at a time. She became certified through an internationally recognised contemporary school of Pilates called Polestar Pilates, and has "since done Classical Pilates training and have attended workshops specialising in Pilates for pregnancy, postnatal, and rehabilitation in London, Sydney, New York, San Francisco and Los Angeles." Stella's pilates sessions are unique and specific to what the client needs. "Everybody is different," she explains, "so it's really important that exercise is appropriate and particular to each individual. I strive to make my Pilates sessions positive and energising with a strong focus on correct technique." When asked why she chose to opt for the mobile approach, she explains how she "wanted to create a bespoke luxury service that caters to people with busy lifestyles, as there is a growing demand for workouts to be convenient, time efficient and specific to the individual. It is a great option for mothers and busy professionals, as I come to the client's home or workspace and bring along all the necessary equipment, including the mats, magic circles and reformers if requested."
To book a personal pilates with Stella, call 021 121 1651 or email here. 
Lydia O'Donnell — Runner
With a sub two hour 40 minute marathon under her belt, not to mention an army of followers who swear by her personalised running plans, running coach and long distance runner Lydia O'Donnell sure knows a thing or two about improving your street game. After winning national Junior 5000m when she was 19, Lydia then started running longer distances and racing in half marathons, competing in her first full marathon when she was 25. "It's something that has always come so naturally to me and has since become my meditation," she explains. What makes Lydia unique as a running coach is her experience, "I understand how it feels to be in the runner's shoes," she says, "I know how hard it is to put in the work, I understand the fatigue during marathon training, and I know how disheartening it can be if things don't go your way — this makes my coaching very personal." For those wondering how to stay motivated, Lydia ensures that it doesn't come naturally — it's something she has built over years of training. "I run every day, therefore my motivation definitely fluctuates. Some days it's a struggle to get up and out the door, whereas other days it's easy. What helps is having a goal to work towards — knowing I have a race in the near future makes me want to train harder and be super focused."
To book a running program in with Lydia click here.
Will Garrick — Trainer
Personal coach Will Garrick harnesses his dedicated passion and unbridled enthusiasm for training and pours it into his own private gym, helping people from all walks of life with their fitness goals. At Will Power, you can expect an experience, not just a workout. What makes Will's technique unique is that he is by appointment only, developing a "system of appropriate methods for each individual I work with. This holistic approach ensures that the athlete, client, or patient is empowered with individualised strategies on and off the training floor." His high-quality equipment serves as the ultimate draw too, with the likes of Keiser, Woodway and Eleiko on hand, it's "the kind of gear that you would find in a world-class sports performance facility." When asked whether he thinks strength training in beneficial for everyone, he replies with a swift "One hundred percent." "Strength training can provide significant functional benefits and improvement in overall health and wellbeing," he explains, "studies have shown that strength is beneficial and can be maintained and increased at any age — even in your 80s and beyond."
To book a session with Will at Will Power, call 021 454 066 or email here.