Beauty products are littered with a lists of unpronounceable ingredients and confusing symbols, but do any of us know what they actually mean? While we can't help you on the ingredient front, (but if you want a list of certain things to look out for, click here), what we can do is give you the lowdown on those interesting little symbols. Here, we've compiled a list of popularly used icons along with their meanings to help clear the air.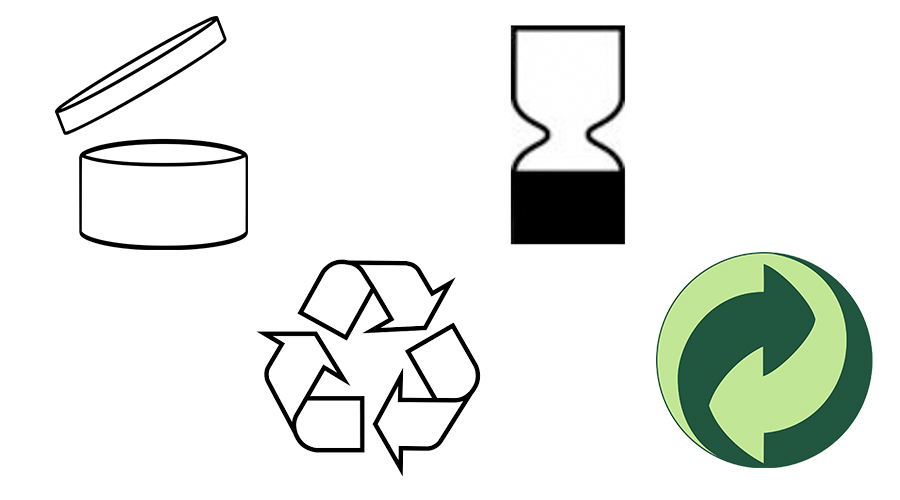 Period After Opening (PAO)
This little open pot icon must be included on products with a shelf life of 30 months or more and tells you how long the product is good for once it is unsealed. Usually, the period is shown in months, with a little M after the number. (Often 6M or 12M.)
The Mobius Loop
Unless you've been living in a basement all your life, then you will surely have spotted this guy before. The universal symbol for recycling, when placed alone on cosmetics it means that the packaging is made entirely from recycled material, whereas a percentage specifies a certain amount.
Best Before End Date
The hourglass explains that the cosmetic has a best before date, basically serving as a friendly reminder that time is constantly running out on all your favourite beauty products. A few things to keep in mind are that mascara should be replaced every three to four months, lipstick and liquid foundation can last a year or more, and powders for up to two years.
The Green Dot 
Just to confuse things further, the 'green dot' isn't always green, but identity crisis aside, these swirling arrows mean that the company which produced this product will cover the costs of the recycling.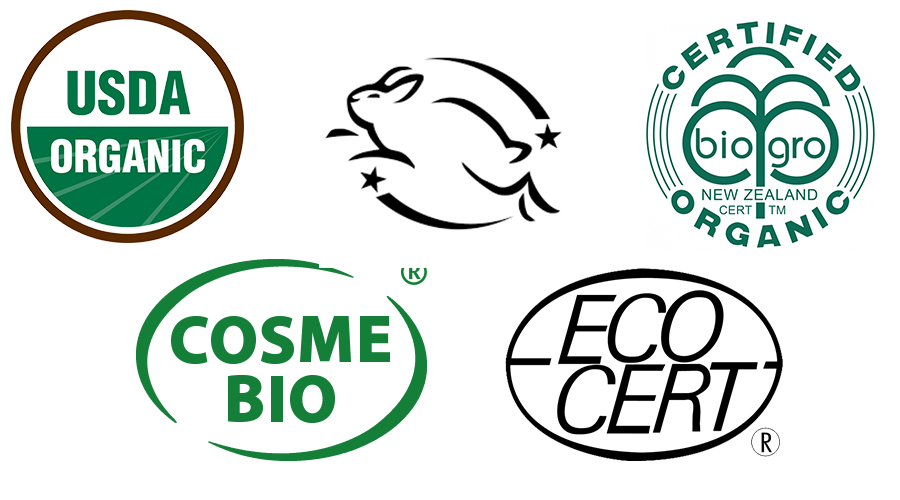 USDA Organic
Often within a circle but sometimes in rectangular form, the green USDA symbol promises at least 95% of the ingredients used are organic. That's a (green) thumbs up from us.
Cosme Bio
Certified by a French organisation under the name of, you guessed it, Cosme Bio, this symbol attests that the product contains at least 95% natural ingredients and that organic farming accounted at least for 10% of the total product and 95% of the plant ingredients.
The Leaping Bunny
By far the cutest of the bunch, the leaping bunny rabbit indicates that the product was not tested on animals, conforming to the standard set by the Coalition for Consumer Information on Cosmetics (CCIC) and Cruelty-Free International. (CFI)
ECOCERT 
Similar to USDA, ECOCERT evaluates the organic contents of the product. If the symbol states Ecocert Organic then at least 95% of its plant-based ingredients and at least 10% of all its ingredients are organic, whereas if the Ecocert Natural symbol appears, at least 50% of its plant-based ingredients and at least 5% of all its ingredients are organic.
Certified Organic
The first New Zealand based certifier to provide natural cosmetic certification, Certified Organic states that any products made right here at home contain at least 95% natural ingredients that come from certified organic production and/or certified wild collection.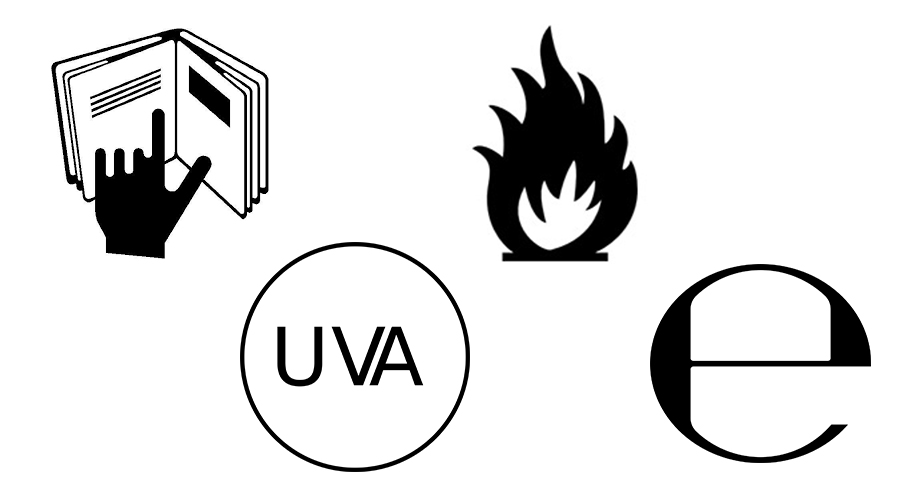 Leaflet
Nobody told you there would be reading involved, did they? Well actually, this little finger-pointing-at-a-book sign shows there is a leaflet with extra information included in the packaging, read if you so wish.
UVA
An encircled UVA confirms that your product has the minimum recommended level of UVA protection to be considered a sunscreen, perfect when shopping for multitasking moisturisers. (Ain't nobody got time for all that layering pre-foundation.)
Flammable
If you're unsure what this fiery fellow means then we can't help but feel a little worried, but for those that don't know, it means that the product is flammable and should not be exposed to high heat or naked flames. (Read: deodorant + open flame = disaster)
Estimated Sign (E-Mark)
This lowercase "e" is the estimated sign which indicates that, across all of the cosmetics manufactured, the average volume or weight of the product is exactly the same as the number on the label, per EU law — so yes, you are actually getting what you're paying for — leaving no room for any whinging about 'value for money'.