Match your lip liner to your lipstick. Never sport a bold lip and a dramatic eye. Less is more. The world of makeup is rife with rules, but when so many other areas of our lives are regimented and disciplined, shouldn't we be able to embrace a more playful, creative approach to getting ready in a morning? Answering our call to action with something that's just as rogue as it is en vogue, makeup megabrand Shiseido has delivered a new all-encompassing, rule-breaking collection.
It's the first of its kind, explains Shinjo San, the Japanese brand's global makeup artist who has worked for Shiseido for over eight years. "It's truly different… there is so much colour and a range of textures that have never been experienced before." Setting a precedent in the industry, it's the collection's four fresh textures that set it apart as opposed to having separate products for the lips, eyes and cheeks, where strict guidelines are what we have become so accustomed to. Inks, dews, gels and powders instead compartmentalise products, all of which are extremely versatile and come in an array of saturated hues, yet still embody the weightless, invisible nature of hydrating skincare.
"The dews are highlighters that can be used for the face, eyelids and lips. While the inks cover everything from brow liners to eyeliners and eyeshadows too, they are all-in-one products" San explains, as he picks up the 'everything pencil' and draws a fine line onto the back of my hand with the precision of an expert calligrapher, before blending it into a creamy, eyeshadow style coverage using the sponge end of the tool. The inks can be used as liners, mascaras, eyebrow pencils and lipsticks, and the soft powders can be used as an array of eye palettes and blushes.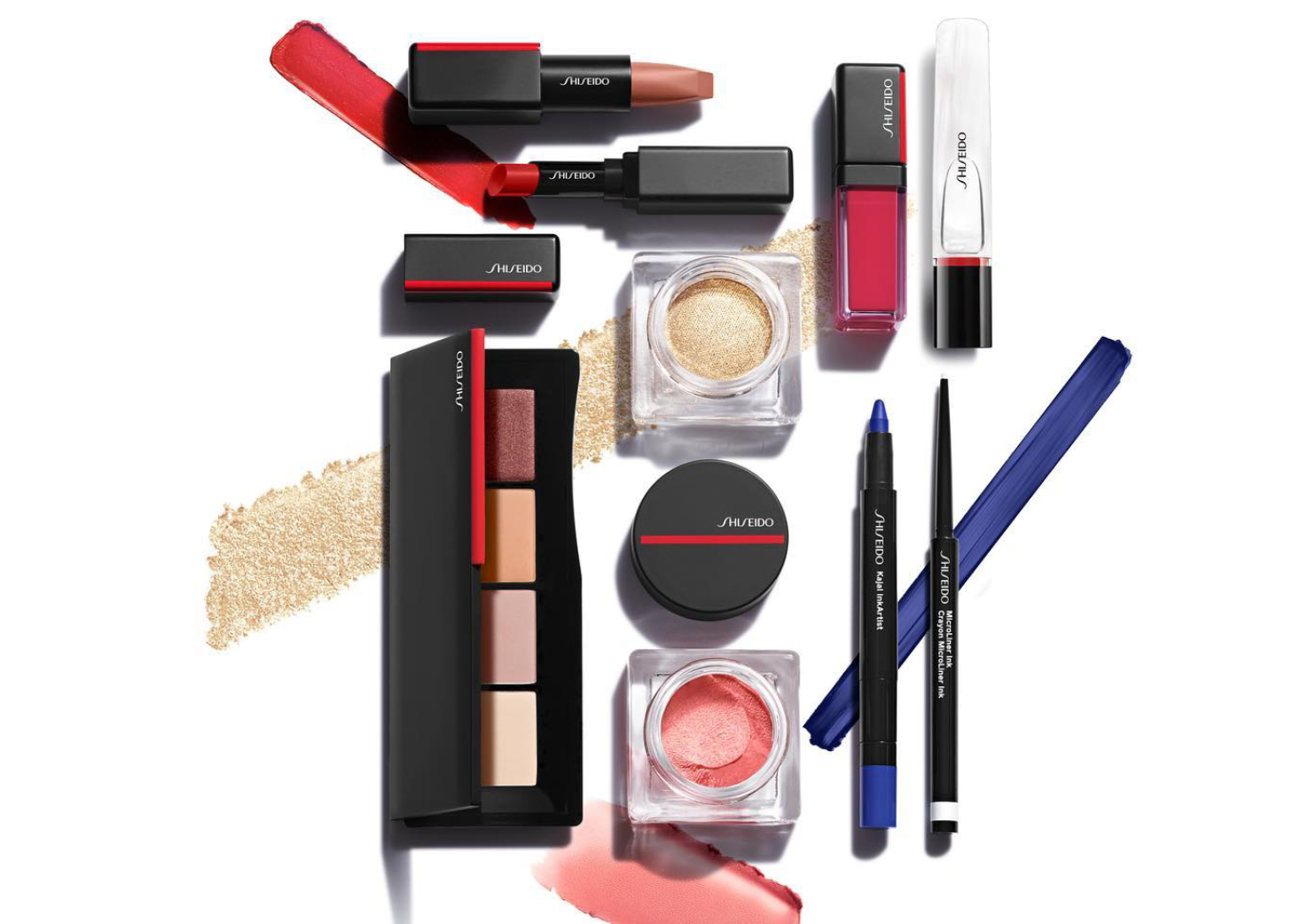 It's clear that Shiseido's Japanese roots remain a continuous inspiration. "The country has a long history with a rich culture that we want to incorporate into our products," Shinjo says, explaining that each of the eye palettes are in fact named after quintessential Tokyo streets. Hanatsubaki Street, for example, is an avenue located next to Shiseido's head office inspiring a work-ready palette with matte mauves and subtle taupes, while the Cat Street shadows comprise baby pinks, shimmering lilacs, magentas and sparkled grapes to represent Harajuku's vibrant tourist attraction.
With 122 products in total — all delivered in sleek, refined, magnetised packaging — this new collection is more reminiscent of a creative artist's palette as opposed to morning necessities. To celebrate the launch of the innovative new Colour collection, we are offering one lucky Denizen a makeup pack including one VisionAiry Gel Lipstick,  one Kajal InkArtist, one Essential Eye Palette and one Minimalist WhippedPowder Blush, for more information and entry, click here.
The Shiseido Colour collection is available now at chosen Farmers, Smith & Caughey's and Life Pharmacy's. 
This competition has now closed.