The last year has brought the idea of wellness into sharp focus. Increasingly, people are taking a more holistic approach to their health, turning to things like yoga, meditation and gut-friendly food for the way they complement a more mindful lifestyle. Recognising this, QT Hotels has decided to make it easier than ever for its guests to have access to activities that help them put their wellbeing first, recently teaming up with renowned Auckland yoga studio Studio Red Wellness for its new series, Get Grounded.
Offering a raft of yoga and meditation courses created especially for the QT Hotels in Auckland, Queenstown and Wellington, Get Grounded comprises on-demand videos that guests can directly access in their rooms. A simple way to encourage participants to make the most of their downtime, this series is as suited to those travelling for business as it is to those just looking for a restful escape.
The classes, each carefully conceived by the experts at Studio Red, offer options to suit a range of needs. From energising yoga flows to restorative movement sequences to meditations that will calm the mind, Get Grounded is delivering studio-quality instruction to guests in the comfort of their rooms (some sessions even include instructions to use the hotel bed pillows as props).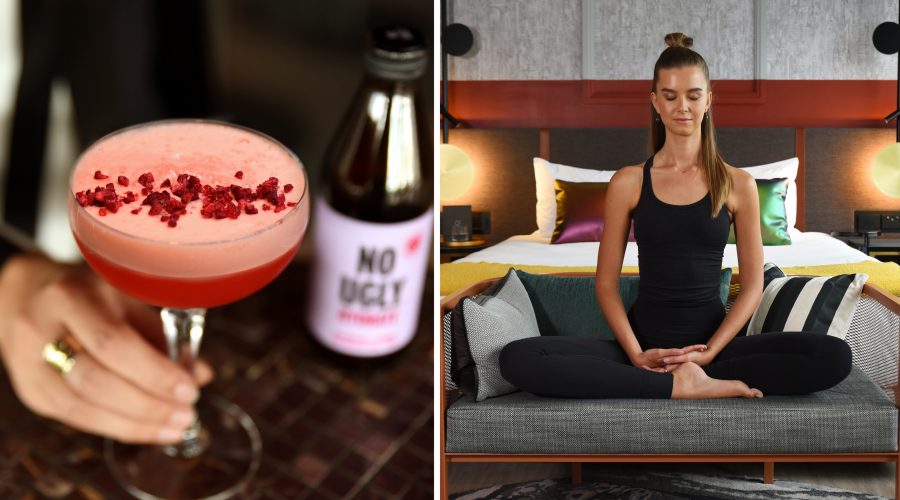 Those staying at the QT Auckland in Viaduct Harbour can take their wellness experience to another level by actually visiting the Studio Red space at City Works Depot — where special rates on one-week passes and drop-in options will be made available just for them.
Alongside the yoga and meditation classes, QT Hotels has partnered with wellness tonic brand No Ugly to design a range of elixirs and health-conscious cocktails that are available until the end of April from the Rooftop at QT. Delicious, refreshing and devoid of any nasties, these drinks are promising to invigorate and satiate in equal measure and will prove the perfect libations for anyone looking to stock up on goodness.
To celebrate this feel-good initiative, we are giving one lucky Denizen the chance to win a night at the QT Auckland, a one-month unlimited pass to Studio Red Wellness, which includes a mat and a private class with one of the studio's experienced instructors plus two of QT's No Ugly wellness cocktails as well as a No Ugly 8-Week Regime which will see the winner treated to an eight-week supply (six bottles per week) of No Ugly which (considering its bottles are packed with vitamin C, collagen, protein and essential minerals) is sure enhance anyone's inner glow.
This giveaway has now closed.